Greenpeace loses £3m of public donations after currency gaffes
A senior worker in its financial unit was sacked after he failed to follow guidelines for making the bets
Simon Neville
Monday 16 June 2014 17:24 Comments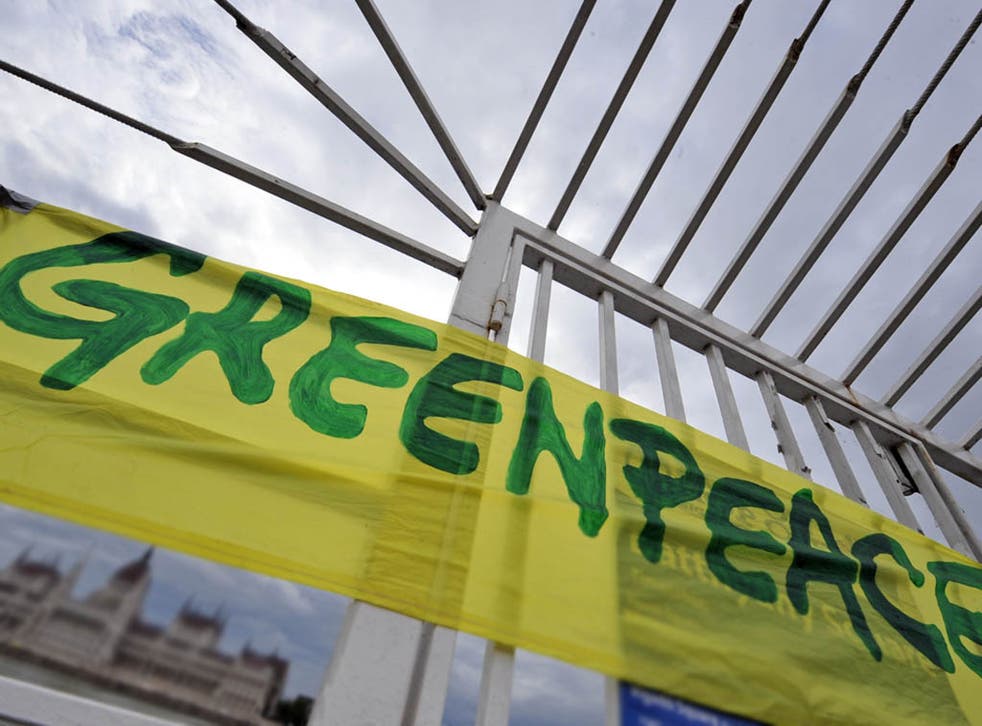 Greenpeace has lost €3.8 million of public donations on a series of blundering currency bets that went wrong, the charity has admitted.
The loss will see a hire freeze across the organisation and delay a new internet database and portal that was being built, but bosses insist no frontline projects, such as its campaign in Greenland and the Arctic, will be hit.
A senior worker in its financial unit, which is responsible for exchanging donations into local currencies where it needs to be spent, was sacked after he failed to follow guidelines for making the bets. However, the problems were only noticed once it was too late to rectify.
Greenpeace said there was no suggestion the employee benefited financially or fraud was involved, adding that it was an "honest mistake" by the worker who had several years' experience in the financial sector.
An external audit will also take place and the charity said it will involve authorities if it turns up anything unusual.
Pascal Husting, International programme director at Greenpeace, told the Independent: "He didn't fully understand the nature of the operations. He was a very senior member of our finance unit who should have known what he was doing but he made a serious misjudgement."
He explained that the unit, which controlled €72.9m last year, was expected to set up contracts to hedge against currency fluctuations. Greenpeace receives a disproportionate amount of donations from Europe compared with where it spends its funds. The unit, based in Amsterdam and employs 15 staff, exchanges the funds into local currencies where it is distributed.
It has been busier in the past few years where more money has needed to be exchanged into currencies particularly in South America and parts of Asia.
However, the employee set up too many contracts betting that the Euro would not rise last year. When the Euro strengthened at the end of the year and the contracts came to an end, the unit lost the cash.
Mr Husting explained: "We have double sign offs on all contracts, but the rules were not respected in this case. Staff must get the second sign off from someone senior to them, but he used a junior instead."
He added that the staff member had received no training in foreign exchange trading from Greenpeace but had been expected to have the relevant experience because of his seniority.
Greenpeace claimed it was not at risk and the losses will not increase because all the contracts have now come to an end.
The organisation has put in place new safeguards to avoid future heavy losses but will continue hedging from the Amsterdam unit, which will remain open.
The lost cash, which came from the 300 million donations it receives each year, would be replaced over several years through a series of cost cutting measures, although the organisation insisted it would not stop funding frontline projects.
Mr Husting said: "We will not reduce our expenditure on the front line. We will save on staffing costs and will not fill current job vacancies. We will also delay investments in infrastructure projects, including a new database system which will allow us to act more globally to be in contact with our supporters."
Register for free to continue reading
Registration is a free and easy way to support our truly independent journalism
By registering, you will also enjoy limited access to Premium articles, exclusive newsletters, commenting, and virtual events with our leading journalists
Already have an account? sign in
Join our new commenting forum
Join thought-provoking conversations, follow other Independent readers and see their replies