Halloween 2015: pumpkin shortage sees trick-or-treaters turn to turnip carving
One of the biggest pumpkin suppliers in the UK has warned that heavy rain in August has damaged pumpkins
Hazel Sheffield
Monday 26 October 2015 12:36 Comments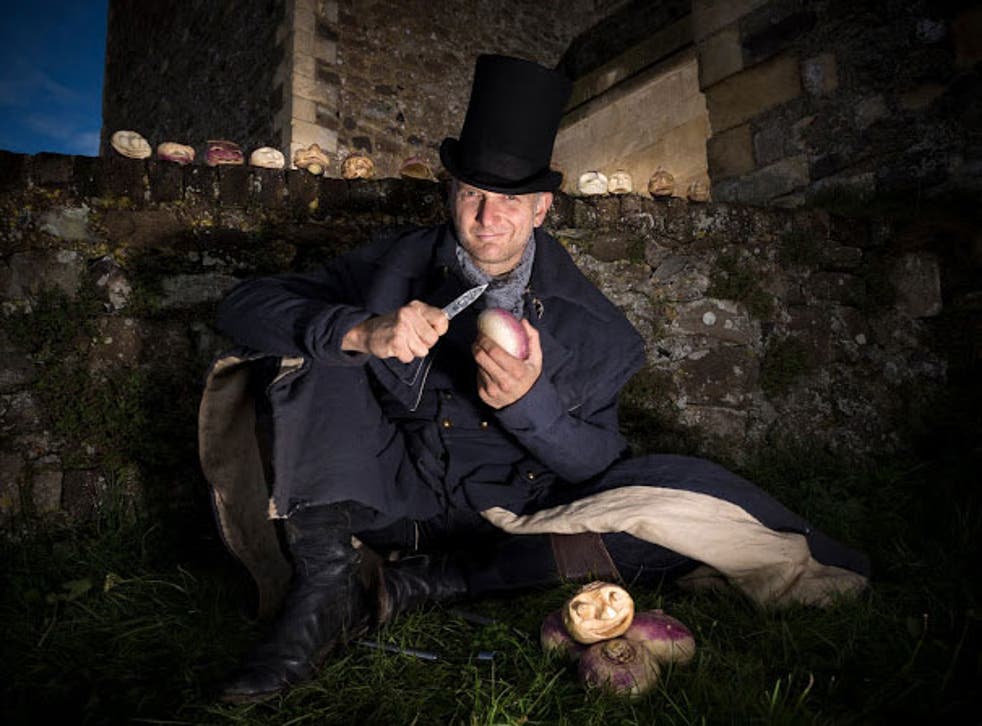 A pumpkin shortage in British supermarkets had led to English Heritage calling for the revival of the old tradition of pumpkin carving this Halloween.
English Heritage have called for trick or treaters to take up turnip carving to address reduced supplies of pumpkins caused by wet weather in August.
British people carved ghoulish faces into turnips to scare spirits from their doors long before the pumpkin became the Halloween vegetable of choice.
The tradition emerged from a folk tale about a man named Jack who, after trying to trick the devil, was forced to roam the earth with only a burning coal inside a hollowed out turnip – or the original Jack o'lantern.
During the 19th Century, people moving to the US took this tradition with them and quickly discovered that pumpkins, a native American fruit, were far easier to carve.
Dr Michael Carter, an English Heritage historian, said: "From carved pumpkins to trick or treating, many of the traditions associated with Halloween today come from early European folklore, rather than simply being American inventions."
English Heritage is promoting the tradition with carved turnips at Dover Castle and ghost tours across the country.
"I don't think turnips are going to replace pumpkins, they are more difficult to carve, but hopefully people will remember the turnip and all our other rich traditions this Halloween," he said.
One of the biggest pumpkin suppliers in the UK has warned that heavy rain in August has damaged large pumpkins that grew at the beginning of the season.
"Retailers don't take any fruits with minor blemishes or soft spots at these progress into full-blown issues in the depot networks and in the ambient temperature of stores, where they metamorphose into pumpkin soup," Jon Barfoot, commercial director of fruit and vegetable supplier Barfoot, told The Grocer. "So yields will be about 50 per cent of the originally planned crop."
The pumpkin industry is worth £6 million. Barfoot expects to sell one million pumpkins this season, according to reports.
Register for free to continue reading
Registration is a free and easy way to support our truly independent journalism
By registering, you will also enjoy limited access to Premium articles, exclusive newsletters, commenting, and virtual events with our leading journalists
Already have an account? sign in
Join our new commenting forum
Join thought-provoking conversations, follow other Independent readers and see their replies