Mike Ashley's House of Fraser removes fur products after customer backlash
Real fur clothing disappears from shelves and online
Ben Chapman
Friday 22 November 2019 19:39 Comments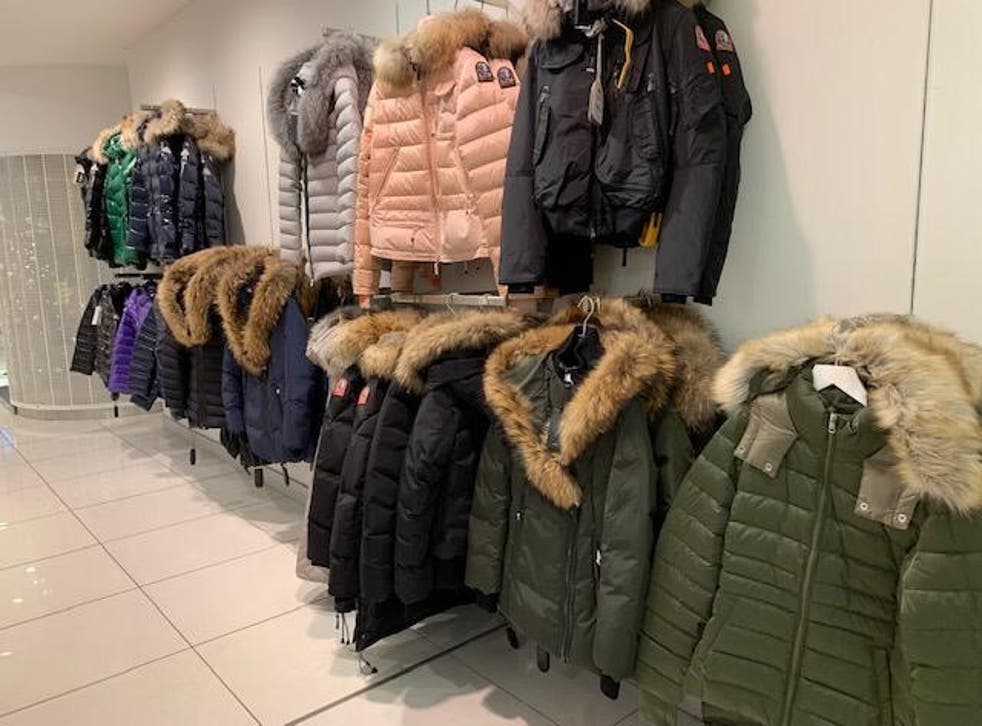 Fur has been removed from House of Fraser's stores after consumers voiced anger at the department store's reintroduction of products that campaigners say lead to animal cruelty.
The department store banned animal fur more than a decade ago but the policy that was recently reversed under the ownership of Sports Direct founder Mike Ashley, who bought House of Fraser last year.
Just days after animal welfare campaigners and customers began voicing their anger at the move, House of Fraser performed another U-turn.
Jackets made using fur from wild, trapped coyote as well as factory-farmed rabbit and raccoon dog from China and fox fur from Finland, were no longer on sale on Friday.
Racks in House of Fraser's flagship Oxford Street store that had been photographed full of real fur products earlier in the week had been replaced with other items.
The reality of fur farming: in pictures

Show all 20
A store manager confirmed to animal welfare group Humane Society International that there was currently no real fur available on the shop floor at any House of Fraser sites nationwide.
Claire Bass, UK executive director of Humane Society International, said: "We are delighted to see that cruel animal fur products have been removed from House of Fraser's website and stores nationwide.
"Mike Ashley has been hit by a tsunami of public protest, with thousands of messages from shoppers shocked and appalled to see this respected high street store turned into a House of Horrors, selling fur from factory-farmed rabbits, foxes and raccoon dogs as well as coyotes trapped and shot in the wild.
"British shoppers have sent the message loud and clear that fur is bad for business, and has no place on the British high street. We urge House of Fraser to publicly reinstate and uphold its long-standing fur-free policy."
House of Fraser has not responded to a request from The Independent for comment.
Mr Ashley took over House of Fraser when his Sports Direct empire bought the chain last year, pledging to create a "Harrods of the High Street".
Harrods itself has come under heavy criticism for continuing to stock real fur products for its upmarket clientele.
House of Fraser's decision to reintroduce fur had been unusual, going against a trend for retailers to cater to increasingly ethically conscious shoppers.
In May, luxury brand Prada announced plans to ban fur from its women's fashion collections. It had been one of the last holdouts before joining Gucci, Versace, DKNY, Burberry, Michael Kors, Jimmy Choo and Burberry in announcing a fur-free policy.
The UK banned fur farming almost two decades ago in 2000 on ethical grounds, but since then has allowed imports of more than £820m of fur from overseas, including Finland and China.
Register for free to continue reading
Registration is a free and easy way to support our truly independent journalism
By registering, you will also enjoy limited access to Premium articles, exclusive newsletters, commenting, and virtual events with our leading journalists
Already have an account? sign in
Join our new commenting forum
Join thought-provoking conversations, follow other Independent readers and see their replies