Housing crisis: architect Bill Dunster designs £50,000 pod homes on stilts for would-be buyers
ZED factory has approached Oxford City to trial up to 50 of the homes
Zlata Rodionova
Wednesday 20 April 2016 11:57 Comments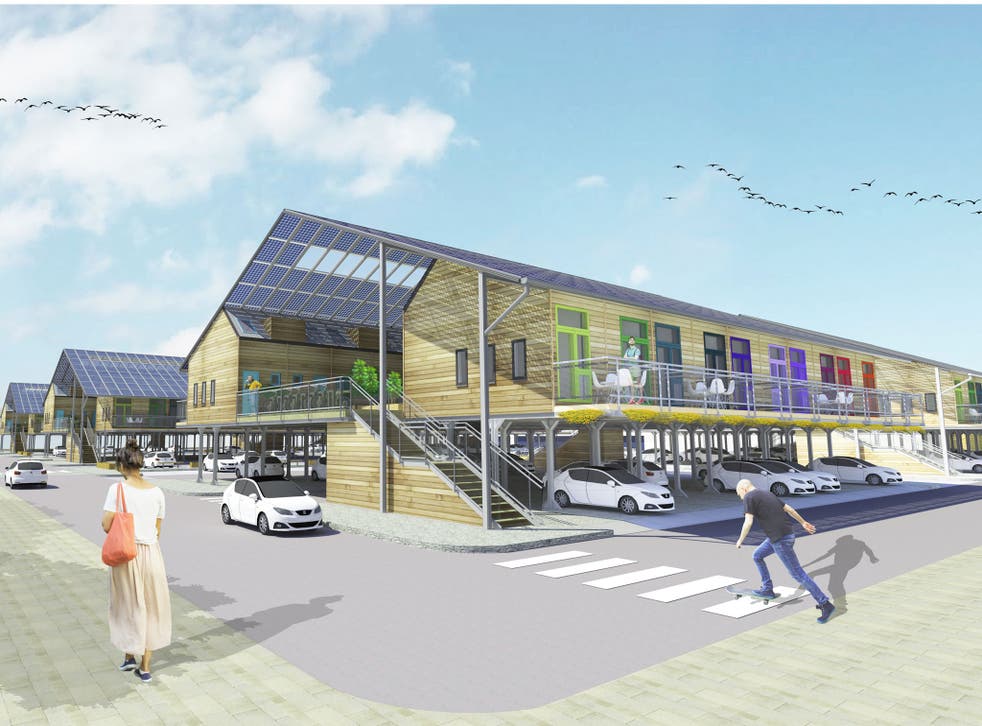 An architect has come up with a new approach to the UK's housing crisis.
Bill Dunster OBE has designed micro homes on stilts above car parks and ride spaces, which can save space and decrease cost for homeowners.
"There always seemed to be no land available for affordable housing. The only way of providing any seems to be as a small percentage of a private development, which is reluctantly negotiated as it reduces developer's profit," Mr Dunster told the Independent.
"The best plan seemed to be to find large areas already tarmacked with excellent public transport connections to city centres. Park and rides or existing neighbourhood shopping centres are a good start," he added.
The 'pod homes' that sit on stilts above car parks designed to crack the housing crisis

Show all 7
The tiny homes could sell for between £50,000 to £60,000 or rented as one bed homes for young couples for around £750 month with around £50 bills on top, according to the architect's estimates.
The eco-friendly houses, around 74 square feet of floor space, come with solar panel roofs, water recycling systems and electric vehicle charging.
"It is cheap to live in, gives young people privacy, has good shared communal spaces, has good access to public transport and saves key workers from long commutes into city centres with high property values," Dunster said.
"The homes are small but fun, and look forward to an optimistic clean and green future rather than consigning young people to live in the urban scraps left over by property developers," he added.
ZED factory, Mr Dunster's firm, has approached Oxford City about trialling up to 50 of the homes and has offered to fund the project at no cost for the council.
But the firm is now running out of patience as the idea is struggling to get off ground. Oxford City Council has cited air pollution, land devaluation and costs as reasons for the delay on making a decision.
Alex Hollingsworth, the city's board member for planning, told the Oxford Times they were "always open to innovative ideas that can make a contribution to tackling the housing crisis".
Mr Dunster said he will contact Caroline Lucas Green Party MP for Brighton for her support.
Micro-living is increasingly being mooted as a solution to the housing shortage. Developers in high-density, high-cost cities are building good-looking, smartly designed, teeny tiny apartments to counter the conundrum of diminishing space.
London developer Pocket recently held a competition in which 19 reputable architects submitted designs for a new two-bedroom development, and 50 per cent of the decade-old company has just been bought by Stephen Ross, a US property billionaire who also owns the Miami Dolphins American football team.
"We wanted to help these young professionals, we call them 'city makers', get on the property ladder to prevent the people who make the city tick from leaving altogether," explains Pocket's sales and marketing director Lucian Smithers
Register for free to continue reading
Registration is a free and easy way to support our truly independent journalism
By registering, you will also enjoy limited access to Premium articles, exclusive newsletters, commenting, and virtual events with our leading journalists
Already have an account? sign in
Join our new commenting forum
Join thought-provoking conversations, follow other Independent readers and see their replies