Japanese economy falls into surprise recession
Japanese PM likely to call for snap elections next year and delay tax hike
Maria Tadeo
Monday 17 November 2014 10:27 Comments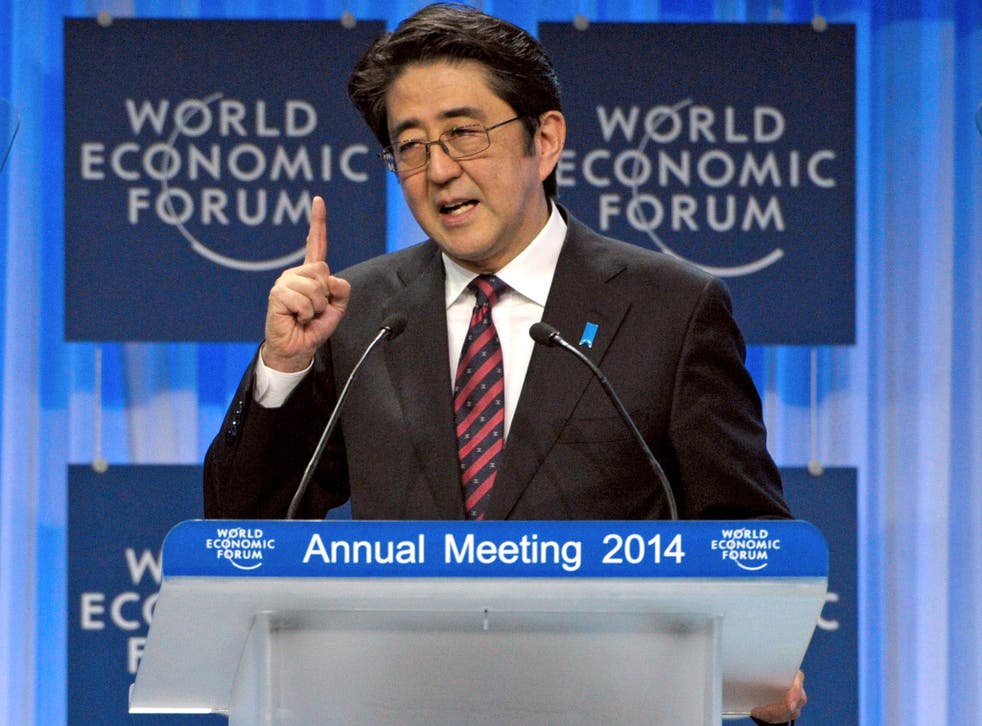 Japan, the world's third largest economy, has slipped into recession, reinforcing expectations that Prime Minister Shinzo Abe will call for snap elections and delay a tax hike scheduled for 2015.
The Japanese gross domestic product fell by an annual rate of 1.6 per cent from July to September after plunging 7.3 per cent in the second quarter. Economists were expecting an increase of 2.1 per cent in the third quarter.
The figures showed weakness in demand across the board- from consumers to manufacturers and builders- following an increase in Japan's national sales tax from 5 per cent to 8 per cent in April, which took a toll on private consumption.
Abe is expected to call off another sales tax increase of 10 per cent scheduled to come into effect next October and call for a snap election next month to shore up support while his approval ratings remain strong.
"The second tax hike is likely to be postponed unless the data shows a high growth rate, something like an annualised rate of four to five per cent," Credit Suisse analyst Hiromichi Shirakawa said in a note to clients.
The tax hike aims to bring down Japan's huge national debt, but has put Abe in an uncomfortable position as he tries to balance his efforts slash Japan's debt and his growth plan- "Abenomics"- based on lax monetary policy and fiscal spending.
"Because it will take time for the Japanese economy to pick up in a sustainable way, general elections later on would risk his chance of being re-elected as the ruling party leader in September next year," Tokyo University politics professor Sadafumi Kawato told AP.
The recession, less than two years after Japan emerged from its last one, also throws doubts on Abe and the Bank of Japan's bold bid to shake off years of deflation with a huge money-printing operation, recently expanded by rate-setters to 80 trillion yen (£454bn) a year, from the previous rate of 60-70 trillion yen.
Japan's Nikkei posted its biggest one-day drop since August, down nearly 3 per cent, as investors reacted to the GDP data. European markets opened lower with the FTSE 100, France's CAC 40 and the German DAX trading in negative territory.
Japan's recession came as David Cameron warned the world is on the brink of a second global economic disaster at the close of the G20 economic summit in Brisbane, Australia.
The Prime Minister said that he saw "red warning lights" for the global economy as a result of international "instability and uncertainty" and a slowdown across emerging markets.
Register for free to continue reading
Registration is a free and easy way to support our truly independent journalism
By registering, you will also enjoy limited access to Premium articles, exclusive newsletters, commenting, and virtual events with our leading journalists
Already have an account? sign in
Join our new commenting forum
Join thought-provoking conversations, follow other Independent readers and see their replies