Edinburgh's iconic Jenners department store to close after more than 180 years
Disagreement with site owner sends Fraser Group packing
Liam James
Monday 25 January 2021 18:55 Comments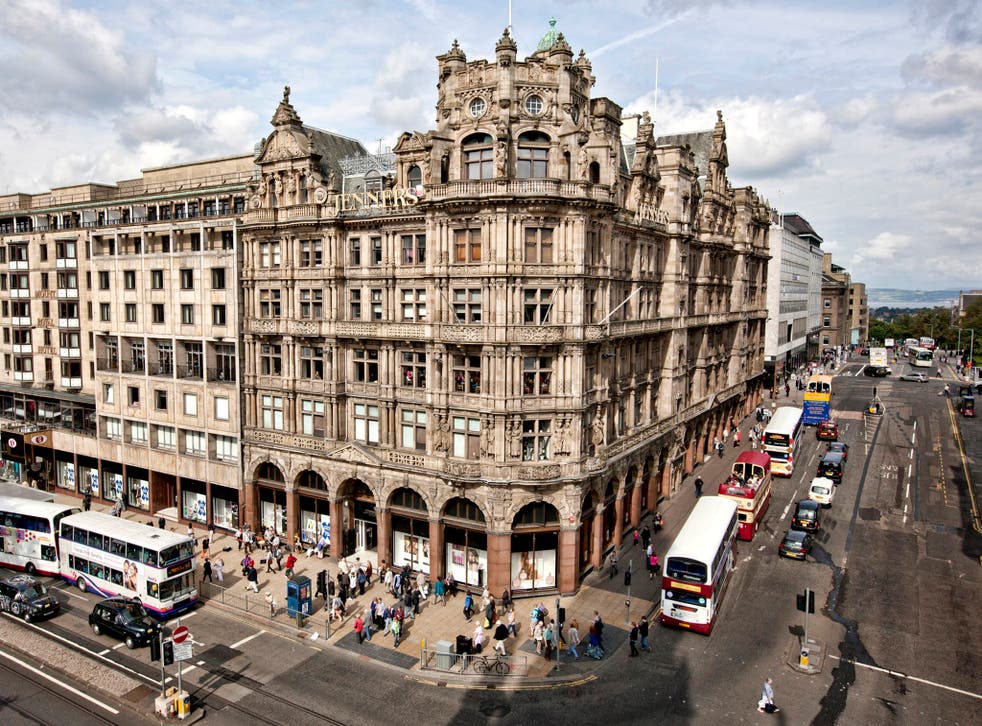 Jenners, an iconic department store in Edinburgh, is to close for good after failing to reach an agreement with the owners of its building.
Frasers Group Plc, which runs the store, confirmed it would cease trading on 3 May, after 183 years doing business on the city's main shopping street.
There were 200 people employed at the landmark store on Princes Street, which traded as an independent shop until it was bought by House of Fraser in 2005, when the announcement was made on Monday afternoon.
The retail group, owned by high street mogul Mike Ashley, announced the store was to close after failing to reach an agreement with Anders Povlsen, the Danish billionaire who owns the magnificent Victorian building.
Mr Povlsen, who is Scotland's biggest landowner and Denmark's richest man, said he was planning an "exciting renovation" for the building.
The Edinburgh Evening News reported the renovation would see a hotel, cafes and a rooftop restaurant established in place of the existing department store.  
Plans were also said to include a raft of luxury shops linked to Mr Povlsen's fashion company Bestseller, which owns the brands Jack & Jones and Only, among several others. The Independent has contacted Bestseller for comment.
The project would see a "total restoration" of the listed building's facade including reinstating lost original elements.
Jenners has held a prominent spot on Edinburgh's main shopping thoroughfare since Victorian times after starting life as a drapers. The store has remained in the same place throughout its 183-year existence, though not in the same building because the original was destroyed by fire in the 1890s.
The current building was bought by Mr Povlsen in 2017 for a reported £50m. The billionaire landlord had earlier planned to keep the existing department store despite his plans for renovation.
In December, a spokesperson for Mr Povlsen told edinburghlive the department store was a "vital future part" of the renovation project and would not be affected by plans for a new hotel.  
However, Frasers has now said the store will close after failing to reach an agreement with the building's owner on the extension of a tenancy deal.
A Frasers spokesperson said on Monday: "Despite the global pandemic, numerous lockdowns and the turbulence caused for British retail, the landlord hasn't been able to work mutually on a fair agreement, therefore resulting in the loss of 200 jobs and a vacant site for the foreseeable future, with no immediate plans.
"Our commitment to our Frasers strategy remains but landlords and retailers need to work together in a fair manner, especially when all stores are closed."
They added the company would like to thank Jenners staff for their "hard work and dedication".
Register for free to continue reading
Registration is a free and easy way to support our truly independent journalism
By registering, you will also enjoy limited access to Premium articles, exclusive newsletters, commenting, and virtual events with our leading journalists
Already have an account? sign in
Join our new commenting forum
Join thought-provoking conversations, follow other Independent readers and see their replies