British fashion chain Jigsaw celebrates immigration in new campaign
'There's no such thing as 100 per cent British,' says its manifesto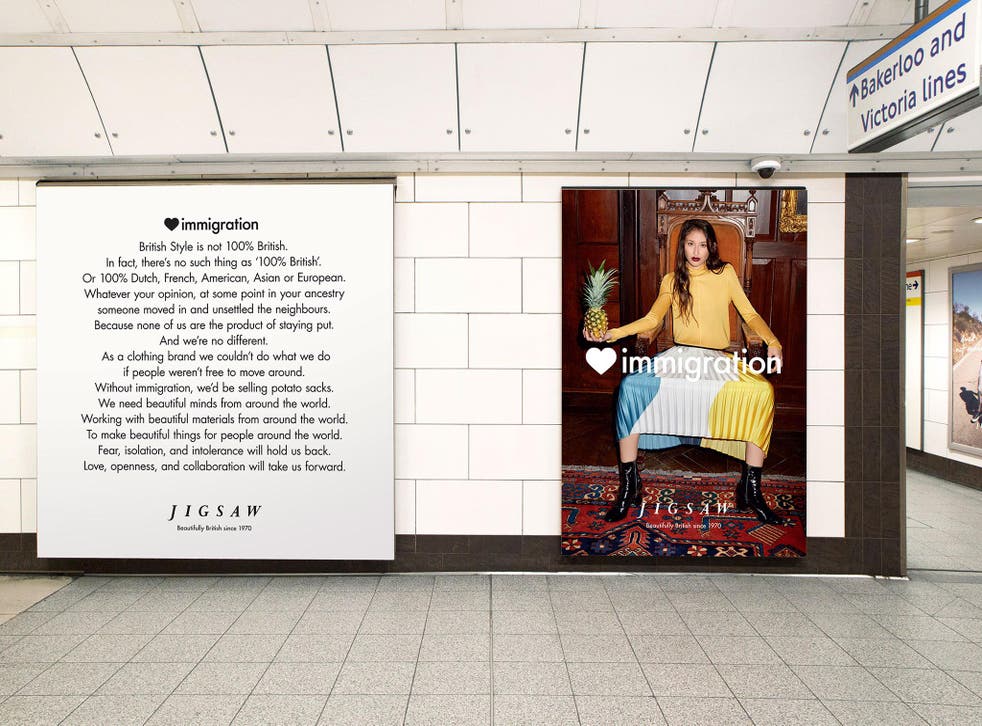 British fashion brand Jigsaw is celebrating immigration it its new ad campaign.
In answer to the idea that immigration threatens "British values", the love immigration campaign comes with a manifesto, which begins "British Style is not 100 per cent British. In fact, there's no such thing as 100 per cent British."
The adverts are being featured in Oxford Circus Tube Station, London, in a so-called takeover that has gathered interest on Twitter with social media users commenting "Bless Jigsaw for this" and "Makes me proud to be British! Fantastic message Jigsaw".
Peter Ruis, chief executive of Jigsaw, told The Independent that his team was discussing their next campaign and, as a relatively small brand that only runs one big marketing campaign a year, decided to go for something bold. "The world is such a crazy place at the moment … it seemed facile to do a nice little campaign," he said.
So, using the fact that there are 45 nationalities working within Jigsaw as a hook, the company created a celebration of Britain as a nation of immigrants. "We wanted to give a positive message, it's bizarre for immigration to be seen as a negative word," said Mr Ruis.
The models in the campaign adverts are from diverse ethnic backgrounds and are wearing Jigsaw's Autumn/Winter 2017 collection, which is sourced from and manufactured in 16 countries.
Mr Ruis said: "Fashion doesn't operate in a bubble; it plays on a broader psyche.
"We could just talk about clothes, but with what is going on around us it seems hypocritical and superficial to not accept the debt we owe to immigration in its broadest sense.
Business news: In pictures

Show all 13
"Be it people, cloth, the stone floors in our shops, the film to shoot our campaigns. We are all part of a vibrant, tolerant, global Britain. These are things we believe in as a brand."
While coming up with the campaign, Jigsaw spoke to Ancestry.co.uk, a genealogy testing website, about immigration in Britain. It subsequently partnered with the firm and offered all Jigsaw staff the chance to find out their genealogy as part of its social campaign.
Russell James, a spokesperson for Ancestry.co.uk, said: "People living in Britain today are such a genetically diverse group that finding anyone with 100 per cent British DNA would be statistically improbable and very surprising."
Register for free to continue reading
Registration is a free and easy way to support our truly independent journalism
By registering, you will also enjoy limited access to Premium articles, exclusive newsletters, commenting, and virtual events with our leading journalists
Already have an account? sign in
Register for free to continue reading
Registration is a free and easy way to support our truly independent journalism
By registering, you will also enjoy limited access to Premium articles, exclusive newsletters, commenting, and virtual events with our leading journalists
Already have an account? sign in
Join our new commenting forum
Join thought-provoking conversations, follow other Independent readers and see their replies