The Independent's journalism is supported by our readers. When you purchase through links on our site, we may earn commission.
Johnson & Johnson responds to claims Baby Powder causes ovarian cancer
The multinational pharmacy group has posted a fact sheet on its website
Hazel Sheffield
Thursday 25 February 2016 12:59 Comments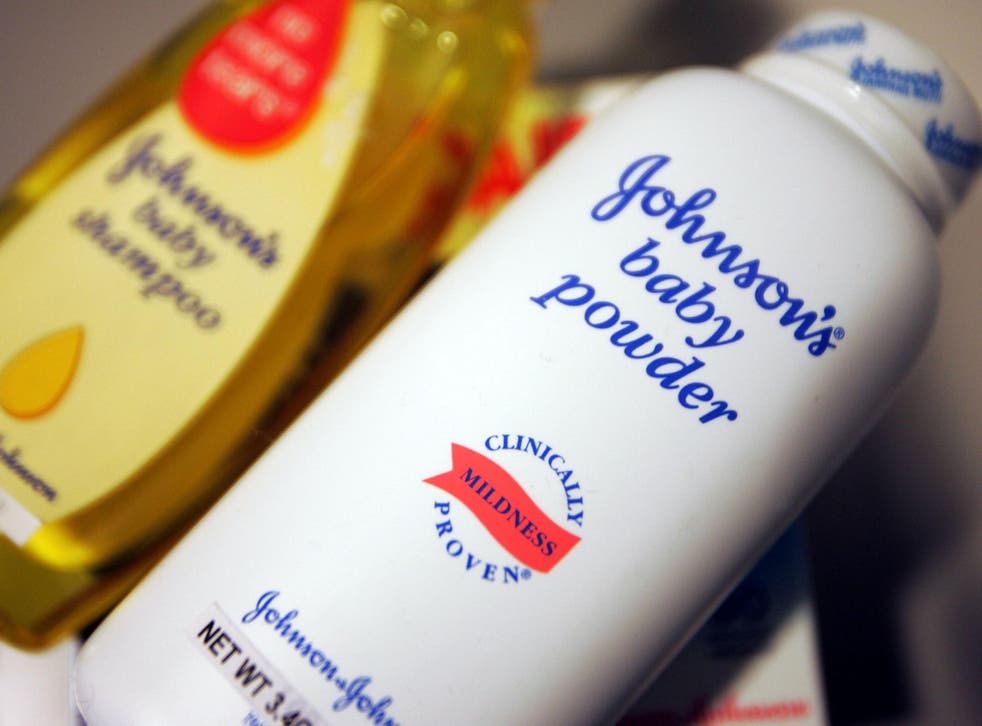 Johnson & Johnson has responded to concerns by women that longterm use of talcum powder could cause ovarian cancer.
The multinational pharmacy group has posted a fact sheet on its website about Baby Power to try and reassure customers that the product is safe after it was ordered to pay more than £50 million to the family of Jacqueline Fox, who claimed that her ovarian cancer was linked to use of talc-based Baby Powder and Shower to Shower for several decades.
Fox claimed she used Baby Powder and Shower to Shower for feminine hygiene for more than 35 years before she was diagnosed with ovarian cancer three years ago. She died in October aged 62.
Around 1,000 lawsuits concerning cancer linked to talc products have been filed in Missouri and another 200 in New Jersey, according to Reuters.
But Johnson & Johnson has said that research papers since the 1990s have shown that talc is safe to use on genitals.
"With over 100 years of use, few ingredients have the same demonstrated performance, mildness and safety profile as cosmetic talc," Johnson & Johnson said.
The company said that talc is approved as safe for use in cosmetic and personal care products by the European Union, Canada and many other countries around the world, among them Argentina, Brazil, China, India, Israel, South Africa, Turkey and Indonesia. The U.S. Center for Disease Control (CDC), which identifies potential risk factors for many diseases, has not identified talc as a risk factor for ovarian cancer.
Jere Beasley, a lawyer for Fox's family, claimed that Johnson & Johnson knew about an association between talc and ovarian cancer since 1979.
Carol Goodrich, a spokeswoman, said Johnson & Johnson were disappointed with the outcome of the trial.
"We sympathise with the plaintiff's family but firmly believe the safety of cosmetic talc is supported by decades of scientific evidence," Goodrich said.
Biggest business scandals in pictures

Show all 20
Ovarian cancer charity Ovacome have looked extensively at the evidence and found that out of the millions of women in England and Wales, many of whom use talc, only a very small number will develop ovarian cancer each year.
"Even if talc does increase the risk slightly, very few women who use talc will ever get ovarian cancer. Also, if someone has ovarian cancer and used talc, it seems unlikely that using talc was the reason they developed the cancer," said Dr Adam Rosenthal, a senior lecturer and consultant in gynaecological oncology, Barts and the London School of Medicine and Dentistry.
Register for free to continue reading
Registration is a free and easy way to support our truly independent journalism
By registering, you will also enjoy limited access to Premium articles, exclusive newsletters, commenting, and virtual events with our leading journalists
Already have an account? sign in
Join our new commenting forum
Join thought-provoking conversations, follow other Independent readers and see their replies