Competition probe into Just Eat and Takeaway.com merger 'shocking and unwarranted', says investor
Competition and Markets Authority announces last-minute inquiry into the deal that would create one of the largest food delivery companies in the world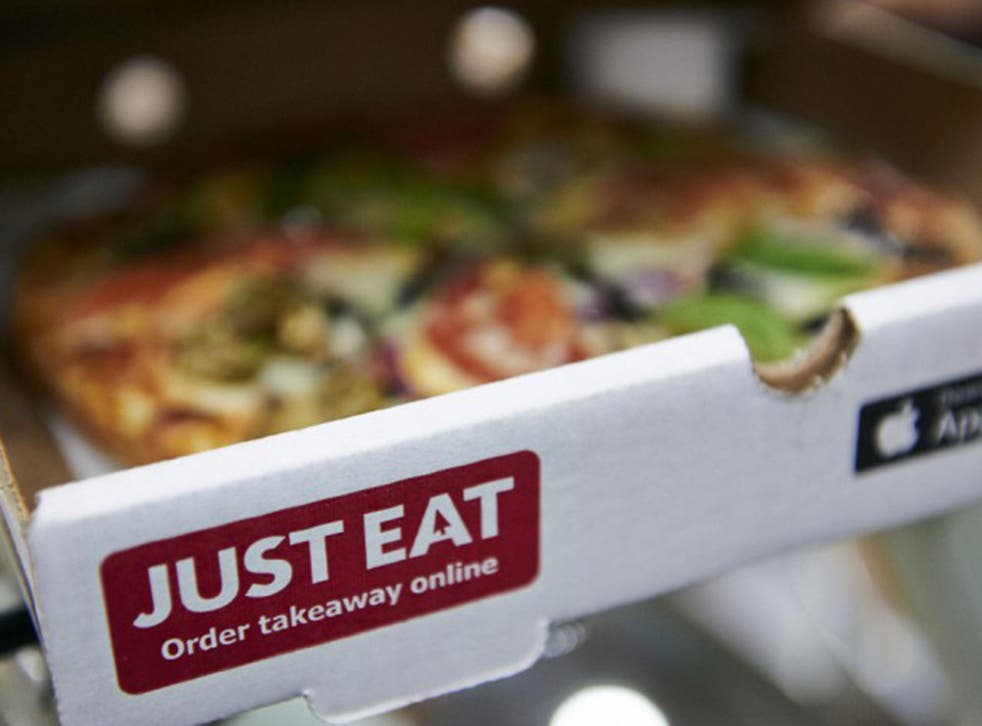 A major investor has branded a competition investigation into the £5.9bn merger between Just Eat and Takeaway.com "shocking and clearly unwarranted".
The Competition and Markets Authority (CMA) announced a last-minute probe on Thursday into the deal that would create one of the largest food delivery companies in the world.
The CMA will assess whether the deal could result in a "substantial lessening of competition" in the UK.
It is a blow to Amsterdam-based Takeaway.com, and UK-listed Just Eat, the two biggest players in Europe's fast-expanding meal delivery industry.
The two companies will delay listing shares in the merged entity by a week, meaning it should start trading on 3 February.
In photos: Street food across Asia

Show all 20
The CMA's move angered one large shareholder, Cat Rock Capital, which owns 6 per cent of Takeaway.com and 3 per cent of Just Eat.
"It is shocking that the CMA would investigate the Just Eat merger with Takeaway.com," said Alex Captain, founder and managing partner of Cat Rock Capital.
"Takeaway.com has no UK operations, exited its minor business there over three years ago and has stated that it had no intention to enter the UK market before the Just Eat merger."
Takeaway's last attempt to crack the UK market ended in failure in 2016 after making a loss of £768,000 on revenues of just £76,000.
Mr Captain said the competition watchdog appeared to have drawn "false equivalence" between the deal and Amazon's offer for a significant stake in Deliveroo.
The CMA is conducting an in-depth probe into concerns that Amazon's $575m (£440m) investment will harm competition in both the restaurant delivery and online grocery sectors.
"Amazon has a large UK business with millions of customers that it could leverage to re-enter the UK online food delivery market and increase competition," Mr Captain added.
"Takeaway.com has no such UK presence, customer base, or brand name. It is patently absurd to compare Takeaway.com with Amazon when evaluating the outlook for future competition."
The decision to open up a probe came after the CMA said it had "reconsidered its position" more than six months after Takeaway first bid for Just Eat.
The competition watchdog said: "Information we now have available to us suggests that Takeaway.com could have been well-placed to enter the UK market, if the merger hadn't happened, and compete with Just Eat – so it's important we open a formal investigation to find out more about this.
"Ultimately, our job is to protect UK consumers. Merging businesses can always choose to formally notify a merger to the CMA if they want to avoid the risk that the deal could be called in for investigation at a later stage – and Takeaway.com chose not to do this."
The CMA said that it could not be specific about the new information it had received. Cat Rock urged the regulator to complete its work quickly so that the deal could be completed.
Earlier this month Just Eat shareholders agreed to a £5.9bn all-share offer from Takeaway.com after a drawn-out battle with rival bidder Prosus.
Register for free to continue reading
Registration is a free and easy way to support our truly independent journalism
By registering, you will also enjoy limited access to Premium articles, exclusive newsletters, commenting, and virtual events with our leading journalists
Already have an account? sign in
Register for free to continue reading
Registration is a free and easy way to support our truly independent journalism
By registering, you will also enjoy limited access to Premium articles, exclusive newsletters, commenting, and virtual events with our leading journalists
Already have an account? sign in
Join our new commenting forum
Join thought-provoking conversations, follow other Independent readers and see their replies