KFC launches edible chicken-flavour nail polish
The nail polish is sourced from natural ingredients in two classic KFC flavours: hot and spicy and original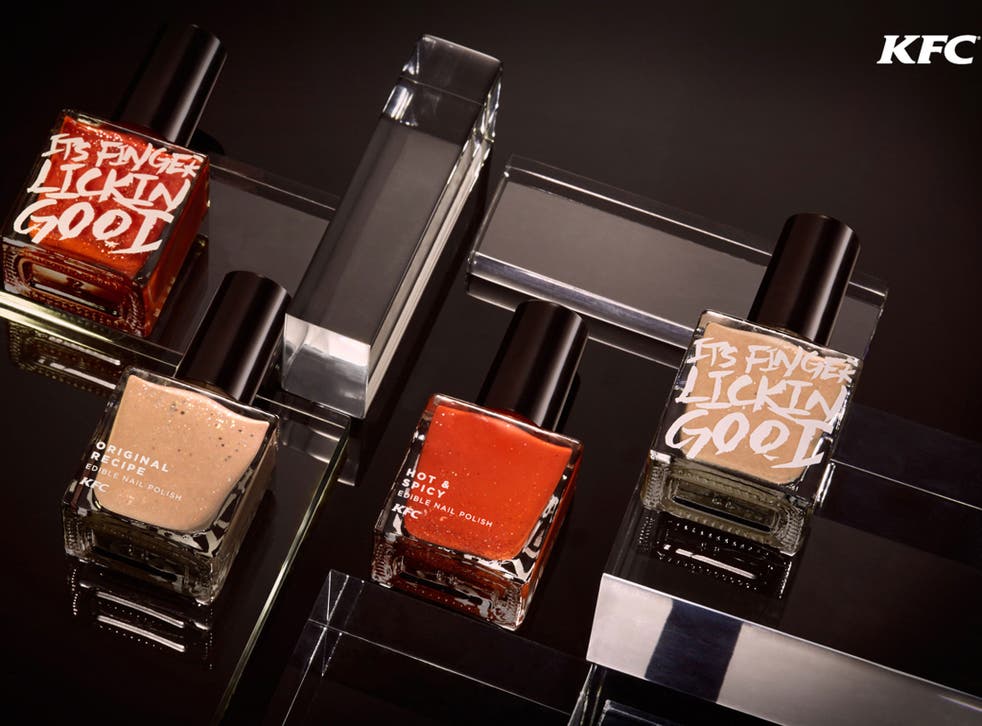 KFC is taking its "finger lickin' good" slogan to new extremes by creating edible fingernail polish.
The nail polish, sourced from "natural ingredients", is being tested in two classic KFC flavours: hot and spicy and original.
The nail polish was created by advertising firm Ogilvy & Mather and food technicians at McCormick, the company behind KFC's spice and herb mix. It is available in bright orange and nude colours.
The new item comes with instructions: "To use, consumers simply apply and dry like regular nail polish, and then lick – again and again and again", KFC said in a statement.
For now, British fast food fans will have to travel to KFC Hong Kong if they want to have a taste of the "Finger Lickin' Good" edible nail polish, which comes in a designer bottle and box.
The polishes are part of a Hong Kong campaign to build excitement around the KFC brand.
KFC has teased the nail polish for the past two weeks but fans have only been invited to try it this week. They are then asked to vote for the best flavour to go into mass production in the new few months.
John Koay, creative director at Ogilvy & Mather, said: "The recipe for our edible nail polish is unique and was specifically designed to hold the flavour, but to also dry with a glossy coat similar to normal nail polish."
Register for free to continue reading
Registration is a free and easy way to support our truly independent journalism
By registering, you will also enjoy limited access to Premium articles, exclusive newsletters, commenting, and virtual events with our leading journalists
Already have an account? sign in
Register for free to continue reading
Registration is a free and easy way to support our truly independent journalism
By registering, you will also enjoy limited access to Premium articles, exclusive newsletters, commenting, and virtual events with our leading journalists
Already have an account? sign in
Join our new commenting forum
Join thought-provoking conversations, follow other Independent readers and see their replies