350,000 sign petition against KFC's use of antibiotics as superbug fears mount
Petition calls on the fast food chain to join McDonald's, Pizza Hut and Papa John's in pledging to ban the practice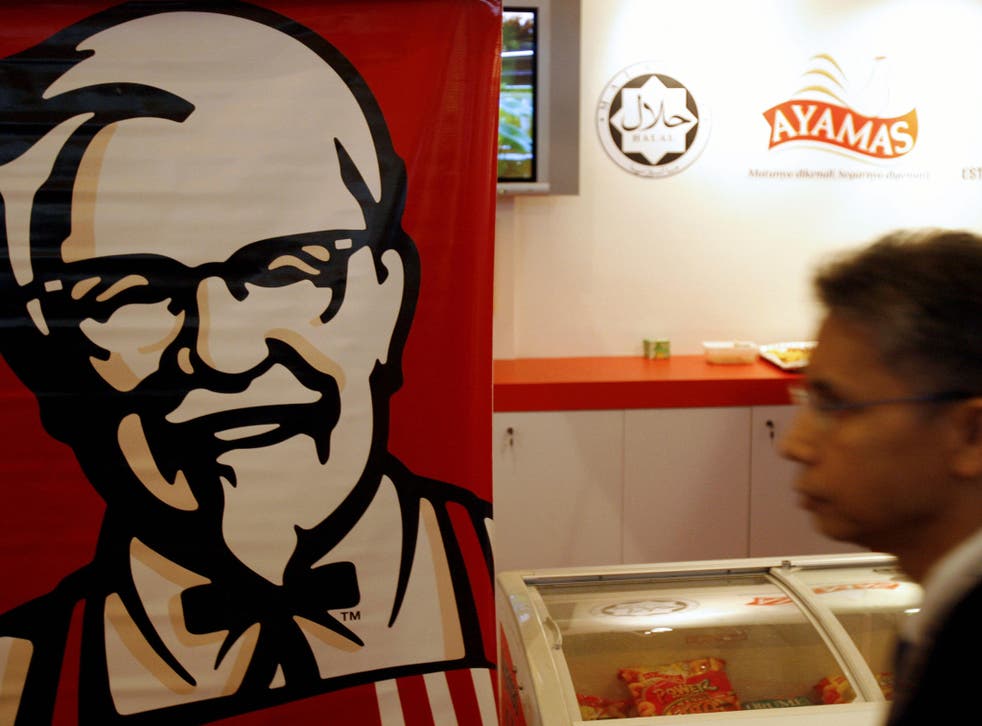 Kentucky Fried Chicken owner, Yum! Brands, has faced renewed pressure from campaigners and investors to stop using chicken routinely treated with antibiotics, a factor in the emergence of drug-resistant superbugs such as MRSA.
A 350,000 signature petition delivered to KFC urged it to follow McDonald's, Papa John's and Pizza Hut by pledging to end the use of medically important antibiotics in its chickens.
KFC, which in April was found by the BBC to have bacteria from faeces in one of its Birmingham restaurants, has also found itself under fire from angry shareholders who submitted a proposal requesting that the company quickly phase out harmful antibiotic use.
"Yum Brands' silence in the face of this looming antibiotic resistance crisis is bad for business," said Austin Wilson, representative of shareholder activists, As You Sow.
A KFC spokesperson said it was reviewing whether it could force suppliers to go beyond its minimal legal requirements on antibiotics usage.
The fried chicken seller has said that by 2017, it will not use types of antibiotics which are crucial to human health routinely to promote growth, but will still use them to maintain chicken health under the supervision and prescription of a licensed vet.
Critics have said the measure, which is required by US law, effectively allows routine use to continue. Some 70 per cent of antibiotics vital for fighting infections in humans are sold for use in meat and dairy production.
"Antibiotics are losing their effectiveness and time is running out to protect people from superbugs. KFC is lagging woefully behind," said Lena Brook of the Natural Resources Defense Council, which is one of the groups delivering petitions to KFC headquarters in Louisville, Kentucky.
"These lifesaving drugs should be used only when animals are sick," said Steven Roach, food safety program director at the Food Animals Concern Trust.
Antibiotic resistance
The World Health Organization has warned that the world is moving toward a post-antibiotic era in which many infections would no longer be treatable because of the overuse of antibiotics.
Two US patients are known to have been infected with bacteria carrying the mcr-1 superbug gene that makes germs highly resistant to a last-resort class of antibiotics.
The mcr-1 gene has been found over the past six months in farm animals and people in about 20 countries, including China, Germany and Italy.
Business news: In pictures

Show all 13
Health officials fear the mcr-1 gene will soon be found in bacteria already resistant to all or virtually all other types of antibiotics, potentially making infections untreatable.
Such discoveries have increased the urgency of calls to reduce antibiotic use in beef and pork production. In April, 54 large investors launched a campaign to curb the use of antibiotics in the meat and poultry served by 10 large US and British restaurant groups, including Yum.
Additional reporting by Reuters
Register for free to continue reading
Registration is a free and easy way to support our truly independent journalism
By registering, you will also enjoy limited access to Premium articles, exclusive newsletters, commenting, and virtual events with our leading journalists
Already have an account? sign in
Register for free to continue reading
Registration is a free and easy way to support our truly independent journalism
By registering, you will also enjoy limited access to Premium articles, exclusive newsletters, commenting, and virtual events with our leading journalists
Already have an account? sign in
Join our new commenting forum
Join thought-provoking conversations, follow other Independent readers and see their replies