Kofi Annan calls for investigation into money transfers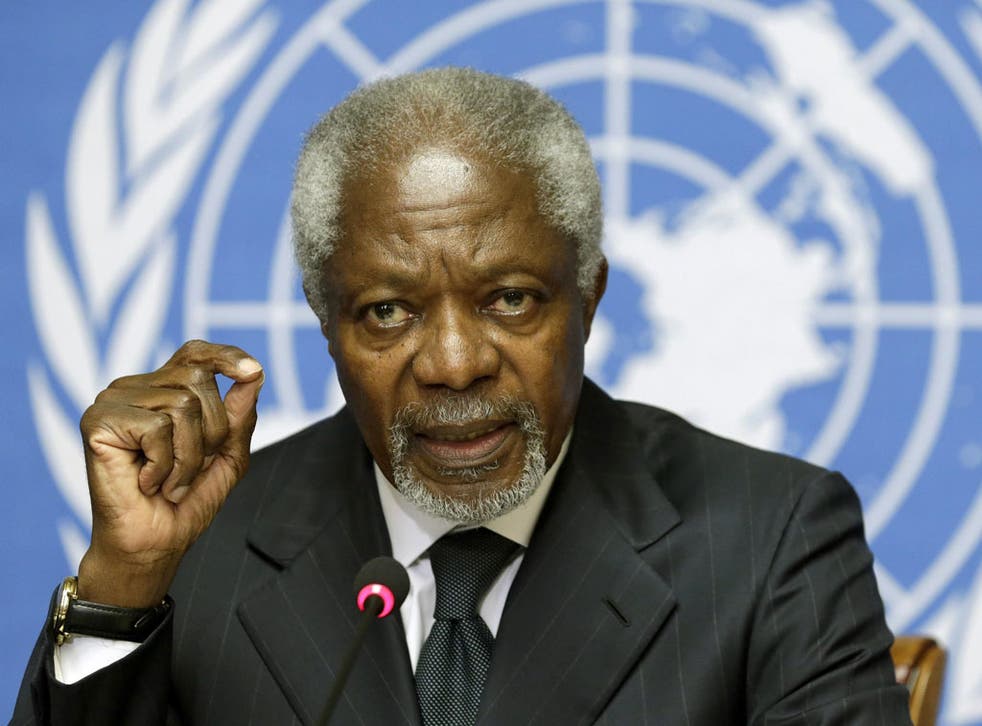 Former UN secretary general Kofi Annan is set to call for a full investigation by City regulators into the likes of MoneyGram and Western Union after his Africa Progress Report organisation accused the money transfer industry of ripping off the African diaspora to the tune of $1.8bn a year.
Speaking in London, Mr Annan will say that exorbitant fees levied on Africans working in the UK to send their money back home should be investigated, while the big money transfer companies should be investigated for monopolistic practices.
Africans send an estimated $5bn a year from the UK back to their home countries, marking a significant source of inward investment to some of the poorest countries in the world. However, money transfer companies typically charge 8-9 per cent for the service on top of often undisclosed currency exchange costs which can make up a further 3-5%.
The money transfer system, along with banking and insurance generally in Africa, comes under fire in the sweeping report aimed at exposing how the nation's fisheries and agriculture is being "plundered" by richer countries due to corruption and tax evasion.
Mr Annan will say: "After more than a decade of growth, there is plenty to celebrate. But it is time to ask why so much growth has done so little to lift people out of poverty – and why so much of Africa's resource wealth is squandered through corrupt practices and unscrupulous investment activities."
Fishing fleets, particularly from Asia, stand accused of overfishing the seas in Africa's coastal waters and illegally failing to report the size of their catches.
Such behaviour both depletes stocks for local fishermen and deprives the African countries of much-needed tax revenue. The report details how fishing fleets from countries like Russia, China or South Korea will sail under Panamanian or Liberian flags so as to avoid scrutiny from their real countries of origin. The Africa Progress Report compares such activity to shady businesses masking their activities through offshore shell companies.
"Illegal, unregulated and unreported fishing has reached epidemic proportions in Africa's coastal waters," the report says, claiming West Africa alone is conservatively estimated to lose $1.3bn a year. Local fishing industries and communities are being destroyed by the foreign fleets, some of whom operate with the corrupt approval of the state, others knowing the local country is too poor to police its waters properly anyway.
Senegal is the worst affected country in West Africa from the illegal fishing trade, with largescale commercial fleets trawling on an industrial scale in its waters. Losses to illegal fishing in 2011 were estimated by researchers at the University of British Columbia at $300m. Due to the country's poverty, monitoring and tracking capabilities are extremely limited, but the NGO Greenpeace has been observing and providing data on the illegal activities of Russian vessels there. Early this year, a Senegalese court managed to prosecute the operators of a Russian ship, the Oleg Naydenov, and fined them $12m.
The report details how such illegal fishermen operate with impunity due to the ease with which they can unload their catch at rogue ports in countries like Russia without having to declare their catches.
Mr Annan will call for a multilateral fisheries regime applying sanctions to fishing vessels that do not register and report their catches.
The report also condemns the illegal logging which continues to plague the continent, depriving countries of much-needed tax revenues.
Register for free to continue reading
Registration is a free and easy way to support our truly independent journalism
By registering, you will also enjoy limited access to Premium articles, exclusive newsletters, commenting, and virtual events with our leading journalists
Already have an account? sign in
Register for free to continue reading
Registration is a free and easy way to support our truly independent journalism
By registering, you will also enjoy limited access to Premium articles, exclusive newsletters, commenting, and virtual events with our leading journalists
Already have an account? sign in
Join our new commenting forum
Join thought-provoking conversations, follow other Independent readers and see their replies