Linkin Park have launched a venture capital brand, but can such a company ever be rock n' roll?
Machine Shop Ventures will invest in 'early-to-growth-stage consumer-focused companies'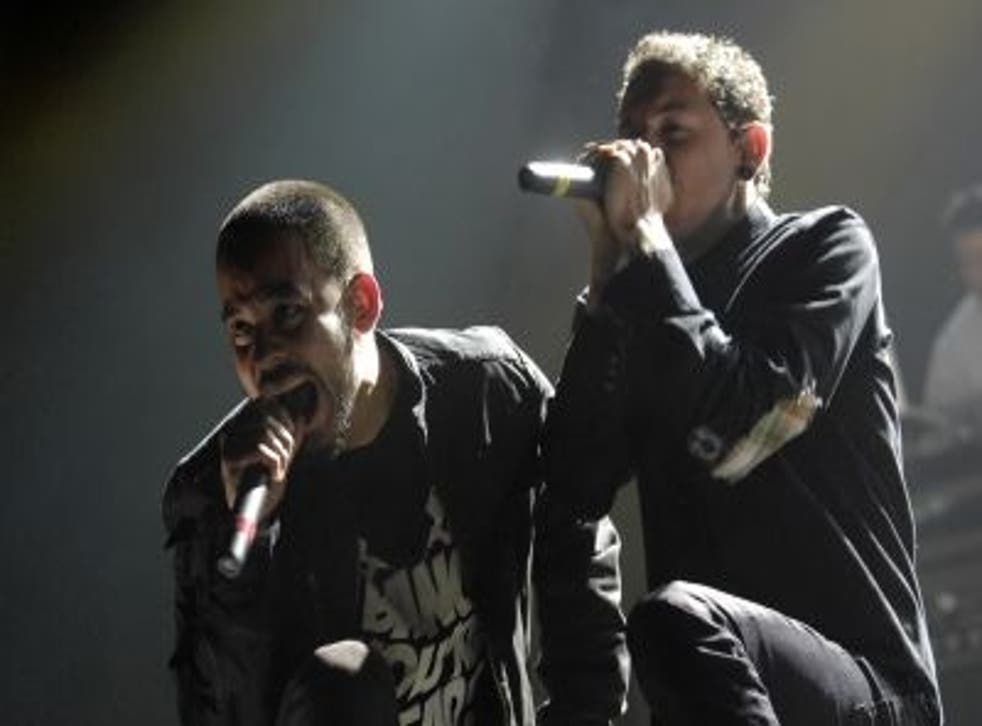 From Gwen Stefani's fashion label to Dr Dre's headphones firm, modern musicians are increasingly turning away from the microphone and embracing alternative sources of income to keep the money rolling in. But can a venture capital company ever really be rock n' roll?
The American band Linkin Park is hoping so. Their new firm Machine Shop Ventures will focus on investing in "early-to-growth-stage consumer-focused companies that align with the band's ethos of connecting people and innovation through tech and design", they announced this week in a flurry of jargon.
The Californian group, which rose to fame in 2000 with nu-metal and rap-rock hits such as "Crawling" and "One Step Closer", says it has already invested in a number of startup companies including car-sharing service Lyft, online courier Shyp and the Oakland-based Blue Bottle Coffee.
The band has always had an eye for business. Before even getting off the ground, it reportedly changing its name from Lincoln Park to Linkin Park so it could register a unique internet domain name. After finding fame, it formed its own spin-off company, Machine Shop.
In an essay for the Harvard Business Review, Machine Shop's executive vice president Kiel Berry revealed that before taking the leap into venture capital, the band had commissioned a lengthy academic study – led by Harvard Business School Professor Anita Elberse – into its own business model.
Making liberal use of business jargon, Mr Berry explains how during the first phase of the project, the band learned it had to "build a differentiated brand ecosystem" and "ensure that our brand ethos is clear and that it's reflected in every brand touchpoint" – not to mention the need to "diversify revenue streams across multiple business verticals" and "remain tapped into bleeding-edge cultural trends".
Mr Berry, who previously worked at JPMorgan, added that while the band was still in the music business, "creating and selling music now plays more of a supporting role in our overall business mix". As well as performing its hits, Linkin Park intended to use its forthcoming stadium tour of China to set up meetings with local tech firms and consumer brands, he said.
The band dropped its external management at the end of last year and now organises its business affairs through its own corporate arm. Or as Linkin Park co-lead vocalist and founder Mike Shinoda put it: "Our goal was to build an internal team of diverse talent to support the non-traditional endeavours the band plans to pursue in the coming years."
Explaining the band's venture capital foray, Mr Berry said that all musicians were being forced to "completely rethink the way they approach their businesses" when faced with declining album and single sales and the rise of online streaming services such as Spotify.
The issue cropped up earlier this week, when Apple backtracked on plans not to pay royalties to artists during a three-month free trial of its new music streaming service. The company acted after being publicly attacked by the pop star Taylor Swift, who said the "shocking" and "disappointing" policy would penalise emerging songwriters and producers.
Gennaro Castaldo, a spokesman for the UK music body the BPI, said a musical "revolution" was occurring with performers exploring "new realms of business" outside the industry.
"Dr Dre of course had his Beats headphones, Neil Young has his Pono streaming device, Rihanna has a fashion range, Iron Maiden are selling millions of pints of their Trooper beer and there are even Kiss funerals," he said. "Linkin Park, however, have perhaps taken things even further as venture capitalists."
Jon Webster, chief executive of the Music Managers Forum, which has about 400 members in the UK representing more than 1,000 artists, said the amount of money generated by recorded music now only made up around 25 per cent of a performer's overall income.
"The issue is investment – where do you get investment income from, if it's not from a record label? Because the income from recorded music is dropping and we've gone to a track-based culture as opposed to an album-based culture, the amount of money that a label can afford to risk on signing new artists on an individual deal has dropped."
He pointed out that the British DJ Mr Scruff had set up his own organic tea company called Make Us A Brew, which he distributed online and at music festivals. "I think he's now making more money from his ancillary, non-music activities than he is from music," he said.
However, he added that the majority of new musicians had no interest in running their own businesses. "Creators are creators, that's what they're good at. That's why they have managers and lawyers and accountants. They can be entrepreneurial, but it's not their prime motivation. The admin and business stuff is what they want to get rid of."
Moneymaking musicians
Jay-Z
The rapper re-launched the music streaming service Tidal with much fanfare in March after acquiring it through his purchase of the Swedish company Aspiro for £37 million. The service claims to offer better sound quality than rivals such as Spotify, Deezer and Google Play and is also artist-owned, with Jay-Z's wife Beyoncé, Madonna and Alicia Keys all controlling equity stakes. Royalty levels are set at 75 per cent – higher than Spotify's 70 per cent – but it has so far generated a subscriber base of just 770,000, compared with its rival's 20 million.
Gwen Stefani
The No Doubt frontwoman founded her own fashion label called L.A.M.B. in 2003. An acronym for Love Angel Music Baby – the name of her debut solo album – the brand's website describes it as "a mix of vintage feminine and masculine silhouettes with a playful juxtaposition of Hollywood glamour and modern street-style influences". The company's income is reported to be around $90 million a year. Stefani said she started the label as she knew she could not "be running around doing cartwheels on stage for the rest of my life".
Dr. Dre
The hip hop star co-founded Beats Electronics in 2008 alongside music producer Jimmy Iovine. Best known for its distinctive "b" branded headphones, the company also sells earphones and portable speakers, and also works with carmakers and computer manufacturers so its software technology can be included in their products. Last year Apple bought the firm for £1.8 billion, the largest acquisition in its history.
Register for free to continue reading
Registration is a free and easy way to support our truly independent journalism
By registering, you will also enjoy limited access to Premium articles, exclusive newsletters, commenting, and virtual events with our leading journalists
Already have an account? sign in
Register for free to continue reading
Registration is a free and easy way to support our truly independent journalism
By registering, you will also enjoy limited access to Premium articles, exclusive newsletters, commenting, and virtual events with our leading journalists
Already have an account? sign in
Join our new commenting forum
Join thought-provoking conversations, follow other Independent readers and see their replies