Market punishment for stricken Deutsche Bank not letting up
Shares in the giant German lender are down a further 3 per cent this morning, following yesterday's 7.5 per cent plunge as fears of collapse grow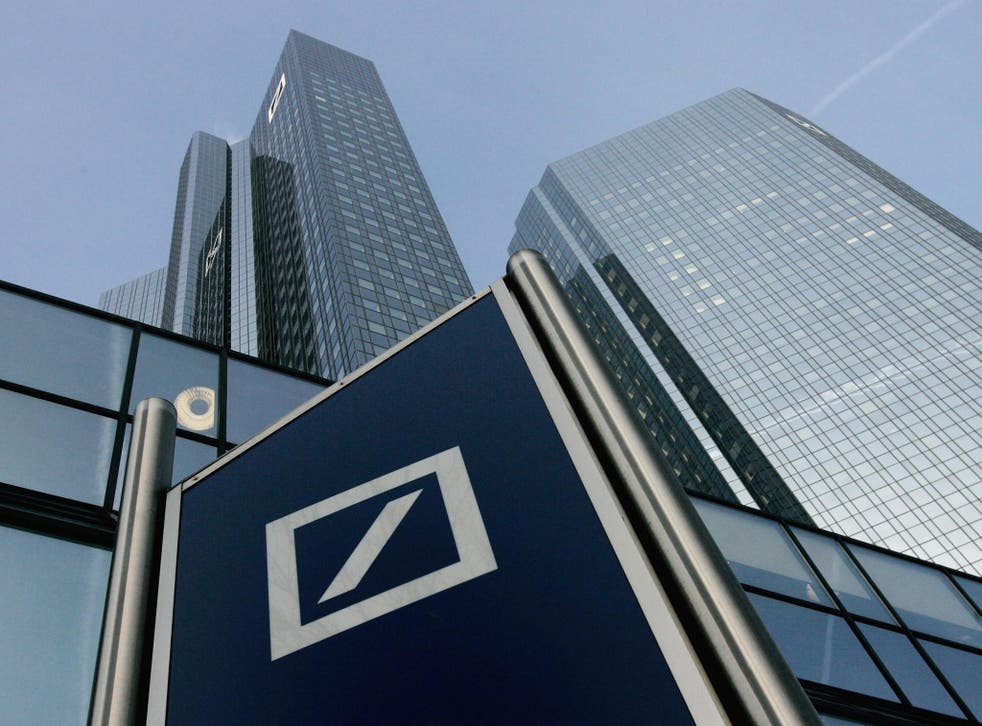 Deutsche Bank shares dipped 3 per cent per cent this morning as fears the European financial giant is close to collapse failed to abate.
Deutsche's shares plunged 7.54 per cent on Monday after a German media report that Chancellor Angela Merkel had ruled out any bailout before the 2017 national elections.
The bank was forced to deny that it was looking for, or needed, a state bailout.
"This question is not on our agenda. Deutsche Bank is determined to meet the challenges on its own," insisted Jorg Eigendorf, Deutsche's spokesman.
Deutsche shares are down 55 per cent in the last year and are currently trading at just €10.25, their lowest since the mid 1980s.
Deutsche down
The lender, run by the British banker John Cryan since July 2015, has been struggling for years as a result of legacy bad loans made before the financial crisis and the undermining of its investment banking-focused business model.
But the latest crisis has been forced by a shock demand earlier this month by the US Justice Department that Deutsche pay $14bn (£10.8bn) in fines for mis-selling US mortgage securities in the years before the global financial crisis.
That bill is not much smaller than Deutsche's entire market capitalisation of €14.15bn ($15.9bn).
Deutsche is contesting the fine, saying it has "no intent to settle these potential civil claims anywhere near the number cited".
Mr Eigendorf also insisted yesterday that the bank was not looking to raise additional capital from shareholders to shore up its balance sheet.
"The question of a capital increase is currently not on the agenda, we comply with all the regulator requirements," he said.
Business news: In pictures

Show all 13
However, a number of hedge funds, including the family fund of George Soros, have taken significant short positions in Deutsche's stock, betting that the share price has further to fall.
Other funds betting against Deutsche include Marshall Wace and Highfields Capital Management.
Andreas Utermann, chief executive of Allianz Global Investors, has said that, in the end, the German Government would probably stand behind Deutcshe.
"It's too important to the Germany economy," he told Bloomberg Television.
But others in Germany refute this.
"It's unimaginable that we would help Deutsche Bank with taxpayers' money," said Hans Michelbach, a senior lawmaker in Merkel's Christian Democrat-led bloc.
"It would lead to a public outcry. The political establishment would lose credibility if the government jumped in."
Mark Ostwald of ADM ISI argued the Germany government has no choice but to say in public that there will not be a bail-out.
"Firstly, if they were to admit the possibility, then the follow-up question is 'so you are saying they need a bail-out?'. Secondly, after all the forced bailouts for Greece, Ireland, Portugal and Spain, it would genuinely beggar belief for a German government official to suggest that a bail-out was possible, above all given the precedent that it would set," he said.
The latest round of stress tests from the European Banking Authority showed that Detusche Bank's 11.1 per cent capital buffer would fall to just 7.8 per cent in an adverse scenario of another European recession.
Deutsche, which has a $1.8 trillion (£13.8 trillion) total balance sheet underpinned by just €43.5bn of capital according to its most recent market update, has been identified by the International Monetary Fund as one of the major risks to global financial stability.
Register for free to continue reading
Registration is a free and easy way to support our truly independent journalism
By registering, you will also enjoy limited access to Premium articles, exclusive newsletters, commenting, and virtual events with our leading journalists
Already have an account? sign in
Register for free to continue reading
Registration is a free and easy way to support our truly independent journalism
By registering, you will also enjoy limited access to Premium articles, exclusive newsletters, commenting, and virtual events with our leading journalists
Already have an account? sign in
Join our new commenting forum
Join thought-provoking conversations, follow other Independent readers and see their replies