McDonald's faces more strikes as workers balloted over pay and zero-hours contracts
'We are the McStrikers, and we will not be silent, we will not be scared,' says employee Tristan Bentley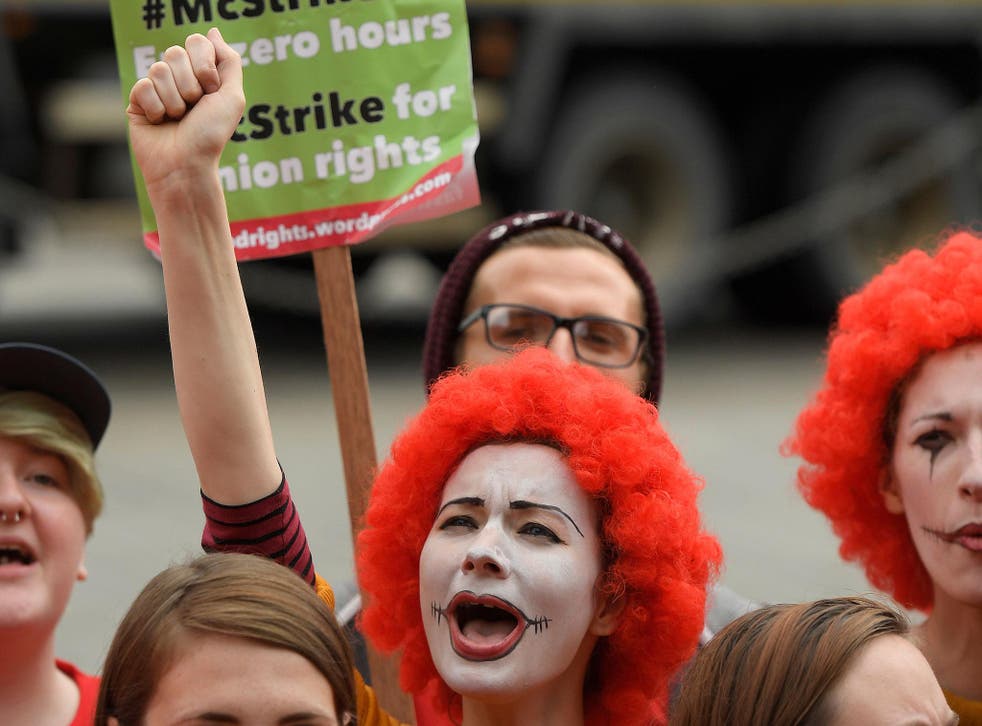 McDonald's faces a fresh round of strikes as a union ballots members at six restaurants across the UK. The Bakers, Food and Allied Workers Union (BFAWU) has notified the fast food chain about the ballot and said industrial action will take place next year if workers vote for it.
McDonald's employees at Crayford, Manchester, Cambridge, one central London branch and two outlets in Watford are involved.
Ian Hodson, president of the BFAWU, said on Monday that union representatives from six stores wished to be balloted on issues of pay, unequal wages for young workers, and to demand to be given a choice of fixed hours.
"The union is committed to supporting its members and campaigning for £10 an hour, an end to zero-hour contracts, and to give McDonald's workers a voice," Mr Hodson said.
The current ballot will close on 16 April and the BFAWU said it would release the results of the ballot once the company has been informed of the result.
Tristan Bentley, a McDonald's worker in Crayford, south-east London, said: "Workers across the country came together to decide to ballot for industrial action. We want a better deal. We are the McStrikers, and we will not be silent, we will not be scared. We will do whatever it takes to win a better life for all McDonald's workers."
Staff at the Cambridge and Crayford branches became the first McDonald's workers to strike in the UK when they staged a walkout in September in protest over the use of a grievance procedure. Employees also expressed anger over low pay and the use of zero-hour contracts.
McDonald's UK and Ireland chief executive Paul Pomroy said wages for hourly-paid restaurant employees had increased by a quarter in the last three years.
"As I promised last year, everyone has now been offered a minimum guaranteed hours contract," he said
"Despite this, around 80 per cent of our people have selected to stay on flexible contracts because they value the opportunity to fit their work around their other commitments."
The latest action is part of the #McStrike campaign which is linked to a global movement of fast food workers fighting for improved pay and conditions.
In the US, McDonald's has come under significant pressure from the "Fight for $15" campaign, supported by the Service Employee's International Union.
Register for free to continue reading
Registration is a free and easy way to support our truly independent journalism
By registering, you will also enjoy limited access to Premium articles, exclusive newsletters, commenting, and virtual events with our leading journalists
Already have an account? sign in
Register for free to continue reading
Registration is a free and easy way to support our truly independent journalism
By registering, you will also enjoy limited access to Premium articles, exclusive newsletters, commenting, and virtual events with our leading journalists
Already have an account? sign in
Join our new commenting forum
Join thought-provoking conversations, follow other Independent readers and see their replies