Microsoft cuts 1 in 7 jobs as Nadella wields the axe
The move comes as it integrates its recently acquired Nokia phone division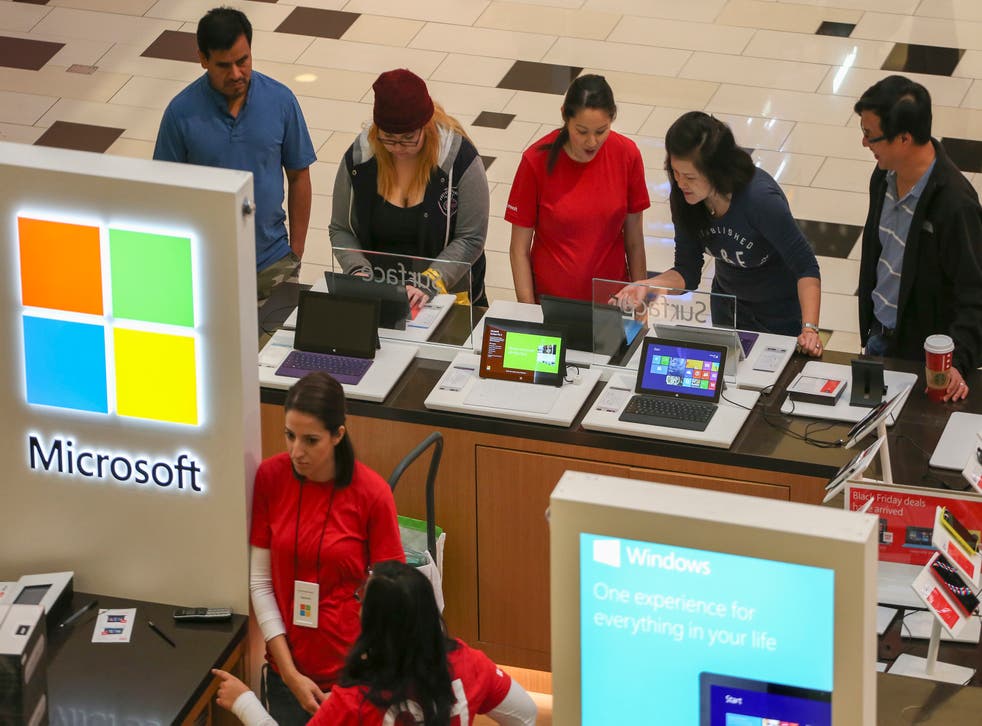 Microsoft's new chief executive, Satya Nadella, announced the deepest cuts in the software giant's history yesterday, axeing 18,000, or one in seven, of its global staff.
The move comes as it integrates its recently acquired Nokia phone division.
The fate of Microsoft's 3,000-plus British staff is still unclear, but the marketing team for the Xbox, which has its European base in Reading, is under scrutiny. The company is also thought to employ almost 1,000 at its London headquarters in Victoria.
About 12,500 of the job cuts will take place at Nokia, and Microsoft expects to incur pre-tax charges of $1.1bn (£650m) to $1.6bn, including $750m to $800m for severance costs.
Mr Nadella took over earlier this year, vowing to lead Microsoft into a new era of "mobile first, cloud first", and was seen as a collegial personality who could fix the notorious infighting between divisions of the company.
Announcing the job cuts in an email to his 127,000 staff, Mr Nadella said: "It's important to note that while we are eliminating roles in some areas, we are adding roles in certain other strategic areas.
"My promise to you is that we will go through this process in the most thoughtful and transparent way possible."
Mr Nadella said Microsoft plans to have fewer layers of management, and to accelerate the flow of information and decision making.
He added: "Our business processes and support models will be more lean and efficient, with greater trust between teams. The overall result of these changes will be more productive, impactful teams across Microsoft."
Mr Nadella, who succeeded Steve Ballmer, has been under pressure as Microsoft has lagged behind Apple and Google in the era of mobile and cloud computing.
Integrating Nokia was seen as one of his first big challenges, but the job cuts are much bigger than expected.
In a separate email to staff, Microsoft's executive vice president of devices, Stephen Elop, explained the cuts at the Nokia division. "It is particularly important to recognise that the role of phones within Microsoft is different than it was within Nokia," he said.
"Whereas the hardware business of phones within Nokia was an end unto itself, within Microsoft all our devices are intended to embody the finest of Microsoft's digital work ... Our device strategy must reflect Microsoft's strategy and must be accomplished within an appropriate financial envelope. Therefore, we plan to make some changes."
Mr Elop said Microsoft will now focus on "making the market for Windows Phone [the mobile operating system]". He explained that the company plans to drive volumes for Windows Phone by targeting the more affordable end of the smartphone market with its Lumia model.
"With our focus, we plan to consolidate the former smart devices and mobile phones business units into one business unit that is responsible for all of our phone efforts.
"We plan to right-size our manufacturing operations," he added. "We expect to focus phone production mainly in Hanoi [in Vietnam], with some production to continue in Beijing and Dongguan [in China]. We plan to shift other Microsoft manufacturing and repair operations to Manaus [in Brazil] and Reynosa [in Mexico] respectively, and start a phased exit from Komarom in Hungary."
Register for free to continue reading
Registration is a free and easy way to support our truly independent journalism
By registering, you will also enjoy limited access to Premium articles, exclusive newsletters, commenting, and virtual events with our leading journalists
Already have an account? sign in
Register for free to continue reading
Registration is a free and easy way to support our truly independent journalism
By registering, you will also enjoy limited access to Premium articles, exclusive newsletters, commenting, and virtual events with our leading journalists
Already have an account? sign in
Join our new commenting forum
Join thought-provoking conversations, follow other Independent readers and see their replies