Nestlé to release reduced-sugar Milkybars
Company says it has changed the structure of sugar using natural ingredients meaning that it can use less to make chocolate bar taste as sweet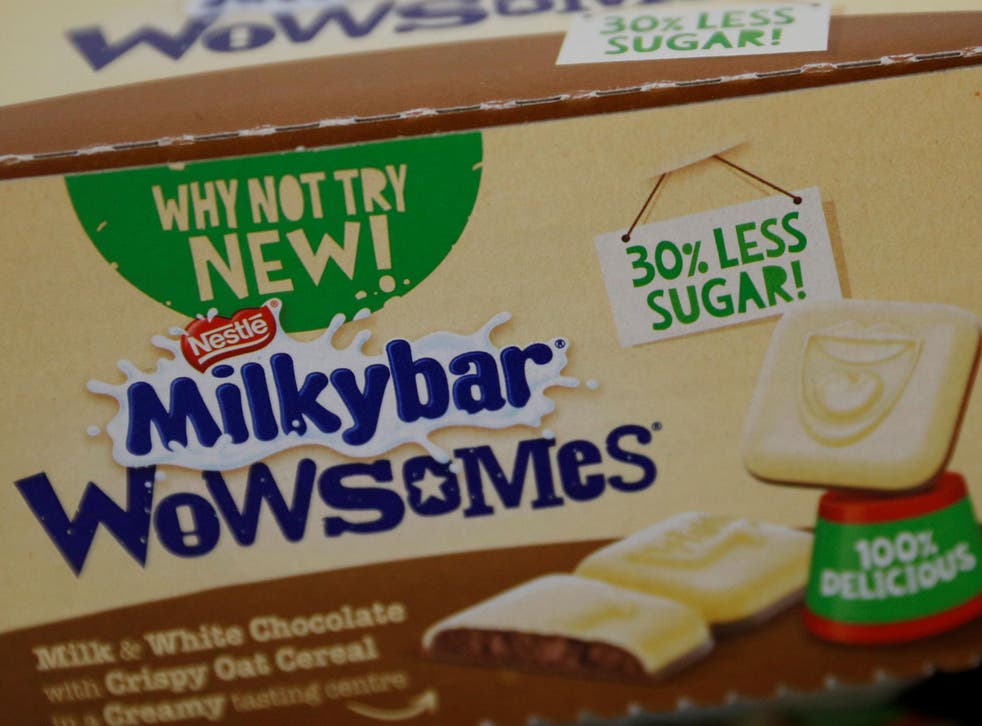 Milkybars are about to become a fair bit healthier. Nestlé, the firm behind the popular confectionery, announced that it is launching a version of the bar which contains 30 per cent less sugar.
Milkybar Wowsomes, which are due to hit shelves across the UK and Ireland over the coming weeks, are made with a sugar substitute which Nestlé developed in 2016. The company said that it had changed the structure of sugar using only natural ingredients, creating an "aerated, porous sugar that dissolves more quickly in the mouth".
This, the company explained, "allows someone to perceive the same sweetness as before while consuming less sugar". It said that it also intends to apply the new sugar technology to other chocolate brands, specifically those targeted at children.
Like other consumer goods brands, the maker of Kit Kats, Aeros and Nescafé, has for several years been vocally committed to making its product healthier, partially in response to campaign groups and health charities concerned about the amount of sugar being consumed especially by children.
Nestlé made a first public commitment to slash sugar in a range of its products by 10 per cent between 2014 and 2016 and has since pledged to cut it by a further 5 per cent on average across its products as part of a range of 2020 commitments.
Earlier this month, Nestlé said that it had already taken out more than 60 billion calories and 2.6 billion teaspoons of sugar from across its food and drink portfolio over the past three years.
Commenting on the new Milkybar launch, Stefano Agostini, chief executive for the group in the UK and Ireland, said that Nestlé is demonstrating how it "can, and will, contribute to a healthier future" and that it takes its "public health responsibilities very seriously".
Launched back in 1936, the Milkybar is one of Nestlé's most recognisable products in the UK. In 2007 it was relaunched with all natural ingredients and in 2017 the recipe was tweaked to make milk the biggest ingredient in the chocolate bar.
Register for free to continue reading
Registration is a free and easy way to support our truly independent journalism
By registering, you will also enjoy limited access to Premium articles, exclusive newsletters, commenting, and virtual events with our leading journalists
Already have an account? sign in
Register for free to continue reading
Registration is a free and easy way to support our truly independent journalism
By registering, you will also enjoy limited access to Premium articles, exclusive newsletters, commenting, and virtual events with our leading journalists
Already have an account? sign in
Join our new commenting forum
Join thought-provoking conversations, follow other Independent readers and see their replies