Millionaire bankers' message to Britain: We're all right, Jack
Britain's bankers are celebrating bumper bonuses. Whatever happened to the Government's pledge to tackle them?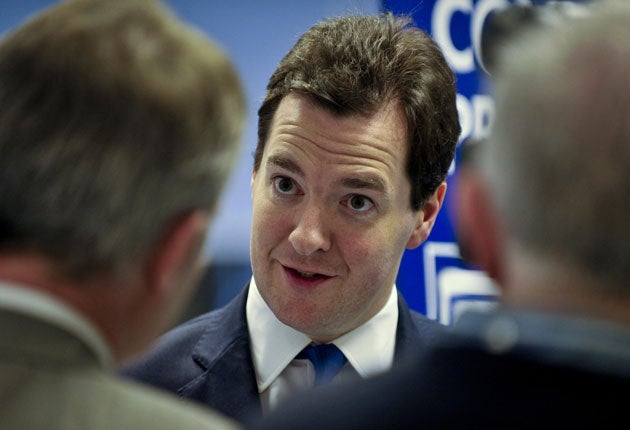 After umpteen calls for restraint by ministers, weighing the public relations impact, and consulting colleagues and advisers, Barclays chief executive Bob Diamond has made his most difficult decision. The multi-millionaire is set to accept a £9m bonus, one of the largest in the world, and will be followed by the bosses of the other major banks. This shows that they are all in something together, even if it's not what the rest of us are in.
Mr Diamond canvassed close City friends before deciding to take the bumper bonus which he fears will reignite the row over bankers pay. Sources close to him said: "Bob's been in a real dilemma as he can't stand this country's culture of banker-bashing and finds our attitude to bonuses extraordinary. But he is also aware of public opinion, so sounded out people about whether he should turn down his bonus again for the third year, take less or give some to charity."
Despite rising public anger about the scale of City payouts, David Cameron insisted last night that he was not interested in "headlines satisfying people today and tomorrow that I've given the banks a good kick in the pants. Can we do more on bonuses, particularly on those banks we own? Yes we can, and yes we will," he told The Sunday Telegraph. "But look, we've just been talking about growth. I don't believe actually in the long run, you can deliver the enterprise-growth agenda while having a running war with the British banking industry at the same time."
Some of those whom Mr Diamond – or his advisers – have consulted counselled him to show restraint. But the American decided that when he is offered the pay package – somewhere between £7m and £10m – he is minded to take it.
One Barclays source said: "Bob thinks it's time to be commercial again despite public opinion. Barclays is a world-class bank and it would be commercial suicide if it didn't pay its top staff as we compete with the US giants like Goldman Sachs and JP Morgan. Our shareholders have been told about the bonuses being paid out and are completely behind us."
The Barclays board meets on Thursday to finalise – and if necessary, to amend – Mr Diamond's bonus ahead of the bank's half-year results due the following Wednesday, making it the first of the banks to report this month. Britain's four biggest banks – Barclays, Royal Bank of Scotland, HSBC and Lloyds Bank – are expected to pay out a total bonus pool of about £5bn over the next few weeks to their high-performing bankers and traders.
RBS's chief executive, Stephen Hester, is due for a bonus of £2m; the soon-to-depart boss of Lloyds, Eric Daniels, will take home a £2m bonus while Stuart Gulliver, the new chief executive of HSBC, is set to be paid a Diamond-style bonus of about £8m.
The £5bn total bonus pot is well down on the record payment of £11bn paid out before the financial crash, but will inflame public opinion at a time when public-sector workers face losing their jobs. Len McCluskey, the general secretary of Unite, said: "Nobody is fooled by Cameron and Clegg's empty promises of reining in these greedy bankers. They are busy slashing essential public services while these bosses continue to enjoy their lavish lifestyles."
One of the biggest bonus pools is the £2.7bn shared by the 140,000 Barclays investment bankers. At RBS, staff are likely to share bonuses of about £950m with 200 individuals receiving payments of £1m each. At HSBC, its 25,000 traders and bankers are to share £1.2bn. Under new Financial Services Authority rules, bankers can take only 20 per cent of their pay in cash, with the rest in shares or bonds.
The revelations put further pressure on the delicate negotiations – code-named Project Merlin – between the coalition and bankers to get agreement on the twin issues of bank lending and bonus restraint. The Chancellor, George Osborne, had hoped to reach a deal before the 2010 bonus round, but haggling continues over gross bank lending numbers. Mr Obsorne hopes to get the banks to pledge about £180bn in gross lending for this year in efforts to drive economic growth and provide more funds to small business. A deal is due over the next few weeks. The Treasury said the remuneration committees of RBS and Lloyds have yet to meet. UKFI, which owns the stakes in the banks on behalf of the taxpayer, will be putting its case for bonus restraint.
But politicians were warning yesterday that Mr Diamond's bonus – and other payments – could derail the project. Ed Balls, the shadow Chancellor, said: "George Osborne boasted he was the man to curb excessive bank bonuses, but nine months into office it is clear he has been all talk and no action. They should re-think their plan to give the banks a tax cut this year and adopt Labour's plan to repeat last year's £3.5bn bank bonus tax and use the money to boost growth and help create the jobs we badly need."
Lord Oakeshott, the Lib Dem Treasury spokesman, said: "Barclays is shaking hands with the Government over Project Merlin while holding up two fingers to the country with the other."
Mr Diamond's bonus will be all the more controversial as Barclays is expected to disclose profits nearly halved over the period, although Barclays Capital, its investment banking arm which was run by Mr Diamond, will show a strong performance. Since the crash, the proportion of revenues paid out to staff – which used to be as high as 60 per cent in many banks – has gone down, but Barclays is said to have pushed it again to above 40 per cent.
Mr Diamond, who is estimated to have amassed a £95m fortune over the decade he has spent building up Barclays Capital, became chief executive of the bank last month. On top of his £1.35m salary, he gets a performance-related package leading to an annual bonus of up to £3.4m. He is also entitled to incentive shares worth £6.75m.
Barclays did not receive a government bailout during the crisis, turning instead to Middle Eastern investors, but it benefited indirectly from the Bank of England's special liquidity measures. Despite advice from Lord Mandelson on how to handle politicians at a Treasury Select Committee, Mr Diamond angered MPs, saying: "There was a period of remorse and apology for banks and I think that period needs to be over."
Tough talk or hollow words?
"We will make sure Britain is a world centre of a properly regulated and successful industry.... If they [the banks] aren't able to meet our requirements, then nothing is off the table."
George Osborne, Chancellor, 11 January 2011
"The banks shouldn't underestimate our determination to act. They are deluding themselves if they believe the Government is not going to take this seriously."
Vince Cable, Secretary of State for Business, 19 December 2010
"Let me tell the Prime Minister: he is now in the absurd position of being more of a defender of the banks than even the banks themselves."
Ed Miliband, Labour leader, 12 January 2011
"Instead of doing backroom deals with the banks on the disclosure of their pay, we would apply the bank bonus tax again. It brought in £3.5bn last year which could be used this year to help create the jobs and growth we need."
Ed Balls, Shadow Chancellor, 23 January 2011
"It is wholly untenable to have millions of people making sacrifices in their living standards only to see the banks getting away scot-free."
Nick Clegg, Deputy Prime Minister, 17 December 2010
"Bankers have to realise that the British public helped to bail out the banks and it is very galling when they see bankers pay themselves unjustified bonuses."
David Cameron, Prime Minister, 17 December 2010
Join our commenting forum
Join thought-provoking conversations, follow other Independent readers and see their replies