Oil now officially cheaper than water as price collapse threatens financial security
Analysts call current barrel cost 'unsustainably low'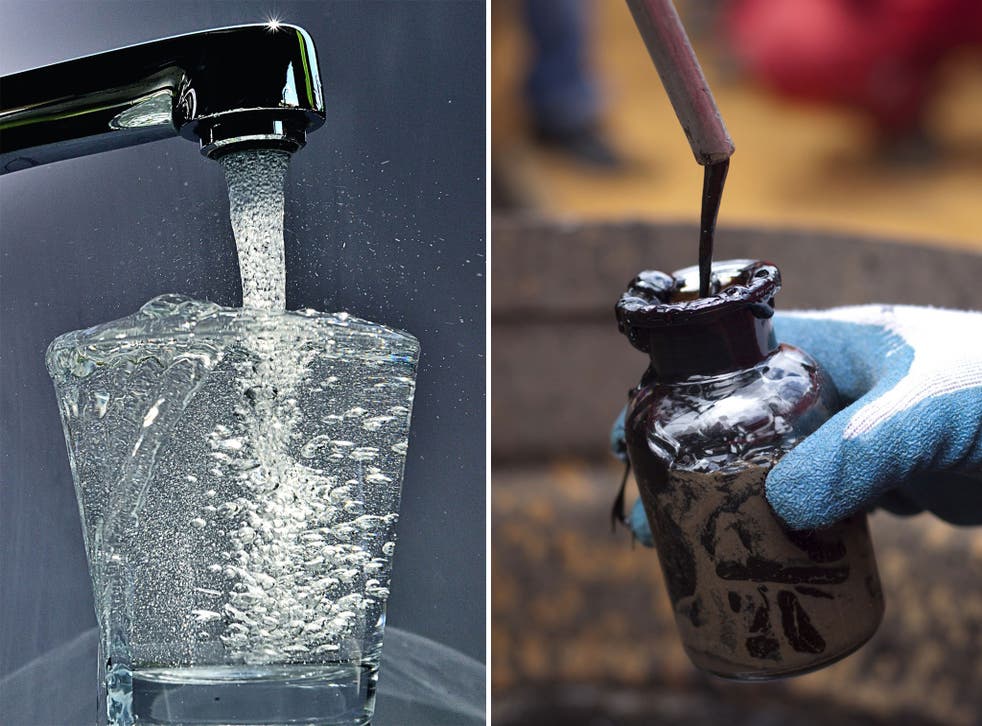 The price of oil has spectacularly collapsed, affecting not just Vladimir Putin's plans for world domination but also every single person in the UK.
There are a number of ways this can be represented – but perhaps the simplest is to say that oil by the barrel is now cheaper than bottled water.
That's the verdict if you compare the current, shockingly low price of below $60 (£38) per barrel for Brent crude, and the cost of a (value!) multipack of six, 1.5-litre Evian natural mineral water bottles.
The £3.80 water pack works out at about 42p per litre – some 40 per cent cheaper than oil at 24p a litre.
John Kemp, a market analyst for Reuters, pointed out the bizarre state of affairs on Twitter and said not only that the current oil price represented "an unsustainable low level" – but that it was "impossible to predict how low prices might fall".
"In a bubble, prices tend to become far more distorted than rational observers thought possible before correcting, so there is no reason why oil prices cannot fall further in the short term," he said.
Falling energy prices have seen inflation falling as well in the UK, meaning that annual wage rises could soon be higher than annual increase in prices, easing the cost of living.
But analysts fear the collapse in oil could also wipe billions off the value of London-listed companies like BP, threatening investment and thousands of jobs in the industry.
The Bank of England has also warned that if oil prices remain this low it could threaten the financial stability of the country itself.
Register for free to continue reading
Registration is a free and easy way to support our truly independent journalism
By registering, you will also enjoy limited access to Premium articles, exclusive newsletters, commenting, and virtual events with our leading journalists
Already have an account? sign in
Register for free to continue reading
Registration is a free and easy way to support our truly independent journalism
By registering, you will also enjoy limited access to Premium articles, exclusive newsletters, commenting, and virtual events with our leading journalists
Already have an account? sign in
Join our new commenting forum
Join thought-provoking conversations, follow other Independent readers and see their replies