Brexit cost to the UK: What has happened to sterling, stocks and gold?
£120 billion was wiped off the value of the  FTSE 100, while domestic companies in the FTSE 250 took an even bigger hit
Hazel Sheffield
Friday 24 June 2016 15:42 Comments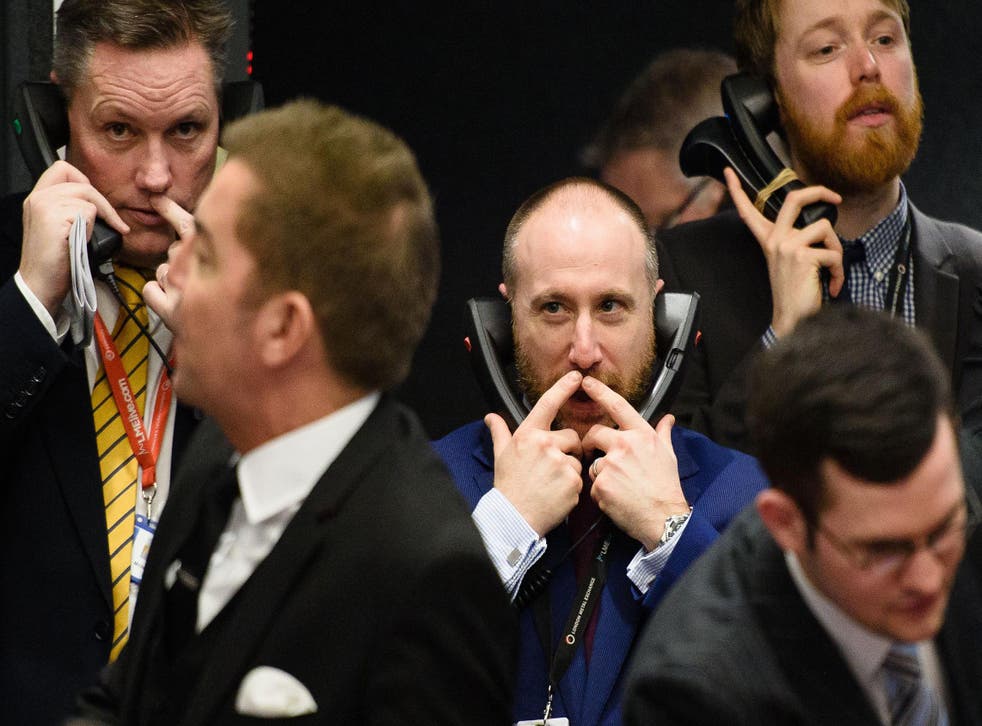 Shares and sterling have taken a beating since the UK voted to leave the EU.
Market movements started not long after it emerged that Leave was in the lead in a vote that was decided 52 per cent to 48 per cent, putting Leave ahead with 17,410,742 votes.
1. FTSE 100: £120 billion wiped off the value of the 100 biggest UK companies
The FTSE 100 plunged around 8 per cent on opening in the worst one-day fall since the financial crisis, wiping £120 billion off the value of the index.
Banks were particularly badly hit, with Barclays shares dropping 22 per cent, Lloyds down 18 per cent and the Royal Bank of Scotland down 16 per cent.
Housebuilders also saw huge losses, with Travis Perkins down 43 per cent and Taylor Wimpey down 32 per cent on opening.
Mike Van Dulken of Accendo Markets said insurance firms and banks were likely to be hardest hit.
"We expect the hardest hit stocks to be financials - banks, insurance - followed by housebuilders, with commodities related names - miners, oil - following close behind," he said.
2. FTSE 250: Record 11.4 per cent losses for domestic UK businesses
The FTSE 250 contains a smaller proportion of international companies and is generally seen as a better bellwether of the UK economy,
It suffered its biggest fall on record, dropping 11.4 per cent after the results were announced.
"We believe that the prospects for domestically focused UK businesses are clearly the bleakest of all," said Richard Buxton, head of UK equities and CEO of Old Mutual Global Investors.
"FTSE multinationals will, on a relative basis, almost certainly perform better than their domestically oriented peers as the weaker pound will support overseas earnings when translated back into sterling," he said.
3. Gold price jumps as much as 8.1 per cent
The price of gold jumped as much as 8.1 per cent to $1.358.54 an ounce, its highest since March 2014, as investors sought to put their money in so-called safe have assets.
Google reported that the number of online searches for the words "buy gold" climbed by 500 per cent in the past four hours as the results pointed to a victory for the Leave campaign.
4. Pound falls to weakest level since 1985
Sterling started falling as soon as the BBC called the Leave victory, hitting depths of $1.33 by dawn. Analysts have said the pound could fall further, to $1.25 by the end of September and $1.20 by the end of the year.
The pound is also expected to fall against the euro. One euro currently buys 75p in sterling, but it is expected to buy 92p in sterling by the end of the year.
That could be good for multinational companies such as many of those listed on the FTSE 100 index.
"A weaker currency will – in the long run – benefit multinational companies with overseas revenues that report in sterling as their profits will receive a boost. We will look at FTSE 100 companies with interest," said Marino Valensise, head of multi asset and income at Baring Asset Management.
But in the short term, a slide in the value of sterling will made the cost of everything - from hotel rooms to hot drinks - more expensive.
5. Interest rates could be about to get even lower
Interest rate futures markets, measured by the FRA/OIS spread, have reacted dramatically to the Brexit vote.
That means traders are pricing in the possibility that the Bank of England could intervene to sooth markets by cutting interest rates below their record-low level 0.5 per cent.
Bank of England on Brexit
Mark Carney, governor of the Bank of England, has already said the Bank is ready to inject an extra £250 billion of liquidity into financial markets.
But an interest rate cut would require a majority vote by the Bank's Monetary Policy Committee. That would represent a major change of policy from the Bank since MPC members had previously said that the next move in rates was highly likely to be up.
Brexit reactions – in pictures

Show all 10
Finance ministers and central bank chiefs from the G7 countries held a telephone call to discuss Britain's referendum as the outcome of the vote weighed on other markets.
The oil price slid after the result. Brent crude, which is sourced from the North Sea, fell by 5 per cent on Friday to $48.38.
"Uncertainty about the UK, EU and global economy will initially translate into weaker commodity prices. The recent upward trend in oil prices will reverse, with the price of crude falling quickly back below $40 a barrel on weaker sentiment," said Sebastien Marlier, senior commodities editor at the Economist Intelligent Unit.
Register for free to continue reading
Registration is a free and easy way to support our truly independent journalism
By registering, you will also enjoy limited access to Premium articles, exclusive newsletters, commenting, and virtual events with our leading journalists
Already have an account? sign in
Join our new commenting forum
Join thought-provoking conversations, follow other Independent readers and see their replies