Osborne sells off Northern Rock for £400m loss
Richard Branson snaps up detoxified arm of high-street lender for £747m – while Treasury keeps hold of so-called 'bad bank'
Nigel Morris
Friday 18 November 2011 01:00 Comments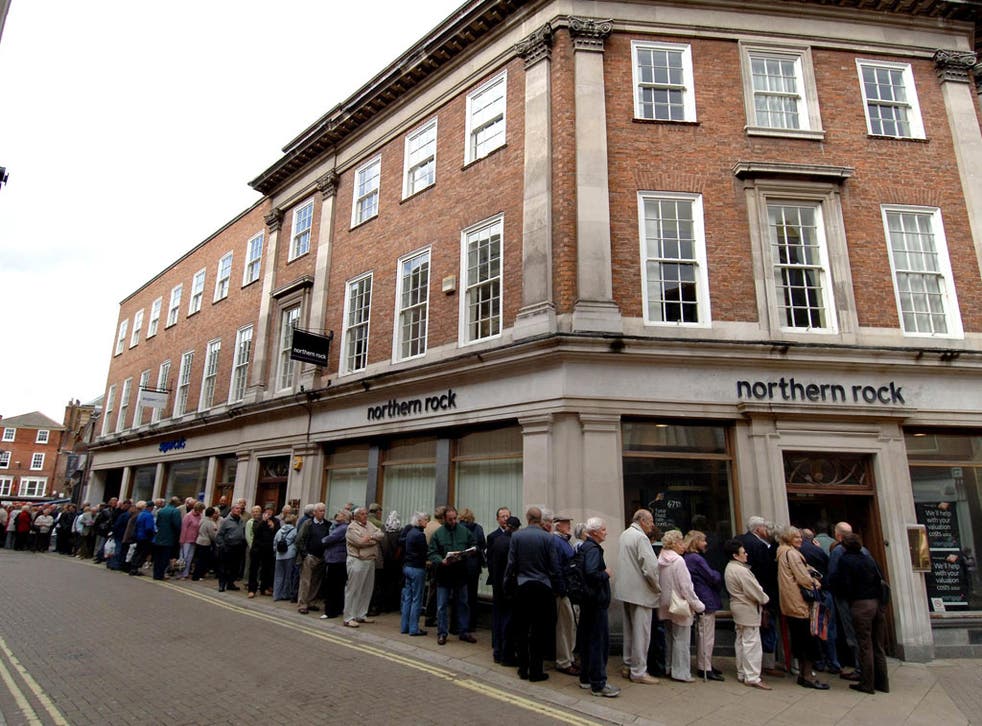 George Osborne was accused of letting the state-owned Northern Rock go "for a song" yesterday after he announced the sale of the nationalised bank at a loss of at least £400m to the taxpayer.
The Chancellor insisted the deal – under which Sir Richard Branson's Virgin Money takes Northern Rock over for £747m, possibly rising to £1bn – represented good value.
But the agreement raised fresh fears over whether ministers will eventually be able to obtain a reasonable return from the state's £50bn rescue of the Lloyds Banking group and Royal Bank of Scotland in 2008.
The sale of Northern Rock came nearly four years after the last Labour government nationalised the troubled Newcastle-based lender which suffered the first run on a British bank since the 19th century.
It plunged into crisis because of its heavy exposure to the American sub-prime market and for a while was at serious risk of collapse until the intervention.
The Treasury has injected some £1.4bn into Northern Rock since then and after the sale the taxpayer will still have responsibility for £20bn of toxic assets such as bad debts and closed mortgages.
Yesterday's sale marked second time lucky for Sir Richard, who made an unsuccessful bid four years ago for the bank which would have involved an initial outlay of £1.25bn.
Mr Osborne argued the takeover would create a "powerful new presence on the high street" and would offer "real choice and competition" to the public.
He said the Treasury had taken independent advice on the deal and "looked carefully at all the figures" and insisted: "It was clear to us this was the best deal for the British taxpayer - we were getting more money back than any other deal on the table."
Labour raised questions both over the substance and the timing of the sale.
Ed Balls, the shadow Chancellor, said: "It is being sold off at a loss and I think there is a question as to whether or not this is the best time, with the markets in turmoil to get the best deal."
Mark Field, the Conservative MP for the Cities of London and Westminster, told BBC Radio 4: "I am very concerned about whether we are getting really good value for the taxpayer.
"There has to be a sense that Richard Branson has got the deal he was craving four years ago for a song today."
He said he regretted ministers had not waited for a viable plan to remutualise Northern Rock and said he feared the deal paved the way for Government shares in Lloyds and RBS to be sold cheaply.
Chi Onwurah, the Labour MP for Newcastle Central, which includes Northern Rock's headquarters, said she was relieved its employees' jobs had been guaranteed after prolonged uncertainty.
But she added: "I am concerned the Tory-led coalition are selling the bank at a £400m loss and that their refusal to look seriously at a cooperative model means they are out of touch with the British people's desire for a longer term, sustainable banking model."
Virgin will pay £747m up front, with another £50m expected to be handed over within six months. Further add-ons could bring the eventual purchase price to just over £1bn.
The planned acquisition includes 75 branches and 2,100 staff, one million customers, a £14bn mortgage book and retail deposits of £16bn. The combined business will operate in the high street under the Virgin Money brand.
The company promised there would be no further compulsory redundancies for three years beyond those already in the pipeline.
The move gives Virgin, which employs around 500 people, its first foothold in the mortgage market; it currently offers credit cards, savings and investment products and general insurance products.
Sir Richard said: "Virgin has a history of entering new sectors to improve service and provide value for customers. We plan to do the same in banking."
The sale is subject to regulatory and EU merger approval but should be completed by the start of January.
Jayne-Anne Gadhia, Chief Executive Officer at Virgin Money, said: "We plan to create a major new competitor in UK retail banking as we bring together Northern Rock and Virgin Money at the beginning of 2012.
"The two businesses complement each other well and together they will create a strong bank with over 4 million customers. It is the outstanding fit between the two businesses that will allow us to create a strong, stable, growing and profitable business for the future."
Timeline: The troubled recent history of Northern Rock
July 2006 Northern Rock announces partnership with Lehman Brothers.
January 2007 Annual profits are up to £587.7m, with bad debts of just £36.7m.
September 2007 Customers queue outside branches across the country to withdraw their savings after Northern Rock announces that it does not have the money to pay its debts. Its share price duly plunges by 31 per cent in a day. The Government guarantees all deposits lodged with the bank.
October 2007 Virgin Group emerges as the preferred contender to rescue the bank, but on 17 February 2008, Alistair Darling announces that it will be nationalised.
August 2008 The Treasury says it will inject an extra £3bn in share capital into the bank after half-year loss of £600m.
August 2009 Half-year pre-tax losses grow by 24 per cent to £724.2m.
March 2011 Losses decline to £232.4m for 2010, and in June George Osborne announces sale to the private sector.
Q&A: How the deal affects you
Q. What happens if I have an NR mortgage or current account?
You will simply become a Virgin Money customer. When the deal is completed – which is expected to be by the end of the year – current-account customers will be sent new Virgin Money-branded chequebooks and cards.
If you're a borrower, you will owe the money to Virgin, but your terms and conditions won't change. However, Northern Rock has a relatively high standard variable rate of 4.79 per cent. You'd expect Virgin to make that more competitive but there's no guarantee of that.
Q. Should I stick with Virgin?
It depends on what you think of the terms and conditions. Virgin's savings offerings to date haven't been terribly competitive but it would undoubtedly look at least to match Northern Rock's 2.8 per cent deal on an online cash Isa.
Q. What does this mean for Lloyds and RBS?
Not much. Northern Rock could be sold because all the bad bits were hived off and left with the taxpayer. That's not the case with Lloyds and RBS.
Q. Was now a good time to sell up?
Depends on how you look at it. The £747m purchase price (it might go up to £1bn) is substantially less than the bank's £1.12bn "net asset value" – how much the business is worth – and compares with the £1.5bn some analysts thought the Rock might fetch a year ago. The banking industry is also in turmoil because of the uncertainty created by a slew of new regulations. The sale should be seen more as a statement of intent.
Q. What will happen to the money from the sale?
It will go into government coffers.
Q. What about the "bad bank"?
We're stuck with it. It is hoped that a specialist in so-called "distressed" assets such as this might take it on in a few years. So the canny Sir Richard Branson has walked off with a bargain while the taxpayer gets left with the sludge.
Q. Why does Sir Richard Branson want the business?
He's got it for a song and has put together an impressive team. When the banking industry has settled down a bit, Sir Richard will likely sell up, either to a foreign bank or perhaps through a flotation. At a handsome profit.
James Moore and Simon Read
Register for free to continue reading
Registration is a free and easy way to support our truly independent journalism
By registering, you will also enjoy limited access to Premium articles, exclusive newsletters, commenting, and virtual events with our leading journalists
Already have an account? sign in
Join our new commenting forum
Join thought-provoking conversations, follow other Independent readers and see their replies