Petrol prices: the most expensive countries to fill up your car mapped
The UK is the 16th most expensive country in the world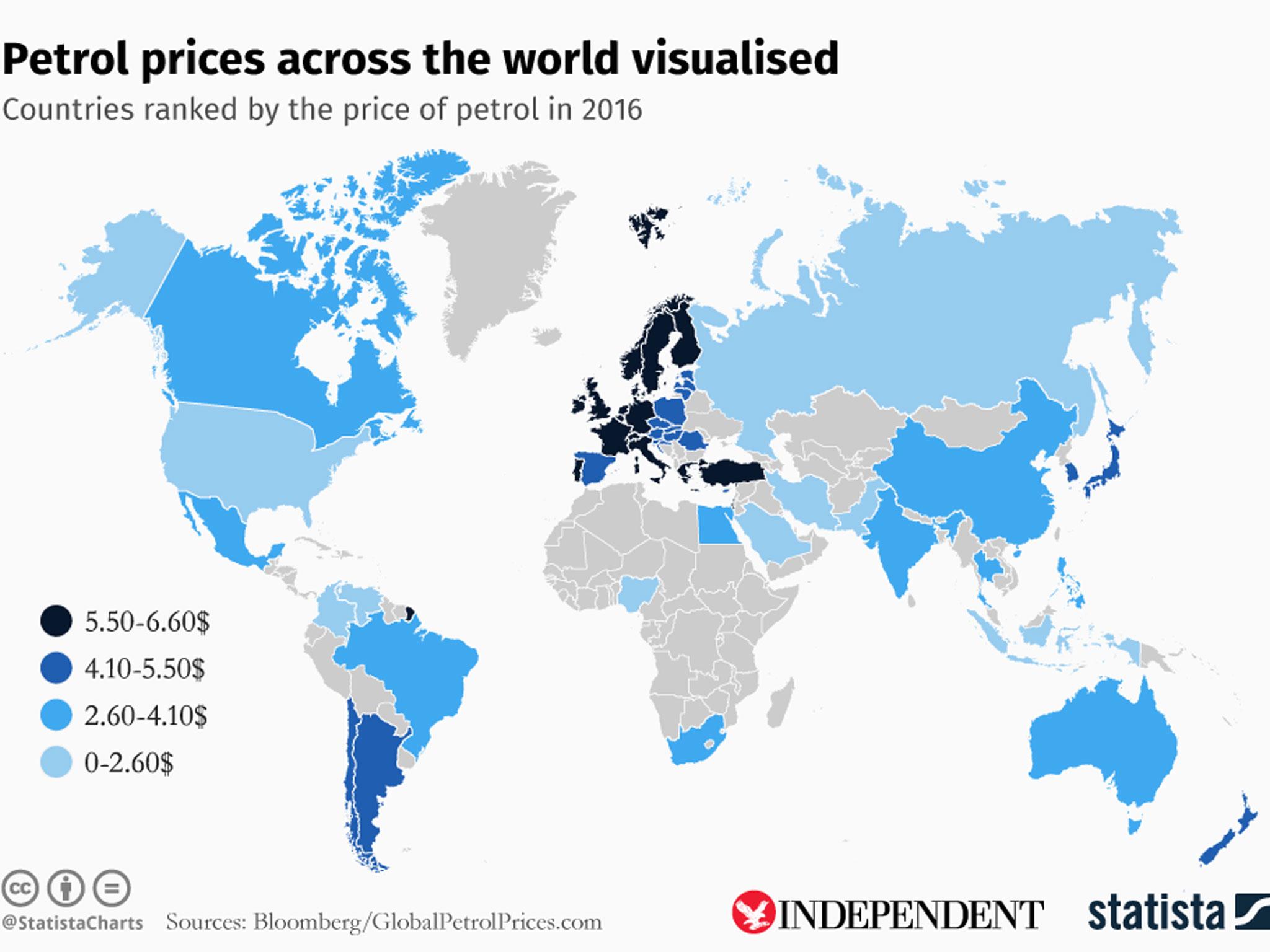 The price of petrol has increased five per cent globally in the last three months, but retail prices vary substantially across the world.
If all countries have access to the same oil prices on international markets, the price of retail fuel varies largely because of each country's taxes and subsidies.
Hong Kong, Norway and Netherlands pay the highest prices for gasoline at more than $6.2 per gallon, according to GlobalPetrolPrices.com, which provides data on retail fuel prices around the world.
Norway, has the highest prices of gasoline in the EU bloc due to the high taxes imposed by the government.
However, the average Norwegian has a daily income of $190, so it only costs 3.4 per cent of a day's wages to afford a gallon of gas, according to Bloomberg data.
As a general rule, richer countries have higher prices while poorer countries and the countries that produce and export oil have significantly lower prices.
People living in Kuwait pay $0.81 for gas, the cheapest price of any country in the world, according to GlobalPetrolPrices.com. They are closely followed by Saudi Arabians at $0.90.
America is the exception to the rule. Americans pay $2.48 per gallon, but with an average daily income of more than $155, it takes 1.64 per cent of day's wages to afford a gallon of gas.
The UK is the 16th most expensive country in the world at the pumps out of 175 countries with diesel 4th, according to FairFuelUK, the campaign that fights for lower fuel duty and more transparent pricing.
Fuel duty for diesel is the highest with duty on petrol ranked third, with campaigners saying that UK drivers are being "taxed to insensibility".
FairFuelUK argues that the UK's vote to leave the EU means that VAT could now be reduced or even removed on fuel duty.
"We'd take control of all taxation on fuel. This hated double taxation controlled by Brussels if addressed now by being slashed, could help to stimulate GDP, lower inflation, create jobs, increase business investment and incentivise hauliers to buy cleaner emission Euro 6 trucks," FairFuelUK said.
Average retail prices for gasoline and diesel in the UK rose for the 20th consecutive week in the period ending July 4, data released by the Department of Energy & Climate Change (DECC) showed.
"June was another bad month for motorists with the price of petrol going up again. While it was only a penny and a half it makes for a rise of more than 10p since the start of March," Simon Williams, RAC spokesman, said.
Williams added that Britons may see pump prices rise slightly in July but that there is unlikely to be the shock rise some experts were predicting.
Business news: In pictures
Show all 13
FairFuelUK argued petrol prices are held at artificially high levels as the pound has recovered and oil is down. It has called for a more transparent pricing process.
"Motorists and professional drivers continue to be ripped off by an industry that hides the true costs of producing our fuels," Jason McCartney, Conservative MP and chair of the FairFuel APPG, said.
Gasoline prices around the world (see Statista map):
1. Hong Kong: $6.93 per gallon
2. Norway: $6.52 per gallon
3. Monaco: $ 6.29
4. Netherlands: $6.22 per gallon
5. Iceland: $6.14 per gallon
6. Italy $6.12 per gallon
7. Israel: $6.04 per gallon
8. Wallis and Futuna Islands: $6.04 per gallon
9. Denmark: $6.01 per gallon
10. Greece: $5.95 per gallon
11. San Marino: $5.88 per gallon
12. Mayotte $5.87 per gallon
13. Finland: $5.81 per gallon
14. Sweden: $5.78 per gallon
15. Portugal: $5.76 per gallon
16. UK: $5.57 per gallon
17. Switzerland: $5.54 per gallon
18. Germany: $5.53 per gallon
19. Turkey: $5.50per gallon
20. Ireland:$5.45per gallon
Join our commenting forum
Join thought-provoking conversations, follow other Independent readers and see their replies