Phones 4u staff blast management as retailer goes into administration
Thousands of jobs at risk as Phones 4U files for administration
Maria Tadeo
Monday 15 September 2014 14:17 Comments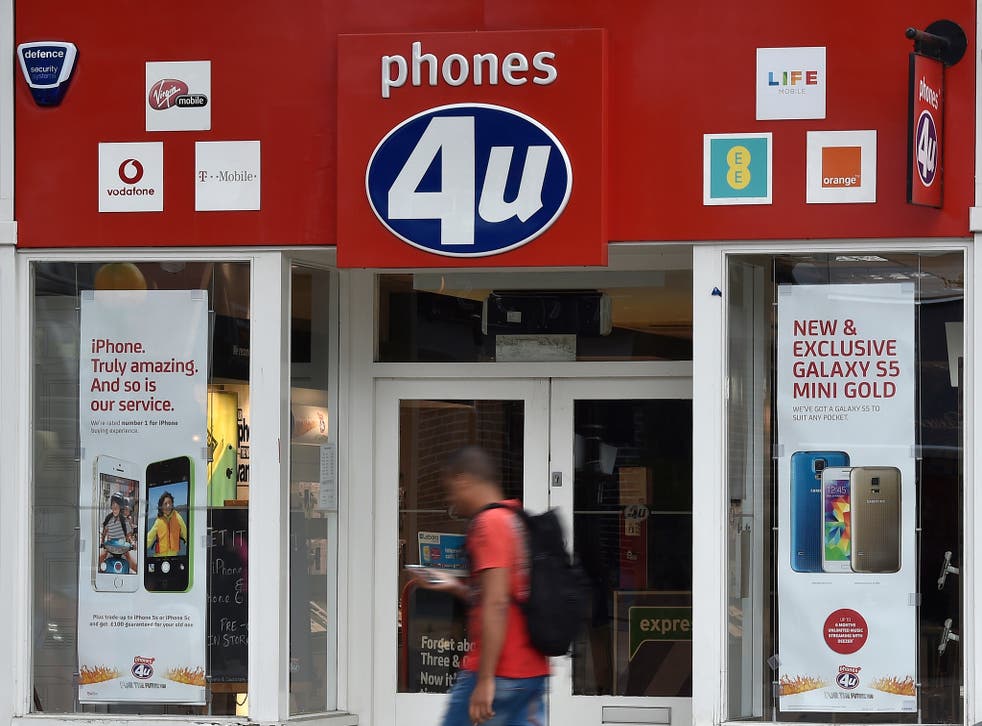 Staff at Phones 4U have reacted with anger after the company announced it is filing for administration, blasting the retailer's management over "lack of information" with more than 5,500 jobs at risk.
Employees took to Facebook to vent their frustration and some claimed they weren't informed directly about Phones 4U's imminent collapse and that they only found out about the shocking news in the media.
Staff were asked to report to work as normal on Monday morning to be briefed by management about the situation, which they say took most of them by surprise.
Sam Judd, a sales consultant at a Phones 4U branch, wrote on the company's official Facebook page on Sunday night: "I'm an employee and found out over the news. Not good.. You may joke but people will be losing (their) jobs that feed and home their families."
Another user, Angie Hanson, posted: "Would've been nice if you'd actually told the staff who work in your stores rather than letting them find out on Facebook. Disgusting."
She added: "How can they justify not telling their employees before the public. My sister has gone in this morning so we're waiting to hear what's going on. I could cry for her I really could, she loves her job."
Similarly, Emma Henderson, a sales consultant, wrote: "Nice off you to address customers, but what about the staff finding out last night on Facebook!!??!! Just gutted, sad times!!"
The Facebook post in which Phones 4U announced it has gone "offline" after network operator EE announced plans to cut ties the company has attracted more than 350 comments with customers expressing their concern with 5596 jobs at risk.
In a statement, EE confirmed it will terminate the contract next September, adding: "In line with our strategy to focus on growth in our direct channels and to move to fewer, deeper relationships in the indirect channel, and driven by developments in the marketplace that have called into question the long-term viability of the Phones 4U business."
The decision by EE follows similar moves by Three, O2 and Vodafone.It is understood the networks wanted the retailer to improve its store service and promotion of brands in shops. Stefano Quadrio Curzio of BC Partners, which bought the business for £700 million in 2011, blasted Vodafone.
He argued the telecom giant had previously indicated it would continue its relationship only to terminate the contract, leaving the company "no time" to develop an alternative plan and inflicting "maximum damage" on Phones 4U. Reacting to his comments, Vodafone said it "strongly rejected" any allegations it had behaved inappropriately.
A spokesman added: "Phones 4U was offered repeated opportunities to propose competitive distribution terms to enable us to conclude a new agreement, but was unable to do so on terms which were commercially viable for Vodafone in the current UK market conditions."
Register for free to continue reading
Registration is a free and easy way to support our truly independent journalism
By registering, you will also enjoy limited access to Premium articles, exclusive newsletters, commenting, and virtual events with our leading journalists
Already have an account? sign in
Join our new commenting forum
Join thought-provoking conversations, follow other Independent readers and see their replies