Pound sterling could slide below $1.20 because of Brexit, Goldman Sachs warns
Analysts have said the pound still has further to slide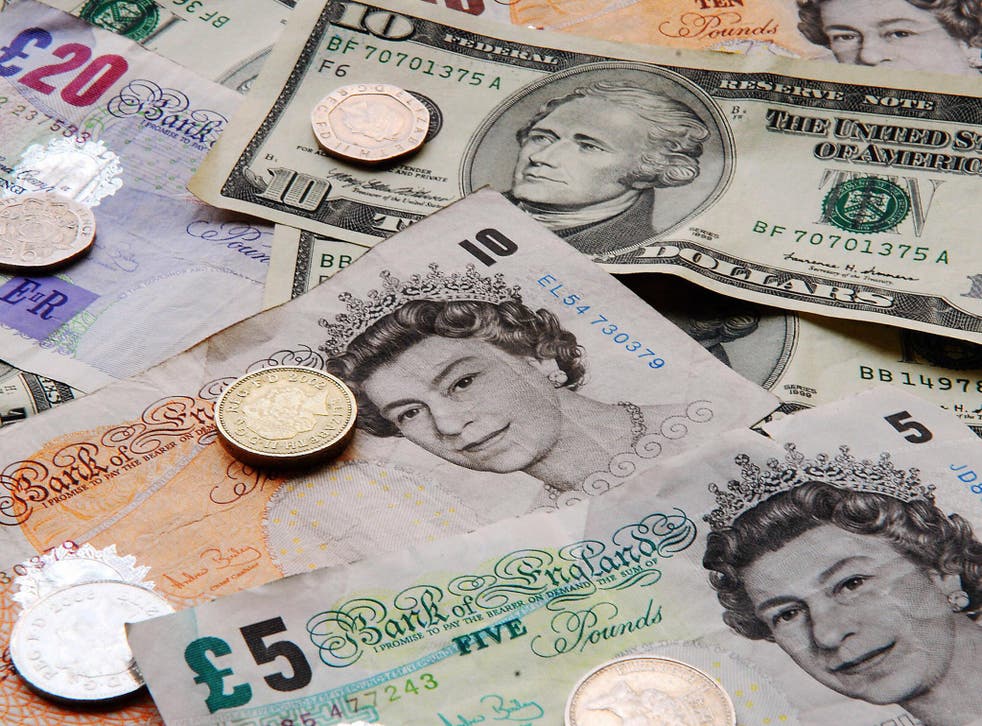 The pound fell as low as $1.28 against the dollar in overnight trading after warnings about the financial stability of the UK after Brexit spooked investors.
Sterling was trading at $1.29 in mid-morning trading on Tuesday, down 0.63 per cent on the day.
Some analysts have said the pound still has further to slide.
Goldman Sachs have said the pound could go as low as $1.20 against the dollar in the next three months, levels not seen since the summer of 1985.
Goldman Sachs analysts said that Bank of England warnings were behind the slide below $1.30 on Tuesday and that further central bank announcements about interest rates and could see the pound weaken further.
Silvia Ardegna, an executive director in Goldman's macro and markets research team in London, wrote in a note to investors: "Following the Brexit surprise, we revised our Sterling forecasts weaker, but – amid lots of doomsday scenarios for the Pound – resisted the temptation to forecast a free-fall.
"Now that markets have settled somewhat, we are switching to forecast a second leg of weakness for the Pound, as the Bank of England's policy response drives the currency weaker.
"Next week, we expect the [Bank of England] to provide a further indication of the scope of the conventional and unconventional monetary policy measures we expect. This will be the catalyst for a further downward move in sterling."
Carney: We have a clear plan
Credit Suisse has also revised its three-month forecast from $1.58 to $1.22.
"We believe the UK economy's well-documented fiscal and current account deficits, combined with the fact that GBP is not especially cheap, leave room for still more GBP weakness," said Shahab Jalinoos, global head of FX strategy at Credit Suisse.
The pound hasn't been at $1.20 since May 1985
Kit Juckes of French bank Societe Generale said before the referedum on June 23 that a vote to leave the EU could cause the pound to drop to 30-year lows.
"On a Leave decision, we expect the pound to fall to $1.30-$1.35 quickly and we look for an eventual fall to $1.20-$1.25," Juckes said.
The Bank of England's warning that Brexit had already started to affect the financial stability of the UK hit the value of the pound on Tuesday.
"There is evidence that some risks have begun to crystallise. The current outlook for UK financial stability is challenging," the Bank of England said.
Andy Scott of currency firm HiFX said that investors are starting to lose their nerve.
"Clearly Mark Carney and George Osborne believe there are very rough times ahead for the UK economy as they begin rolling out a number of measures to cushion the potential impact. The Pound is now clearly seen as a high risk asset and when market sentiment becomes very risk averse, it will come under pressure as seen over the past two days," Scott said.
Other analysts pointed to the decision by three companies to suspend trading on commercial property funds as evidence that investors are become more risk averse.
Standard Life, Aviva and M&G stopped investors from being able to take funds worth billions invested in UK commerical property before a rush on cash forced them to start selling their properties at a loss.
6 ways Britain leaving the EU will affect you

Show all 6
Andrew Edwards, CEO of ETX Capital, a trading firm, said that investors were now nervously casting their eyes around in case any other funds closed their doors.
"Investors are now nervously casting their eyes around for other funds that may shutter. The negative effect on sentiment in the investment market will underpin sterling weakness," he said.
The next benchmark low for the pound will be $1.052 against the US dollar, a level not seen since February 1985.
Join our new commenting forum
Join thought-provoking conversations, follow other Independent readers and see their replies