Primark faces new claims that it uses sweatshop labour
6: War on Want report finds child labourers in Bangladesh making Primark clothes for 3p an hour. Allegations of beating and sexual harrassment are made. Primarkasks for details and says it will investigate<br/>2008: BBC's Panorama finds Primark using child labourers working gruelling hours in slum workshops and refugee camps. Primark blames third party suppliers and says itwill tighten controls on contractors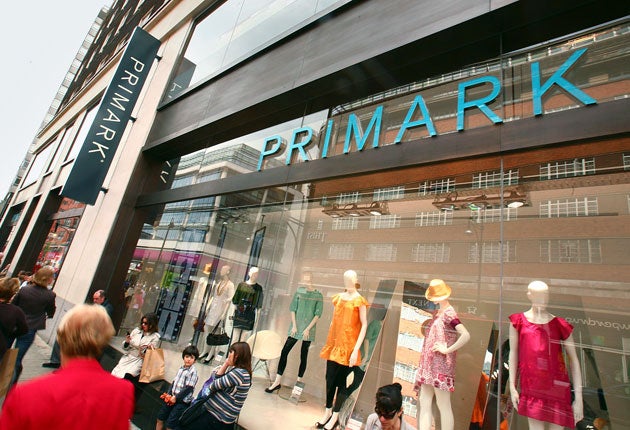 Primark was embroiled in a new row over the treatment of sweatshop workers today as shareholders gathered to celebrate record profits at the budget clothing chain.
According to new research by charity War on Want, workers stitching Primark clothes in Bangladesh earn so little that they cannot eat properly, and many end up "malnourished". In interviews with the charity, they claimed to be working up to 84 hours a week, and were subjected to verbal threats and banned from joining a trade union.
If true, the allegations would breach a code of conduct introduced by Primark to improve the treatment of workers amid allegations of exploitation. In 2006 and 2008 War on Want reports claimed Bangladeshi workers making clothes for Primark and other British retailers earned as little as 3p an hour for toiling around the clock.
Last year, a six-month investigation by the BBC's Panorama found that children as young as 11 had been sub-contracted to sew beads and sequins on to Primark tops in India.
In the wake of that scandal – a flagrant breach of the £2bn-a-year retailer's regulations – Primark promised to redouble its efforts to end sweatshop labour, even setting up a website, Ethical Primark. But War on Want claimed its latest evidence showed that the improvements had not made a difference to the lives of workers.
It timed its release to cause maximum embarrassment to Associated British Foods, Primark's parent company, as investors toasted an 8 per cent rise in operating profits to £252m at its annual meeting in London today.
Primark responded by criticising War on Want for not passing on the name of the factory, which it said would hamper efforts to tackle any abuses. The firm stressed that ethical behaviour was of the utmost importance to them and assured shoppers they could continue visiting Primark's 136 UK stores with a clean conscience.
A War on Want researcher interviewed 18 workers at one factory – which also makes clothes for high-street stores New Look and Zara – in Bangladesh in October. War on Want declined to name the factory to prevent reprisals or the cancellation of contracts, which might throw the workers out of a job.
The workers interviewed were making clothes only for Primark. Zara said it had a code of conduct and would look into any problems. New Look made no comment. According to Primark's code of conduct, workers should have a maximum 48-hour week, voluntary overtime, wages allowing them to meet basic needs, good sanitation and the right to join a union.
Employees claimed they earned as little as 2,200 taka (£19) a month before overtime – less than half the living wage in Bangladesh of at least 4,500 taka (£39 a month). Factory staff said they worked up to 84 hours a weeks, without access to clean drinking water. Female workers said they were subjected to "verbal threats" if they complained or asked for time off.
According to War on Want, most employees live in slum homes with up to three family members per room, without access to clean water or hygienic toilets. "Workers interviewed were exhausted and malnourished," it said. One employee, Madhovi, 21, said: "My mother is losing her sight in our family's village. The pay is so little that I cannot afford to send money for her treatment."
Khorshed Alam, War on Want's Dhaka-based researcher, said: "None of Primark's claims – so-called ethical staff, training and audits – have made any difference to the workers' poverty." Simon McRae, senior campaigns officer at War on Want, said: "Our research underlines the abuse which faces overseas garment workers producing high-street clothes. Shoppers cannot rely on retailers to police themselves." He called for new legislation to improve the lives of foreign workers making clothes for British stores.
Primark issued a robust response. It said: "Primark is greatly concerned that the campaigning group War on Want is claiming once again to have identified a factory owned by a third-party supplier in Bangladesh where working conditions fall below the standards expected both by this company and two other high street brands.
"Primark shares and recognises many of the concerns raised by War on Want, and has asked it to identify factories where it believes standards are not high enough."
Primark added that ethical business practices were of "paramount importance". The company said: "That is why we work tirelessly with our suppliers and other stakeholders, including those in Bangladesh, to raise standards and to ensure the welfare of the workers that depend on the orders placed at these factories."
Primark's code: And what the workers say
Wages
Primark's code of conduct says wages would be "enough to meet basic needs and to provide discretionary income".
Workers in Bangladesh claim to be paid as little as £19.42 a month – half a "living wage" of £39.74. War on Want says they cannot afford nutritious food, decent housing or adequate healthcare
Hours
Primark's code says "workers shall not be required to work in excess of 48 hours per week" and overtime must be voluntary.
Workers say they work up to 14 hours a day, six days a week. Overtime is "mandatory." The average week is 70 hours. Workers are "exhausted and malnourished"
Conditions
Primark says factories must provide a "safe and hygienic" working environment, clean toilets and potable water.
Workers say there is no safe drinking water and toilets are dirty
Abuse
The code bans physical and verbal abuse and sexual or other harassment.
Women say they suffer physical and verbal abuse for enquiring about pay and overtime.
Join our commenting forum
Join thought-provoking conversations, follow other Independent readers and see their replies