PwC partner banned for 15 years and fined £500,000 over BHS audit
Big Four accountancy firm ordered to pay £10m after 'serious shortcomings' in its work for collapsed department store chain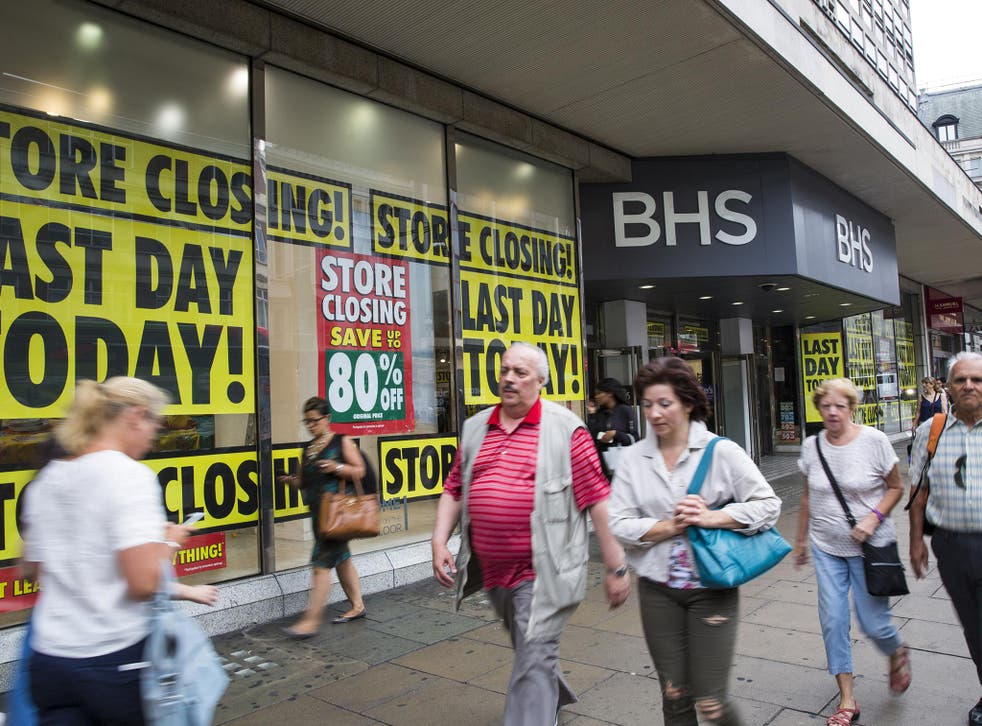 A former PwC partner has been banned from audit work for fifteen years and fined £500,000 by a watchdog after admitting misconduct in the accounting firm's audit of BHS.
Steve Denison left PwC earlier this month after 33 years at the firm. PwC was fined £10m by industry regulator the Financial Reporting Council (FRC) and ordered to review all policies for handling high-risk companies. The fine is the biggest ever imposed by the FRC.
The fines will be reduced by 35 per cent to £6.5m and £325,000 respectively if the parties agree to settle early.
The sanctions follow a two-year probe into PwC's 2014 audits of BHS and Taveta Group, which owns a number of Sir Philip Green's investments, including Topshop.
The billionaire retail tycoon sold BHS for £1 in 2015, days after PwC signed off its accounts for the previous year. In April 2016 BHS collapsed, putting thousands of people out of work and leaving a £571m pension deficit. Sir Philip later agreed to pay £363m into the pension scheme.
"We recognise and accept that there were serious shortcomings with this audit work and that it is important to learn the necessary lessons," PwC said.
"We are sorry that our work fell well below the professional standards expected of us and that we demand of ourselves."
Business news: In pictures

Show all 13
"At its core this is not a failure in our audit methodology, the methodology simply was not followed."
The firms said that its audit failings did not contribute to BHS' collapse.
The FRC also ordered PwC to supply annual reports for the next three years about its audit practice in Leeds, the office where Mr Denison had been a partner.
Frank Field MP, chair of the work and pensions committee, who led the committee's investigation into the failure of BHS and invoked the wrath of Philip Green, welcomed the FRC's decision.
He said: "This is undoubtedly a good first move. It reopens the key question of whether BHS was in fact a 'going concern' when it was jettisoned for £1. For that, the company directors as well as the auditors are on the hook.
"As we know, that sale - which came just six days after PwC signed off the books - threw 11,000 people out of work and permanently reduced the pensions of 20,000 people."
He added: "The committee is now pressing FRC on whether further investigations, and wider and stronger sanctions, are called for.
"On the basis of their reply, the Select Committee may request the right to appeal to the FRC to significantly increase the fines, putting them in the vanguard of necessary reforms."
Register for free to continue reading
Registration is a free and easy way to support our truly independent journalism
By registering, you will also enjoy limited access to Premium articles, exclusive newsletters, commenting, and virtual events with our leading journalists
Already have an account? sign in
Register for free to continue reading
Registration is a free and easy way to support our truly independent journalism
By registering, you will also enjoy limited access to Premium articles, exclusive newsletters, commenting, and virtual events with our leading journalists
Already have an account? sign in
Join our new commenting forum
Join thought-provoking conversations, follow other Independent readers and see their replies