RBS shares drop after it fails Bank of England stress test
RBS has failed key hurdles in a Bank of England stress test, forcing the lender to draw up new plans in case of a financial crisis
Zlata Rodionova
Wednesday 30 November 2016 09:07 Comments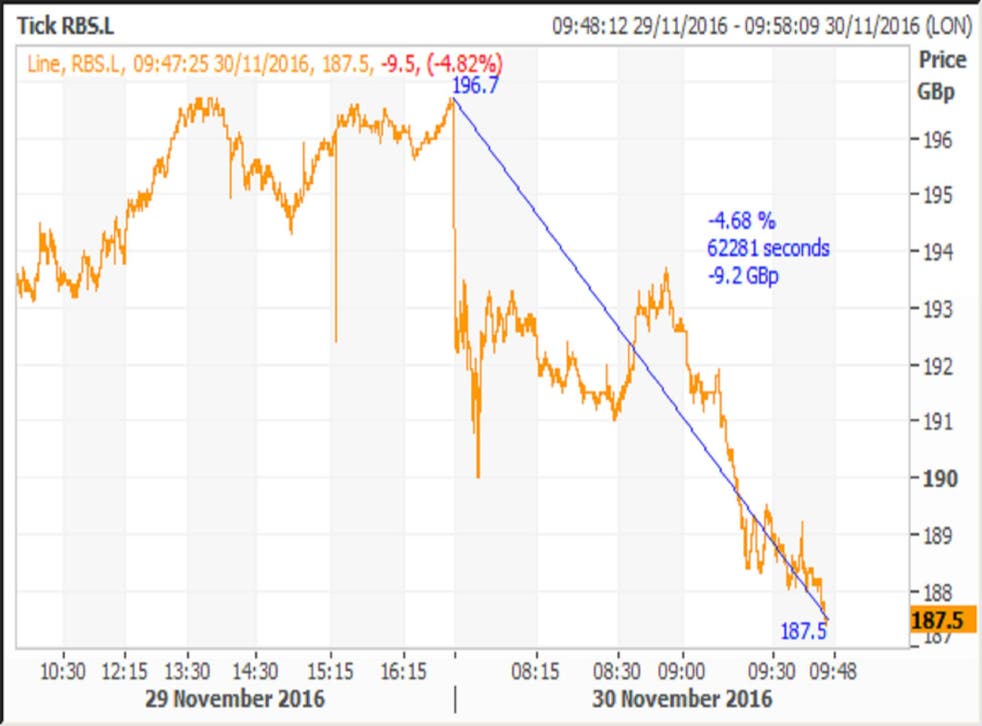 The Royal Bank of Scotland became one of the biggest fallers on the FTSE 100 on Wednesday after the lender failed to pass the Bank of England's stress test.
RBS, which is still 73 per cent owned by the taxpayer after its bailout in 2008, failed the stress test on all of the key measures, making it the worst performer among the UK's major lenders.
Barclays and Standard Chartered also struggled under the test, however neither was required to submit a revised capital plan.
Shares in RBS have tumbled by nearly 5 per cent in morning trading, while Barclays was down 0.3 per cent and Standard Chartered opened 0.4 per cent lower.
Shares in Lloyds, which sailed through the stress test, were up 1.2 per cent.
The result of the test means RBSmust take action to protect itself against a sharp slump in the economy.
RBS has issued a plan intended to bolster its financial strength by an estimated £2bn, which has been accepted by the BoE.
However. Neil Wilson of ETX Capital said RBS could find it very difficult to raise an additional £2bn given that is yet to turn a profit some eight years after being bailed out.
He said: "The bank is still 73 per cent owned by the taxpayer and a return to private ownership looks even further away than ever,"
"It's got to pray that Clydesdale Bank's bid for Williams & Glyn goes through – RBS had wanted £1.9bn for the 315 branches but chances are it will be for a good bit less than that."
Ewen Stevenson, chief financial officer of RBS, insisted that RBS has been taking action but agreed that more work is needed.
He said: "We are committed to creating a stronger, simpler and safer bank for our customers and shareholders."
"We have taken further important steps in 2016 to enhance our capital strength, but we recognise that we have more to do to restore the bank's stress resilience including resolving outstanding legacy issue."
The Bank's Financial Policy Committee said in light of the findings and action taken by RBS, "the banking system is in aggregate capitalised to support the real economy in a severe, broad and synchronised stress scenario".
The toughest stress test yet assessed how the UK's seven biggest lenders would cope with hypothetical scenarios including a recession, a housing crash and a halving of the oil price.
As the BoE announced the results of its third annual stress test, it warned of a "challenging period of uncertainty around the domestic and global economic outlook."
Business news: In pictures

Show all 13
Britain's banking system underwent a severe real-life test in June when markets and sterling plummeted in response to Britain's vote to leave the European Union.
Next year, the BoE will introduce a second stress test to run alongside its now annual check.
Register for free to continue reading
Registration is a free and easy way to support our truly independent journalism
By registering, you will also enjoy limited access to Premium articles, exclusive newsletters, commenting, and virtual events with our leading journalists
Already have an account? sign in
Join our new commenting forum
Join thought-provoking conversations, follow other Independent readers and see their replies