Rex Tillerson: Secretary of State used fake name 'Wayne Tracker' to discuss climate change while Exxon Mobil CEO
Court filing comes in legal dispute in which Exxon seeks to derail probes into whether the company misled investors for years about the possible impact of global warming on its business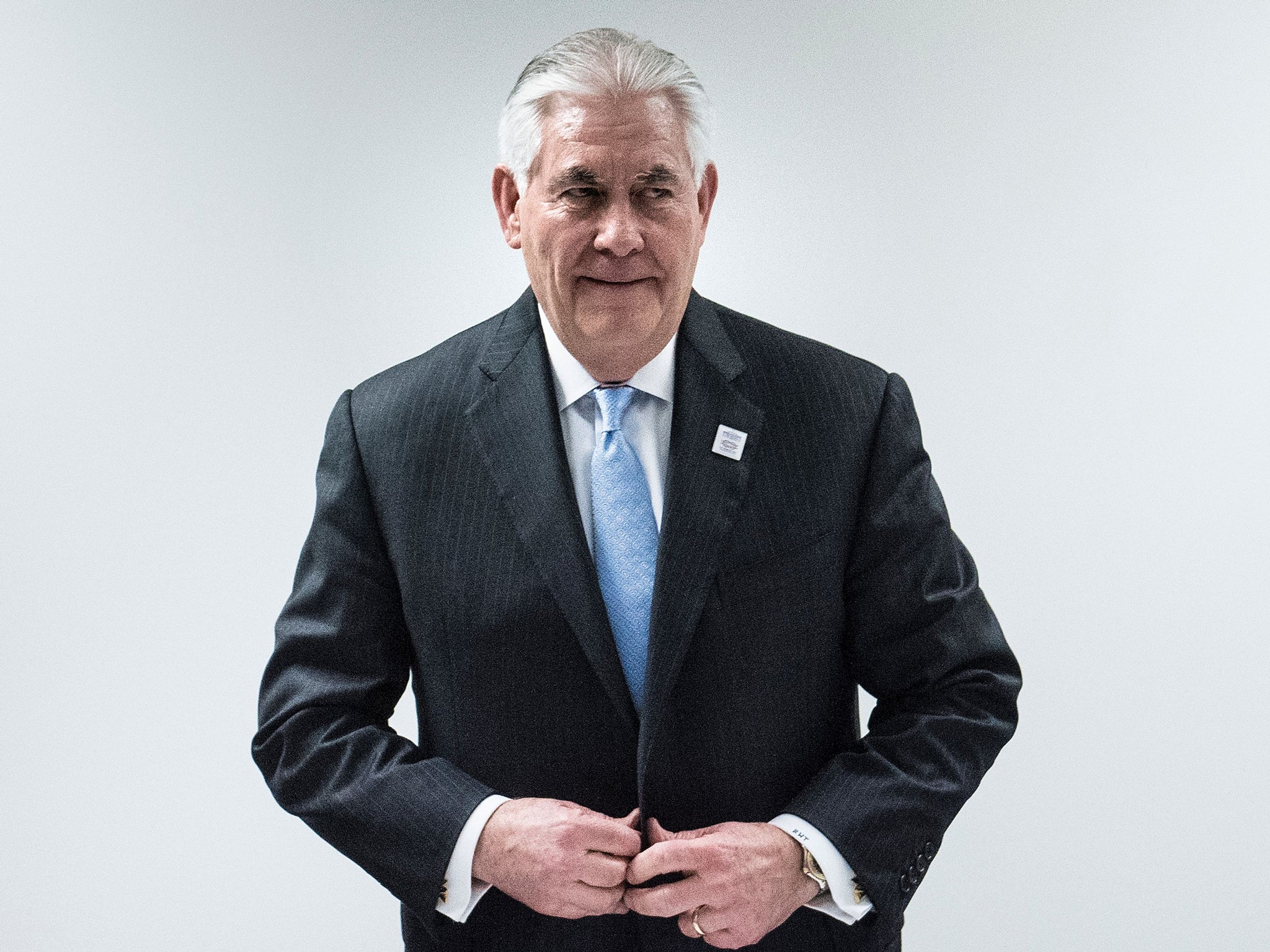 New York says Secretary of State Rex Tillerson used an email alias to discuss climate change while he was Exxon Mobil's chief executive: Wayne Tracker.
Mr Tillerson sent messages from the account to discuss the risks posed by climate change, New York Attorney General Eric Schneiderman said in a court filing about his office's fraud investigation of the company. Mr Tillerson, whose middle name is Wayne, used the Wayne Tracker account on the Exxon system from at least 2008 to 2015, Schneiderman said.
Schneiderman made the claim in a letter Monday to Justice Barry Ostrager in New York state court in Manhattan, accusing Exxon of failing to turn over all relevant documents required by a court order.
Rex Tillerson refuses to rule out Muslim registry
The filing comes in a protracted legal dispute in which Exxon seeks to derail probes by New York and Massachusetts into whether the company misled investors for years about the possible impact of climate change on its business.
Mr Tillerson used the account for "secure and expedited communications between select senior company officials and the former chairman for a broad range of business-related topics," after his primary account began receiving too many messages, Exxon spokesman Alan Jeffers said in an email.
New York's claim marks the latest email-handling matter to make headlines in Washington, from Hillary Clinton using a private email server as Secretary of State to more-recent revelations that Vice President Mike Pence used a private email account to conduct some official business as governor of Indiana. Neither of those instances involved an alias.
"Despite the company's incidental production of approximately 60 documents bearing the 'Wayne Tracker' email address, neither Exxon nor its counsel have ever disclosed that this separate email account was a vehicle for Mr Tillerson's relevant communications at Exxon, and no documents appear to have been collected from this email account," Schneiderman said.
The existence of the secondary email account was discovered by Schneiderman's team while reviewing other Exxon documents. New York claims the Irving, Texas-based energy giant has failed to turn over thousands of relevant files. In addition to climate change, the alias account was also used to discuss other "important matters" that weren't specified in the letter.
Julia Mason, a spokeswoman for the State Department, declined to comment and referred the matter to Exxon.
The development "raises a lot of questions" about whether Exxon complied with the subpoena, said Carrie Cohen, a former federal prosecutor in Manhattan who is now a white-collar criminal-defense lawyer at Morrison & Foerster in New York.
"It could be misleading to not tell the attorney general the actual owner of that email address," said Cohen, who isn't involved in the dispute.
In December, Exxon hit a snag in its legal fight to derail the investigations on the company's home turf, when US District Judge Ed Kinkeade canceled the deposition of Massachusetts Attorney General Maura Healey, who'd been ordered to appear in Dallas to be questioned under oath by Exxon's lawyers.
Trump comments on Paris Climate deal
The investigations are also the subject of a dispute in Washington, where House Republicans are seeking to derail the state probes on the grounds that they seek to silence scientists who disagree with the widely accepted theory that climate change is caused by humans. New York and Massachusetts earlier this month said they'd refuse to comply with subpoenas by the House Committee on Science Space and Technology, setting the stage for a possible legal showdown over state and federal investigatory powers.
Texas Representative Lamar Smith, chairman of the committee, argues the probes were started in "bad faith" because the attorneys general had reached their conclusions beforehand after extensive meetings with environmentalists.
Schneiderman and Healey reject the allegations and contend the federal government cannot interfere in their investigations.
"If they had nothing to hide, then why the secret email account?" said Jamie Henn, a spokesman for the environmental group 350.org, which has supported the state probes into Exxon.
Bloomberg
Join our commenting forum
Join thought-provoking conversations, follow other Independent readers and see their replies