Russia stock market crashes 11% after US imposes sanctions on oligarchs linked to Kremlin
Aluminium giant Rusal, which is controlled by Oleg Deripaska, halved in value on Monday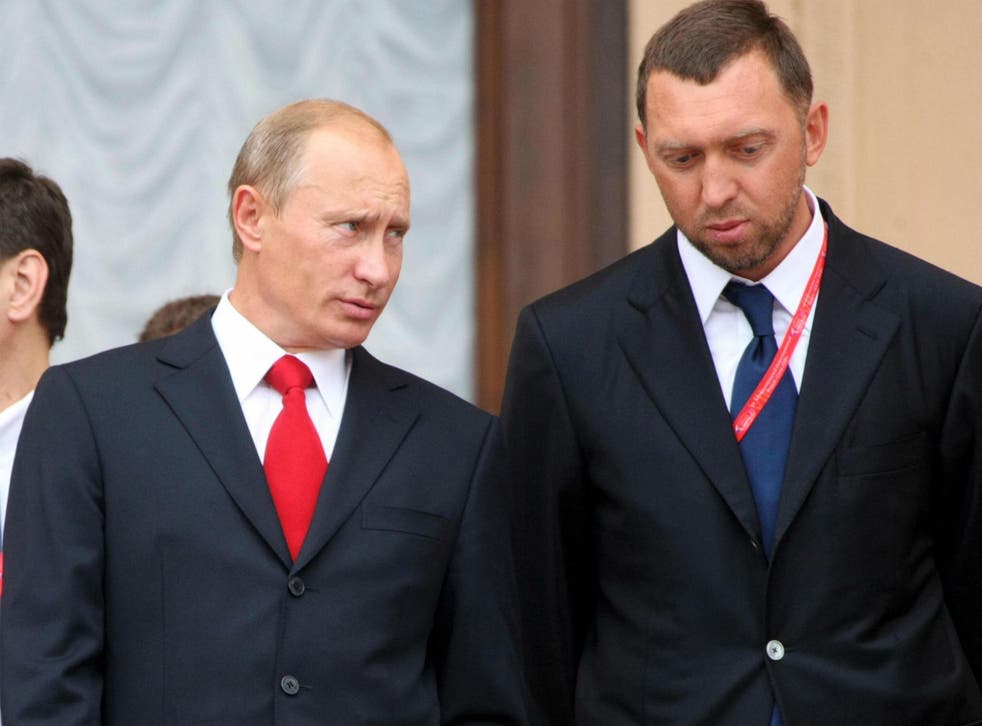 Russia's main share index crashed 11 per cent on Monday after the US imposed new sanctions on oligarchs and companies linked to Vladimir Putin.
Aluminium giant Rusal, which is controlled by Oleg Deripaska, halved in value on the Hong Kong stock exchange on Monday, while EN+, a holding company also owned by Mr Deripaska, crashed by 40 per cent.
The aluminium tycoon has close ties to Donald Trump's former campaign manager Paul Manafort as well as Mr Putin.
Just two companies on Russia's moex stock market were in positive territory on Monday. The widespread falls came as investors reacted to news that Washington had extended sanctions on Friday to seven oligarchs and 12 companies controlled by them, as well as 17 Russian government officials.
Alexei Miller, director of state-owned Gazprom, is on the list, as is Kirill Shamalov, who is reportedly married to the Russian president's daughter.
US authorities said the restrictions were imposed in response to Russia's "malign activities" around the world, including its actions in Ukraine, subversion of Western democracies and support for Syrian president Bashar al-Assad.
The sanctions freeze any assets held by those named on the list in the US and prevent any American citizen from doing business with them. For the first time they also include non-US citizens who "knowingly facilitate significant transactions for or on behalf of them".
This could make banks wary of doing any business in US dollars with people or businesses on the list, meaning the impact of the sanctions could go significantly beyond those within Mr Putin's inner circle who have been targeted, experts said.
Rusal is the largest producer of aluminium outside China, responsible for around 6 per cent of global supply. Rusal said in a statement that it might default on some of its debts because of the impact of the sanctions.
The rouble slipped 2.5 per cent to 59.63 against the dollar – its biggest single-day slide in more than two years. Fears were also raised over the impact on global commodity markets, much of which are transacted in dollars.
Russian presidential spokesperson Dmitry Peskov said the Kremlin was looking "very attentively" at the processes in the markets and was aiming to coordinate with the government.
"The Russian government is doing everything to stabilise the situation and avoid negative impacts," he said.
Asked to assess the extent of damage, he said: "You understand, [the sanctions regime] is quite a new thing.
"It is the first manifestation of a negative character, so we need a certain amount of time for analysis to understand the sense of the real damage and to develop methods to get out of the situation. But the sanctions are just a few days old."
He did not outline any countermeasures, but said the situation was being "actively analysed".
Register for free to continue reading
Registration is a free and easy way to support our truly independent journalism
By registering, you will also enjoy limited access to Premium articles, exclusive newsletters, commenting, and virtual events with our leading journalists
Already have an account? sign in
Register for free to continue reading
Registration is a free and easy way to support our truly independent journalism
By registering, you will also enjoy limited access to Premium articles, exclusive newsletters, commenting, and virtual events with our leading journalists
Already have an account? sign in
Join our new commenting forum
Join thought-provoking conversations, follow other Independent readers and see their replies