Ryanair boss Michael O'Leary defends EU ahead of referendum after years of calling it an evil empire
The Brexit camp hit back at O'Leary, with Leave.eu on Monday running a video on its twitter feed with the tag line 'Guess someone didn't listen to their own advice.'
Dara Doyle
Tuesday 17 May 2016 08:36 Comments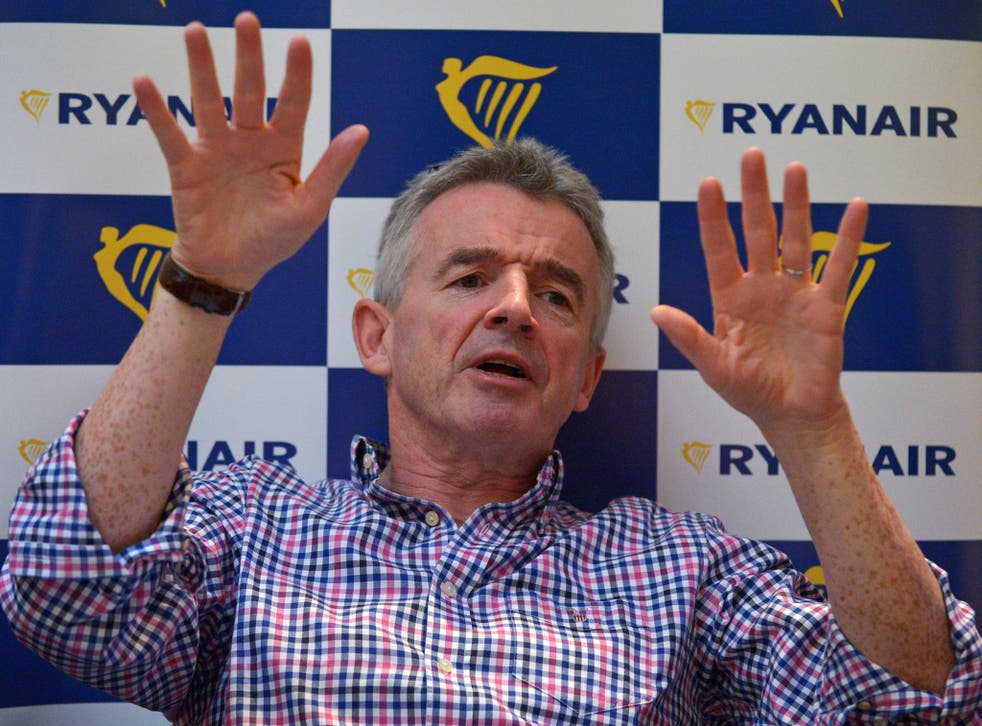 After spending years fighting the European Union, Michael O'Leary has turned into one of its biggest defenders, and he's even decorating his airplanes to prove it.
The Irish chief executive officer of Ryanair, Europe's largest airline, is trying to persuade the British to vote to stay in the EU in their June 23 referendum on its 43-year membership. The company is donating money to the "Remain" campaign, and O'Leary appeared in London on Monday alongside Chancellor of the Exchequer George Osborne to promote the case for staying in the EU.
"Let's get out and campaign," O'Leary, 55, told a forum on Friday in Dublin organized by Bloomberg to discuss Brexit. "Businesses have got be very active. They tend to shy away from political involvement. We'll be criticized for doing it. For opponents who believe we shouldn't get involved, to hell with you."
Back in 2004, O'Leary denounced the European Commission as an " evil empire" as European authorities consistently blocked Ryanair's efforts to buy Irish airline Aer Lingus.
Yet if Britain is crucial to Ireland's export economy, it's even more so to Dublin-based Ryanair, which counts the U.K. as its single biggest market.
The company is spending €25,000 ($20,000) on an advertising drive calling on Britons to stay in the 28-nation bloc, O'Leary said. In addition to newspaper and online ads, the campaign will see the airline add vast pro-EU slogans to some of its aircraft, and e-mail Ryanair customers to urge them to vote to stay.
"I despise much of the regulation that come out of Europe that add to consumer costs," O'Leary said at the forum. "But there are sensible arguments for staying in, there are very few sensible arguments for leaving. "
The Brexit camp hit back at O'Leary, with Leave.eu on Monday running a video on its twitter feed with the tag line "Guess someone didn't listen to their own advice."
It featured O'Leary telling an audience in the Belgian capital in 2011 to "get the hell of out of Brussels" and calling the European Commission headquarters the "Death Star."
Executive Opinions
So far, O'Leary's contribution has included a donating a "small amount of money" to the "Remain" campaign, and going up against "Leave" advocates on television debates such as the BBC's "Question Time."
He is also by no means the only top business figure to publicly join the fray. In February, nearly 200 CEOs signed a letter calling for Britain to stay, including those of retailer Marks & Spencer and mobile phone company Vodafone. Among those lining up on the other side are former HSBC chief Michael Geoghegan and Tim Martin, chairman of UK pub operator JD Wetherspoon.
Such opinions tend to show the alliances building on each side rather than have any overarching influence on the campaign, even US President Barack Obama, according to Joe Twyman, head of political and social research at polling company YouGov . Obama urged UK voters not to opt to leave the EU and warned relations with the U.S. might be damaged.
"Interventions by individuals, even Obama, don't tend to matter to very many people for very long," Twyman said. "Nobody will go into the polling booth basing their decision just on what Michael O'Leary said."
Business news: In pictures

Show all 13
Leprechaun Costume
As he built the airline, O'Leary gained a reputation for drawing attention. Publicity stunts in the past have included dressing as a leprechaun and threatening to charge passengers for toilets. Last year, a survey by advertising agency Isobel put Ryanair as the fourth most-unloved brand in the UK, though YouGov BrandIndex data suggests the perception of the company has improved since it began — in O'Leary's words — "being nicer."
And O'Leary's suggested tactic for the rest of the campaign?
"I'd want to terrify the life out of everybody that there's a real danger the lunatics on the leave side are going to win," O'Leary said. "So get out and vote."
© 2016 Bloomberg L.P
Register for free to continue reading
Registration is a free and easy way to support our truly independent journalism
By registering, you will also enjoy limited access to Premium articles, exclusive newsletters, commenting, and virtual events with our leading journalists
Already have an account? sign in
Join our new commenting forum
Join thought-provoking conversations, follow other Independent readers and see their replies