SABMiller approached by AB InBev for takeover that would create a $250 billion brewing colossus
AB InBev and SABMiller are already the world's number one and number two brewing companies
Nick Goodway
Wednesday 16 September 2015 12:11 Comments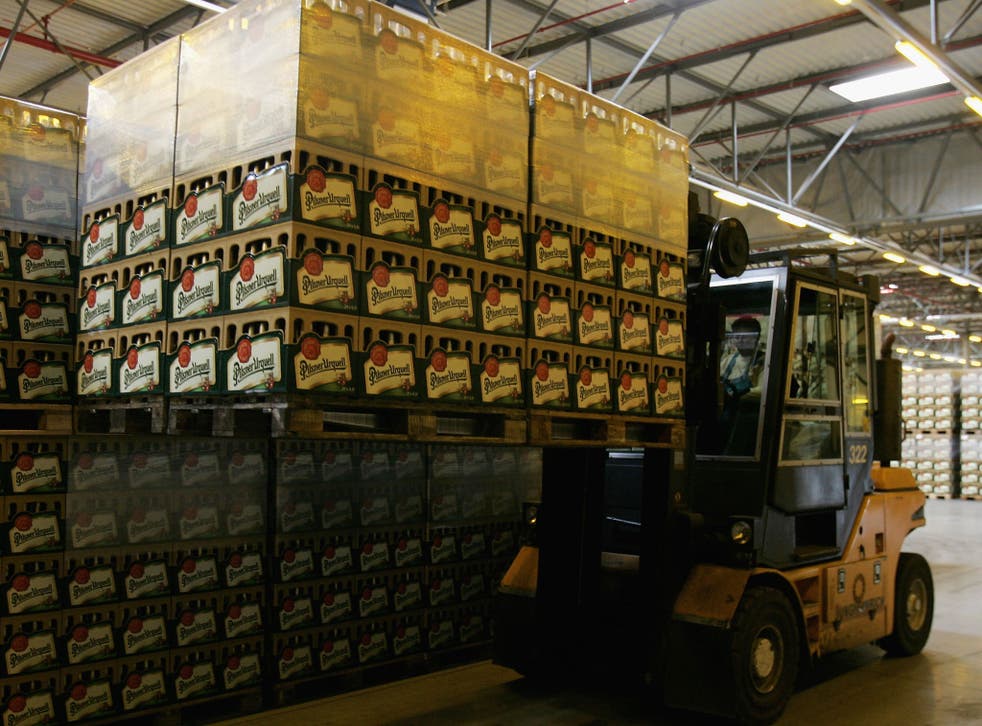 Peroni and Grolsch brewing giant SABMiller today revealed it has been approached by rival Anheuser-Busch InBev, which owns Budweiser and Stella Artois, with a takeover plan to form a $250 billion colossus in the world's beer industry.
SABMiller shares, which have been subject to takeover speculation for several months, soared more than 20% on the news valuing the London-based drinks giant at £59 billion.
In a brief statement to the stock market SABMiller said: "The board of SABMiller notes the recent press speculation and confirms that Anheuser-Busch InBev ("ABInBev") has informed SABMiller that it intends to make a proposal to acquire SABMiller. No proposal has yet been received and the Board of SABMiller has no further details about the terms of any such proposal."
It urged shareholders to take no action and said there was no certainty that any deal would be forthcoming.
AB Inbev said that it was its "intention is to work with SABMiller's Board toward a recommended transaction."
The bid, if it comes, would be the largest since Pfizer's failed £60 billion bid for AstraZeneca last year. It could well be even larger than that.
AB InBev and SABMiller are already the world's number one and number two brewing companies and speculation that they could combine forces has run for years. But any combination of the two is likely to face competition issues in many countries. It could have to sell off major businesses such as Coors in the US.
Earlier this year there was speculation that 3G Capital, a secretive investment firm run by a group of Brazilian billionaires, was plotting a £75 billion consortium takeover of SAB Miller which could also have involved AB Inbev. Later 3G backed Warren Buffet's Heinz £100 billion takeover of Kraft this year.
This week it emerged that SABMiller's biggest shareholder Altria, the maker of Marlboro cigarettes and a 27% shareholder in the brewer, had cancelled two conferences at which it was due to have met investors.
While SABMiller's history dates back to its South African Breweries and moved its primary listing and headquarters to London in 1999. It has since taken over the US's Coors Miller 2002 and Fosters in Australia in 2011. It has large operations in the UK and other brands include the Polish beer Tyskie, Pilsner Urquel and Nastro Azzurro.
AB Inbev was formed when Dutch brewer InBev took over Anheuser Busch, the brewer of Budweiser, for $52 billion in 2008. Its other brands include Stella Artois, Corona, Skol, Hoegaarden and Brahma.
The largest global deal of 2015 belongs to Royal Dutch Shell with its £47 billion pending takeover bid for BG Group, followed by Charter Communications' $79.6bn bid for Time Warner Cable and Energy Transfer Equity's $70.6bn offer for Williams Companies.
Register for free to continue reading
Registration is a free and easy way to support our truly independent journalism
By registering, you will also enjoy limited access to Premium articles, exclusive newsletters, commenting, and virtual events with our leading journalists
Already have an account? sign in
Join our new commenting forum
Join thought-provoking conversations, follow other Independent readers and see their replies