Sheffield strikes £1bn deal with Chinese firm Sichuan Guodong Construction despite Brexit uncertainty
The deal is expected to create 'hundreds, if not thousands' of jobs
Zlata Rodionova
Thursday 21 July 2016 14:13 Comments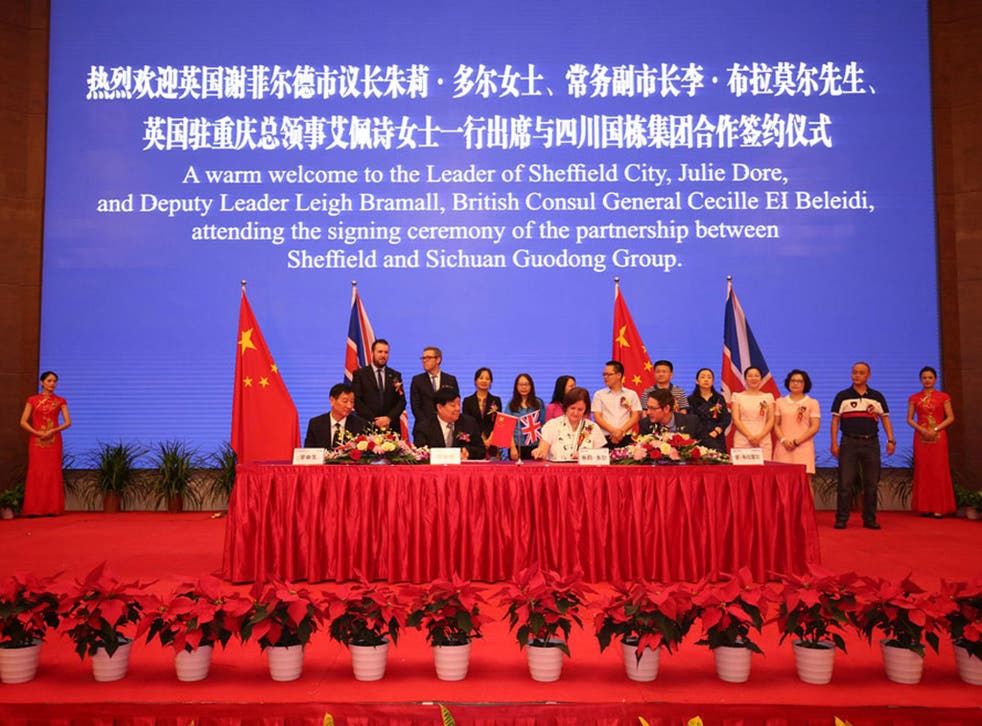 Sheffield City Council and Sichuan Guodong Construction have agreed to a 60-year, £1bn partnership in the biggest Chinese investment deal outside of London.
The deal is seen as a sign as significant as UK's vote to leave the EU created uncertainty around China's future investments in the country.
The council said the first £220m tranche of the money will fund four or five city-centre projects during the next three years, securing a "stream of investment" into the city for the next generation.
Councillor Leigh Bramall, deputy leader of Sheffield City Council, also said the council expects the deal to create hundreds if not thousands of jobs.
"The investment comes from China, but the workforce on these project will be British," he said.
Former Prime Minister David Cameron talked of a "golden era" between China and the UK, when Chinese President Xi Jinping visited the UK last year.
But a key part of the UK's value to China was its position as a big player in the EU bloc, China's biggest trading partner. The surprise Brexit vote thus created uncertainty about the future trading relationship between the UK and China.
Julie Dore, leader of Sheffield City Council, said: "This is the biggest Chinese investment deal to be made by a UK city outside of London. And perhaps more importantly, it is the first deal of its kind to be made by a UK city. This is a real partnership.
"The projects funded by this investment will be determined by Sheffield City Council, and the 60-year commitment secures a stream of investment into our city for the next generation, and means a whole range of projects become viable because of the long-term nature of the relationship.
"At a time of unprecedented uncertainty and turmoil on the national political scene, we have taken the bull by the horns and led by example. We have the skills and the connections to drive economic growth in our city."
The deal has been more than 18 months in the making, authorities said.
Mr Wang, chairman of the board and president of Sichuian Guodong Construction Group, said Sheffield stands out as an "outstanding business investment".
"This agreement illustrates our confidence in Sheffield as a city going from strength to strength, with real growth potential. We are looking forward to being a part of this over the coming decades," he said.
Business news: In pictures

Show all 13
Chengdu is a city of 16 million people, the fifth largest in China, and largest in Sichuan Province in western China.
The news follows former Chancellor George Osborne's meeting with senior Chinese officials in London in July, following the referendum on EU membership.
Following the meeting a Reuters source said said there had been "productive discussions on investment, financial services, and fostering stronger trading ties" when Britain is outside the EU.
Register for free to continue reading
Registration is a free and easy way to support our truly independent journalism
By registering, you will also enjoy limited access to Premium articles, exclusive newsletters, commenting, and virtual events with our leading journalists
Already have an account? sign in
Join our new commenting forum
Join thought-provoking conversations, follow other Independent readers and see their replies