Sports Direct boss Mike Ashley faces further revolt over his leadership
The report is the latest news to highlight disquiet from investors over Ashley's 
Ben Chapman
Friday 26 August 2016 13:11 Comments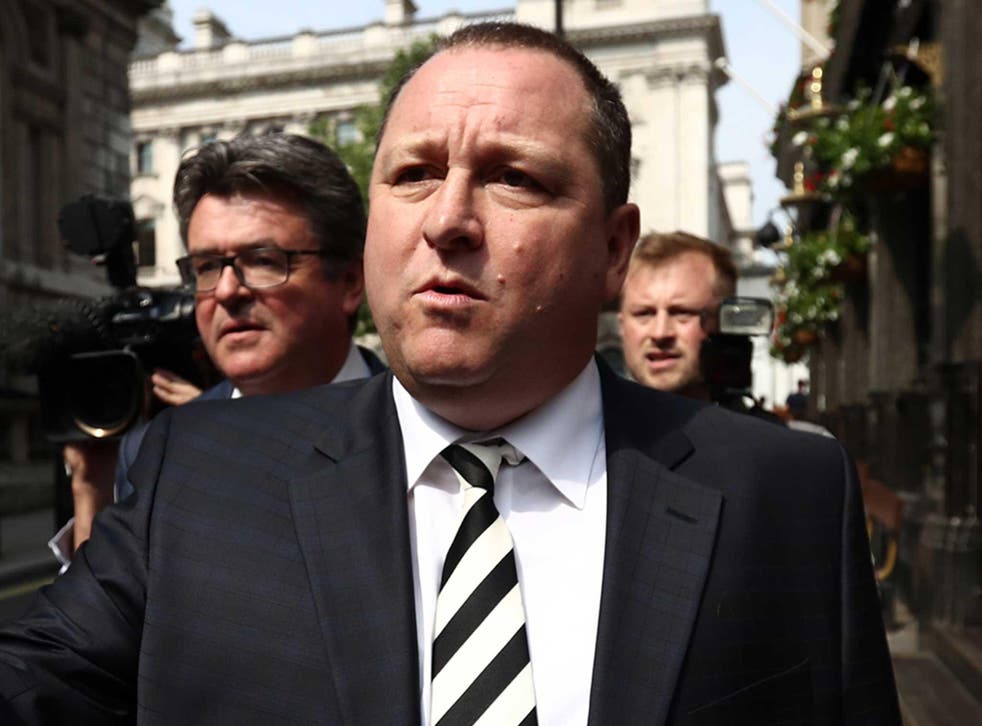 Embattled Sports Direct boss Mike Ashley faces another revolt from shareholders after one of the most influential shareholder advisors urged investors to vote against his re-election at the company's annual meeting next month, according to Sky News reports.
Institutional Shareholder Services, which provides recommendations on how to vote ahead of meetings sent a note to Sports Direct shareholders which also recommended voting against Keith Hellawell, the firm's chairman.
"Sports Direct faces fundamental operational questions relating to, among other matters, the working conditions at its Shirebrook warehouse," the note said.
"As the central figure of Sports Direct, it is reasonable to consider Mike Ashley to be accountable for operational issues that appear to be long-standing and serious.
"As the now-executive deputy chairman and the central figure of Sports Direct over many years, Mike Ashley is interlinked with the success but also with the operational management, governance and risk oversight of the company.
"Recent events, with a sequence of negative headlines and concerns in a number of areas, combined with an extended decline in share price, indicate material failures of governance and risk oversight."
Sports Direct is due to hold its annual general meeting on 7 September and, despite the ISS calls, cannot be removed from the board because he owns a majority of the company;s shares.
The report is the latest to highlight disquiet from investors over Ashley's leadership. This month it was revealed that he had paid his brothers company £300,000 for international deliveries. The potential conflict of interest had not been declared in the company's accounts.
On Thursday the Investor Forum, which represents some of the largest fund managers in the world, and controls £14trn of assets, urged the company to review its practices after a series of scandals around working conditions and management.
"It is highly unusual for the Investor Forum to consider it necessary to make public their concerns and recommendations in this way. In prior situations we have always managed to work privately with companies to create effective long term solutions," Andy Griffiths, executive director of the Investor Forum.
"We do not take this step lightly and, whilst we welcome Sport Direct's move to hold an open day, we still have not received an appropriate level of commitment to respond to investor concerns and, as a result, the usual options have been exhausted," he added.
Biggest business scandals in pictures

Show all 20
Legal & General, the FTSE 100's biggest investor has consistently voted against Sports Direct chairman Keith Hellawell and said on Thursday that it would continue to do so.
In July, Sports Direct was compared to a "Victorian workhouse" by MPs as they condemned the firm for its appalling work practices. Staff recounted how some were fired whilst being off work sick,
Sports Direct has also faced investigation by HMRC for paying workers less than the national minimum wage, a charge which Ashley has now admitted.
Register for free to continue reading
Registration is a free and easy way to support our truly independent journalism
By registering, you will also enjoy limited access to Premium articles, exclusive newsletters, commenting, and virtual events with our leading journalists
Already have an account? sign in
Join our new commenting forum
Join thought-provoking conversations, follow other Independent readers and see their replies