Sports Direct warehouse staff who were underpaid could receive £1m back pay
The payments, back dated to May 2012 for direct employees and agency workers, could be worth up to £1,000 for some staff, Unite estimates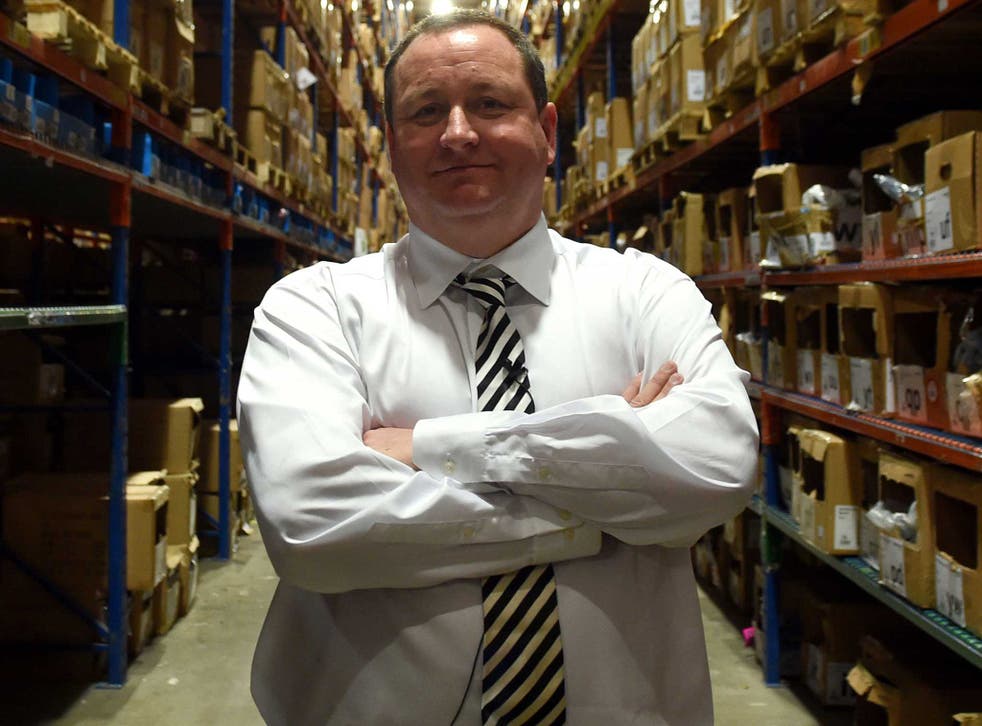 Thousands of workers at British retailing group Sports Direct's warehouse are set to receive back pay totalling an estimated £1m for non-payment of the minimum wage, Britain's largest union Unite has confirmed.
The back pay follows an admission Sports Direct founder Mike Ashley, at a hearing of the House of Commons Business, Innovation and Skills select committee in June, that his company has broken the law by falling to pay the national minimum wage. Despite initially refusing to appear in front of MPs, Mr Ashley gave evidence over the company's behaviour, including the use of controversial zero-hours contracts for the vast majority of its workers and reports of poor working conditions in its warehouse.
Workers directly employed by Sports Direct and staff hired by employment agencies are expected to start receiving the back pay in full towards the end of August, Unite revealed on Monday. The payments will be backdated to May 2012 and could be worth up to £1000 for some employees, the union estimates.
Transline and The Best Connection supply over 3,000 agency workers to work for Sports Direct in its Shirebrook warehouse. However, as many 1,700 Transline agency workers at the site may only initially receive half the back pay they are owed, because of the agency's refusal to honour its commitments from when it took over from Blue Arrow at Shirebrook two years ago, according to Unite.
Steve Turner, Unite assistant general secretary, said the agreement to pay back workers was still a "significant victory in the union's ongoing campaign to secure justice and dignity" for Sports Direct's staff.
"But investors and customers alike should not be fooled into thinking that everything is now rosy at Sports Direct's Shirebrook warehouse. Transline, one of the employment agencies involved, is disgracefully still trying to short-change workers by seeking to duck its responsibilities," Turner warned.
"Mike Ashley and the Sports Direct board should be under no illusions. The charge of 'Victorian' work practices will continue to weigh heavily on Sports Direct until it moves long-standing agency workers on to direct, permanent contracts and weans itself off its reliance upon zero hours contracts," he added.
In December, Transline said in a statement: "We do not breach national minimum wage legislation. Like many other retail warehouse operations throughout the UK, Shirebrook also has a policy of searches for all warehouse employees, office staff, senior management, directors and visitors. As with all policies, these are constantly under review. The searches are conducted in accordance with employment contracts and are completed as quickly as possible."
Sports Direct is also under investigation by HMRC, which said in a statement: "While we don't discuss individual cases we won't accept anything less than what's owed. Our role is to investigate all cases where we believe an employer is not paying its workers the national minimum wage to ensure those workers receive what they are owed under the law."
Last month, Ian Wright MP, chair of the Business, Innovation and Skills committee, said Mr Ashley should be held responsible for his actions. "Whistleblowers, parts of the media and a trade union shone a light on work practices at Sports Direct and what they revealed was extremely disturbing," the MP said. "The evidence we heard points to a business whose working practices are closer to that of a Victorian workhouse than that of a modern, reputable high street retailer."
"For this to occur in the UK in 2016 is a serious indictment of the management at Sports Direct and Mike Ashley, as the face of Sports Direct, must be held accountable for these failings," he added.
Biggest business scandals in pictures

Show all 20
In June, the committee heard a series of accounts of worker mistreatment, including staff being penalised for matters such as taking a short break to drink water and for taking time off work when ill – the "six strikes and you're out" policy. Mr Ashley claimed that he was unaware of these practices.
Unite is urging shareholders to back a resolution at Sports Direct's annual general meeting for an independent review into work practices at the retailer.
The National Living Wage of £7.20 for everyone aged over 25 years old – hailed as the new minimum wage – was announced by then Chancellor George Osborne in April this year. Yet nearly 200 employers have been recently named and shamed for failing to pay that minimum wage to their workers.
Join our new commenting forum
Join thought-provoking conversations, follow other Independent readers and see their replies