Donald Trump's supporters call for Starbucks boycott after CEO announces plan to hire 10,000 refugees
While many customers were supportive of the company's actions, Mr Trump's backers took to social media to criticise Starbucks and threatened to boycott the brand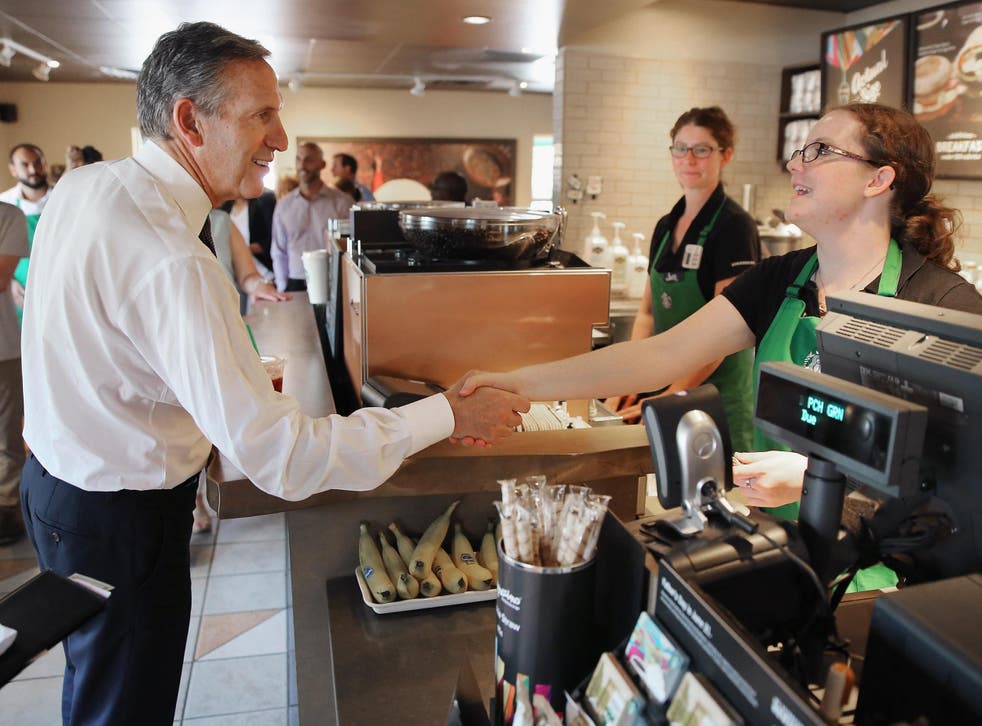 Getting your coffee at Starbucks might be becoming a political statement.
Starbucks' chief executive Howard Schultz, on Sunday, said that the coffee giant will hire 10,000 refugees over the next five years in response to President Donald Trump's executive order to temporarily bar refugees access to the US and to ban entry for anyone from seven majority Muslim countries.
While many customers were immediately supportive of the company's actions, Mr Trump's backers took to social media to criticise Mr Schultz and threatened to boycott the brand.
The hashtag #BoycottStarbucks was still trending on Twitter on Tuesday morning, with people praising and condemning the company's move.
Twitter user Scott Presler said: "While President Trump is working to get Americans jobs, Starbucks CEO wants to hire 10,000 refugees.What about us?#BoycottStarbucks".
Customers opposing Mr Trump's new immigration ban praised the company's decision, also using the hashtag.
"There is a #boycottStarbucks going around because they're pledging to hire refugees, you know what that means? Time to get some Starbucks," Shafeeq Younus tweeted.
Many criticised the coffee giant for hiring refugees instead of veterans. Starbucks, however, does have a programme in place to support veterans and their families. It is currently in the process of hiring 10,000 veterans and military spouses as part of a pledge it made in 2013 to achieve the goal by 2018.
The Seattle-headquartered coffee-maker has had a long history with political engagement and it is not the first time the company found itself in the midst of a tweet-storm.
The controversial orders Donald Trump has already issued

Show all 9
In November, coffee drinkers slammed Starbucks for 'politicising coffee' with the chain's new 'community cups' after the company release a green takeaway cup designed to create a "symbol of unity" in a divisive time. Mr Schultz publically endorsed Democrat Hillary Clinton in September.
Join our new commenting forum
Join thought-provoking conversations, follow other Independent readers and see their replies