Supermarket own-brand products and discount retailers thrive as inflation bites, data shows
Collectively Aldi and Lidl now account for nearly £1 in every £8 spent in Britain's supermarkets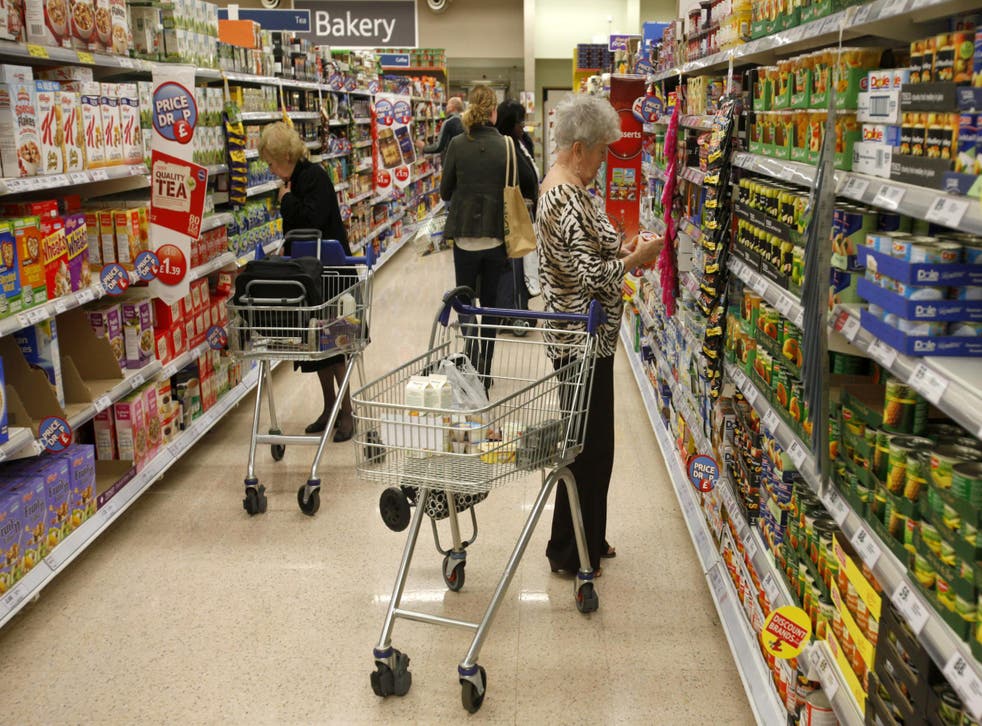 A rise in the cost of household groceries is driving shoppers to supermarkets' own-label products and away from pricier branded goods, figures have revealed.
In the three months to 9 September, consumer spend on supermarkets' own-label products rose 5.5 per cent over the same period a year earlier, which represents almost five times the growth in spend on branded products, according to figures from market research firm Nielsen. The average increase in spend across all grocery products was 3.5 per cent.
"The return of inflation means shoppers are increasingly turning to supermarkets' own-label products to help manage their weekly grocery spend," said Mike Watkins, Nielsen's UK head of retailer and business insight. "Own-brand sales are growing across all major food retailers but fastest at the discounters – Aldi and Lidl – and at the Co-operative, Iceland, M&S and Tesco," he added.
The UK's inflation rate jumped to 2.9 per cent in August, particularly driven higher by a dramatic fall in sterling since the June 2016 referendum. But the most recent figures show that wages rose by just 2.1 per cent in the three months to July, squeezing the amount of disposable income that shoppers are willing to spend, particularly on non-essential items.
Discount retailers are especially witnessing a ramping up of demand from cash-conscious consumers. During the 12 weeks to 9 September, Aldi and Lidl enjoyed a 13.6 per cent and an 18.7 per cent increase in sales over the same period in 2016 respectively.
Nielsen said that nearly two-thirds of households now visit a discounter at least once every three months, partly because so many new stores have opened.
Tesco still has a 27.5 per cent share of the UK grocery market by spend – making it the leader – followed by Sainsbury's at 14.9 per cent, Asda at 13.8 per cent and Morrison at 9.9 per cent. But Aldi and Lidl are both making impressive headway and currently have 8.1 per cent and 5.2 per cent of the market respectively.
Separate data from Kantar World Panel on Tuesday showed that overall supermarket sales increased by 3.6 per cent in the 12 weeks to 10 September compared to the same period last year. That marks the sixth consecutive month in which sales have increased by more than 3 per cent – also reflecting the impact of inflation.
"We haven't seen sustained market growth of this kind since May 2013. A 1.5 per cent increase in the volume of goods going through the tills has contributed to this growth while the remainder of the overall sales increase is down to higher prices," said Fraser McKevitt, head of retail and consumer insight at Kantar Worldpanel.
The Kantar data showed that Lidl was the fastest growing retailer for the period, thanks to a sales increase of 19.2 per cent. Growth was particularly notable among fresh and chilled products, such as dairy, as well as in white and rosé wines, where Lidl is growing ahead of the market, Kantar said. Aldi's managed to grow sales by 15.6 per cent.
"Collectively Aldi and Lidl now account for nearly £1 in every £8 spent in Britain's supermarkets," said Mr McKevitt. "A decade ago this was only £1 in £25."
Register for free to continue reading
Registration is a free and easy way to support our truly independent journalism
By registering, you will also enjoy limited access to Premium articles, exclusive newsletters, commenting, and virtual events with our leading journalists
Already have an account? sign in
Join our new commenting forum
Join thought-provoking conversations, follow other Independent readers and see their replies