Just 13 per cent of UK technology firm board members are women, new research reveals
Almost two-thirds of boards and two-fifths of executive teams had no female representation at all while ethnic minorities are also significantly underrepresented in the sector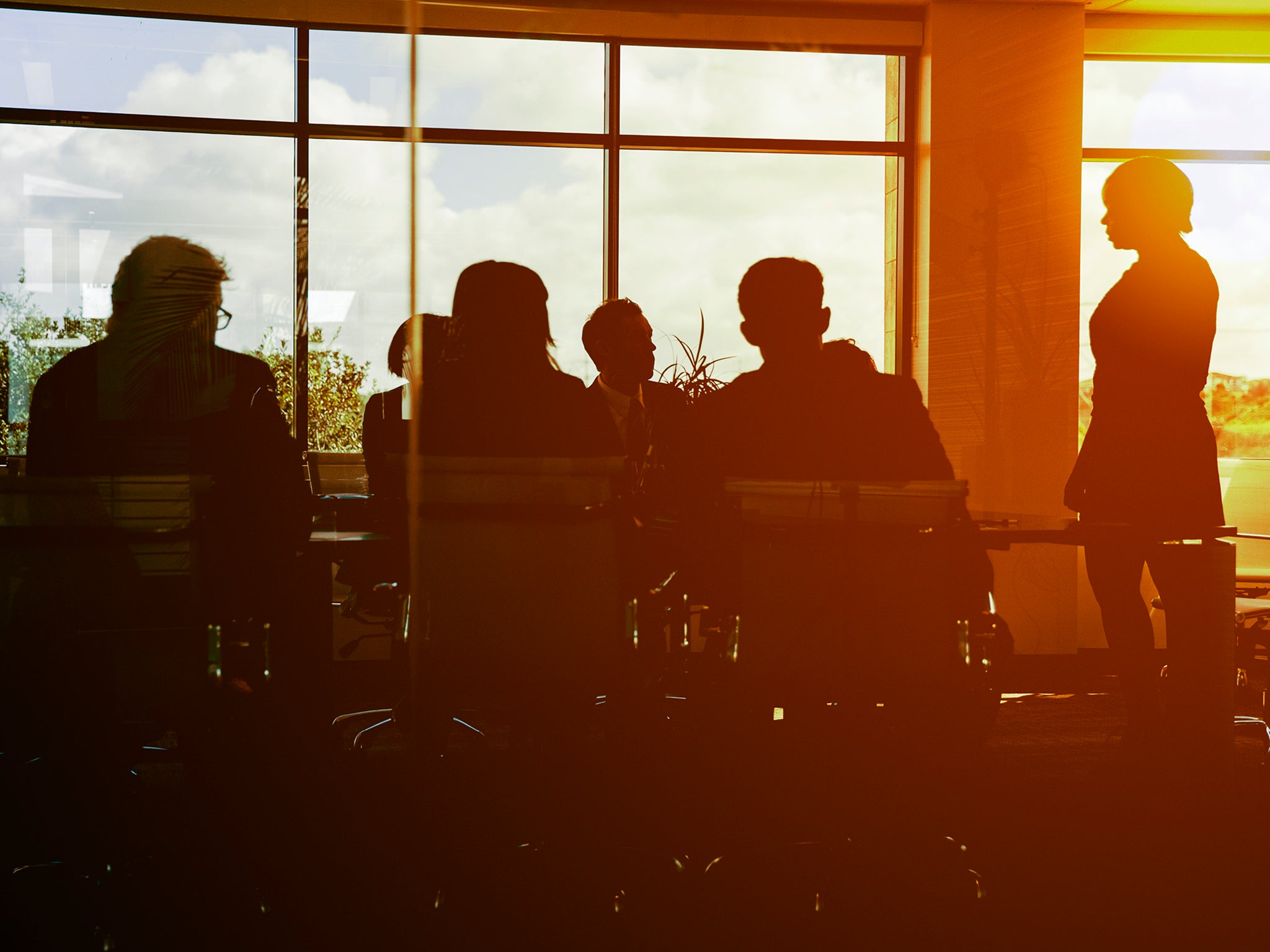 A "shocking" lack of diversity at UK technology firms has been revealed by new research that found women make up just 12.6 per cent of board members in the sector.
Only 14.6 per cent of senior executives at the 500 largest technology companies are female, while ethnic minorities are also significantly underrepresented, a study by Inclusive Boards found.
The organisation analysed the gender, ethnicity and socioeconomic profiles of boards of directors and executives in the top 500 tech firms by turnover.
Almost two-thirds of boards and two-fifths of executive teams had no female representation at all.
Despite many tech firms presenting themselves as progressive, the data shows that the sector is lagging behind the FTSE100 when it comes to representing women at a senior level.
A government report this week found that 30 per cent of board members and 21 per cent of senior executives at FTSE 100 companies are women.
Tech companies fared slightly better on ethnic diversity with 11 per cent of senior leaders from ethnic minority backgrounds.
That compares to eight per cent of ethnic minority board members on FTSE firms and 6.6 per cent at the top 500 charities.
However, almost three quarters of technology company boards and 70.5 per cent of senior executive teams have no ethnic minority members, the report found.
Women from ethnic minorities made up just 1.8 per cent of the 1,696 board members in the study.
The figures have been released to coincide with the launch of the Inclusive Tech Alliance, a membership body of technology figures who will promote diversity in the sector.
"The lack of diversity in the UK's fastest growing sector is shocking," said Samuel Kasumu, director of Inclusive Boards and founder of the Inclusive Tech Alliance.
"If technology is to be at the heart of the 'fourth industrial revolution' then women and black and Asian communities must be a big part of that and have the same opportunities to flourish.
"It is worrying to see that a sector that prides itself on encouraging openness and innovation is in some ways more elitist than institutions like Parliament.
"This data highlights how we need to make changes at the top, at senior leadership and at board level, to really make tech open to all."
Inclusive Boards has also produced a list of the most influential black and minority ethnic (Bame) people in tech.
Adrian Joseph, non-executive director at the Home Office and artificial intelligence partner at EY came out on top.
He said his route into tech was not an easy one, adding: "It was only through life changing events that I returned to education and eventually moved into technology and innovation.
"I'm passionate about making more people from diverse communities aware of the enormous opportunities in tech. Such a rich seam of talent must be nurtured so we can find the tech leaders of the future."
Inclusive Boards put together a package of recommendations to tackle the problem such as accessing diverse senior leaders from other sectors including finance and the public sector.
Awards should also be set up to celebrate diversity, the report said.
Join our commenting forum
Join thought-provoking conversations, follow other Independent readers and see their replies