Tesco crisis deepens as customers flee and class action lawsuit looms
Shares are now down 48% on the year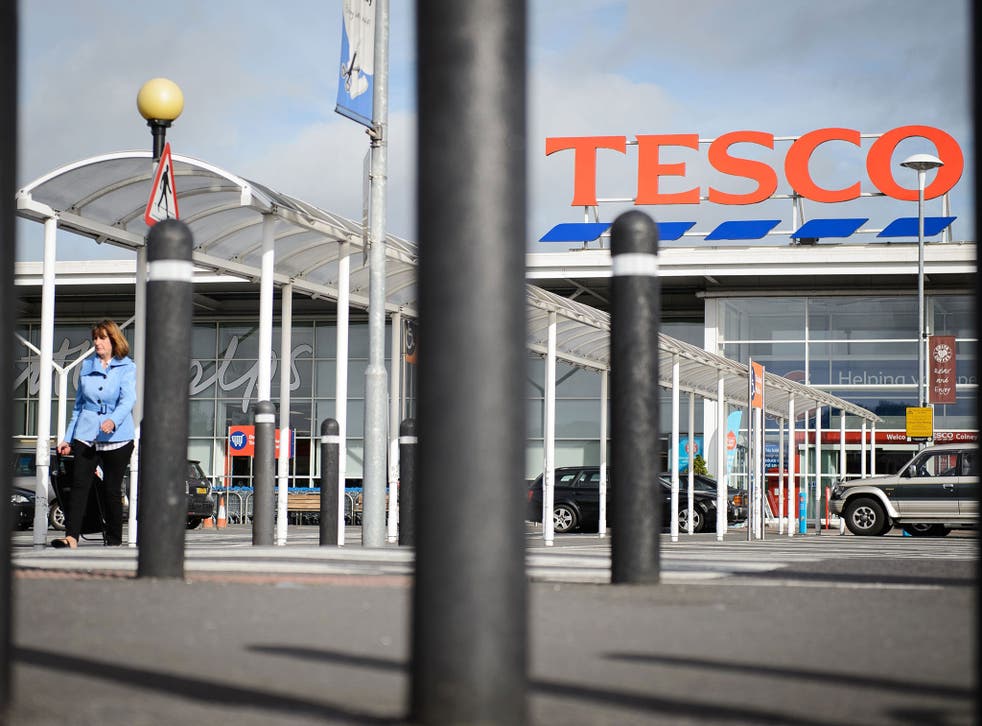 Tesco's unrelenting freefall was laid bare yesterday as the latest industry data showed the supermarket was losing more customers than all its major competitors combined – at the fastest rate since records began.
The revelation comes as new finance chief Alan Stewart was drafted in three months early, questions remained over chairman Sir Richard Broadbent's position and US lawyers were preparing a class action lawsuit against it.
It emerged that Tesco snagged Mr Stewart's services after Dave Lewis, the Tesco boss, pleaded with Marc Bolland, the M&S chief executive, to release him from his contract early.
The new CFO was spotted in meetings at Tesco's Cheshunt headquarters yesterday afternoon. His first job will be to get to the bottom of a £250m black hole in Tesco's accounts that saw shares plunge 4.2 per cent to 194.5p, following an 11 per cent fall on Monday.
Shares are now down 48 per cent on the year.
However, question marks remain over Tesco chairman Sir Richard's position after it emerged that no one from the supermarket approached M&S before any of the three profit warnings.
One retail source said: "It seems madness that no one thought to call M&S before a third profit warning. It would have been far better to try and get Alan in as early as possible to try and sort out this mess."
And a former Tesco director said: "Richard [Broadbent] will have to go. He's completely out of his depth, bumbling around like an Inspector Clouseau."
Sir Richard's insistence of a smooth handover from former finance director Laurie McIlwee to Mr Stuart has also been challenged as it was discovered Mr McIlwee had not been back to Tesco's headquarters since April. He was written to by sacked boss Phil Clarke and told he would not be needed.
A Tesco spokesman said: "We set out in April that until he left the company in October, Laurie McIlwee would carry out transitional activities and support handover with colleagues." However, he was unable to elaborate on what the activities were.
The ongoing problems come as the latest grocery figures from Kantar Worldpanel showed sales at Tesco fell 4.5 per cent in the 12 weeks to 14 September – the fastest drop since records began in 1993.
By comparison, discounters Aldi and Lidl continued growing their UK position, with sales rises of 29.1 per cent and 17.7 per cent respectively.
Even Tesco's Big Four rival Morrisons managed to stem the flow of recent bad results, with sales dropping just 1.3 per cent. Rival Sainsbury's suffered a 1.8 per cent fall and Asda managed a 0.8 per cent rise.
Tesco's market share was 28.8 per cent – a ten-year low – and its share price hit a fresh 11-year low.
In the US, Los Angeles-based law firm Glancy Binkow & Goldberg said it is investigating potential claims on behalf of Tesco's American shareholders over possible violations of federal securities laws. The law firm encouraged Tesco's American shareholders to get in touch and said its investigation is focusing on "certain statements" issued by Tesco about its operations and financial performance.
Alan Stewart: The new finance director
Alan Stewart, the softly-spoken South African finance chief, has seen a meteoric rise from the boardroom of stationers WHSmith to the third biggest retailer in the world – Tesco.
The 54-year-old was the money man behind Kate Swann's WHSmith's revival from the jaws of certain collapse in the financial crisis.
At Marks & Spencer, he did not always see eye to eye with chief executive Marc Bolland, but he stuck by his side while several executives quit as the retailer crumbled.
Those who have worked with him say he drives a hard bargain but is as straight as a die, which is just what Tesco needs right now.
He joins with a £1.7m golden hello and a 30 per cent pay rise, earning a basic salary of £750,000 a year.
Register for free to continue reading
Registration is a free and easy way to support our truly independent journalism
By registering, you will also enjoy limited access to Premium articles, exclusive newsletters, commenting, and virtual events with our leading journalists
Already have an account? sign in
Register for free to continue reading
Registration is a free and easy way to support our truly independent journalism
By registering, you will also enjoy limited access to Premium articles, exclusive newsletters, commenting, and virtual events with our leading journalists
Already have an account? sign in
Join our new commenting forum
Join thought-provoking conversations, follow other Independent readers and see their replies