Tesco to remove some John West tuna from the shelves because of sustainability concerns
Some 20% of John West products in Tesco are being withdrawn after the review from the retailer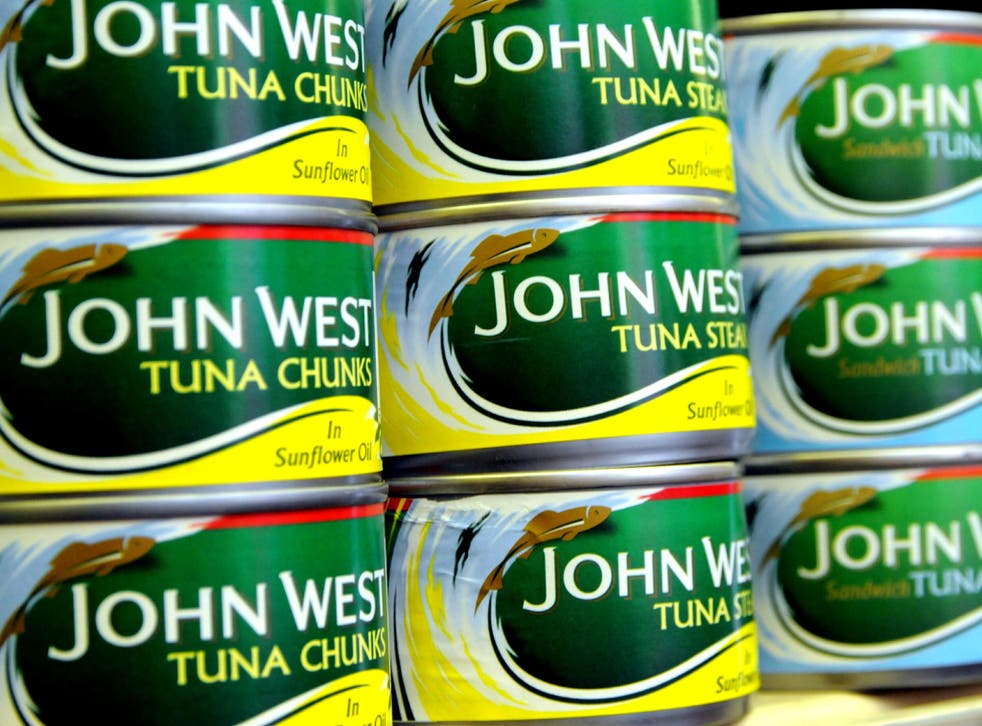 Tesco is to remove some John West tuna products from the shelves after the company failed to meet the retailer's sustainability standards.
Since 2012, the supermarket has vowed to use only pole and line caught tuna, a more sustainable fishing method, which minimises the risk to species.
The supermarket said it had to delist a number of core John West tuna by the end of July after a review of the brand.
"We wanted to take our commitments on quality sustainable tuna further, and earlier this year we announced we would take steps to make sure all the tuna on our shelves – including branded tuna products – met our requirements," Tim Smith, Tesco's group quality director, said.
"We have now completed our review, and as a result have decided to de-list a number of core John West lines with effect from the end of July," he added.
"John West were not able to keep the promise of meeting our standards soon enough," spokesmen for Tesco told the Independent.
Smith said Tesco will still be selling some of John West's products.
"We are working with John West on a plan for these remaining lines to be converted to sustainable tuna sources as soon as possible," Smith said.
John West confirmed 20 per cent of products in Tesco are being withdrawn after the review from the retailer.
"Tesco's review of the fish products it stocks, which has resulted in approximately 20 per cent of the John West range being withdrawn, was driven by commercial negotiations as much as sustainability considerations," a spokesman for John West told the Times.
"Indeed, six John West salmon products which are being withdrawn are fully Marine Stewardship Council (MSC) certified and meet all of Tesco's sustainability requirements. Tesco remains an important retail partner for John West and we share its aspiration to increase the level of sustainable seafood available to consumers," he added.
In response to John West statement, the MSC told the Independent that none of John West products carry their label.
"Products need to bear the MSC eco label on pack in order for a company to claim their product is from a certified fishery. This demonstrates the fishery and the entire supply chain has been independently certified. None of John West's salmon products carry the MSC label," said Toby Middleton, MSC programme director, North East Atlantic.
The Independent has contacted John West for additional comment.
In April, Tesco warned John West it would remove the brand from its stores unless it stopped using destructive fishing practices.
Tesco' decision was praised by British singer-songwriter Ellie Goulding and Greenpeace.
"Good work Tesco no longer stocking John West unsustainable tuna. A step forward — now time for other supermarkets to follow. Waitrose?" Goulding tweeted.
Ariana Densham, Greenpeace oceans campaigner said John West is now paying the price for breaking their sustainability promise.
"We know that this move by Tesco is going to cost John West millions. How long will it take for them and their owner Thai Union to work out that stripping our oceans of life is a dead-end business strategy?"she said.
Waitrose has also recently promised that unless John West meets the supermarket's sustainability criteria its products will be removed.
"Hundreds of thousands of people are calling on John West and its owner Thai Union to clean up their act, and it's a credit to Tesco that they have put their money where their mouth is and taken John West's tuna products off the shelves," Densham said.
"Now it's time for other retailers like Sainsbury's to tell John West enough is enough: clean up or ship out.' The ban comes after a review of Britain's biggest tuna brand found that the brand," she added.
In 2011, John West guaranteed consumers its tuna would be 100 per cent sustainable by 2016.
But in October last year, Greenpeace said John West had only reached a disappointing 2 per cent with nearly all of its tuna caught in nets using so-called Fish Aggregating Devices (FADs).
This method endangers marine life, including sharks and even facing extinction sea turtles, Greenpeace said.
Price of over-fishing: one tuna sells for £1m

Show all 4
At the time, John West defended itself, saying that the global supply of pole and line caught tuna had reduced significantly since their sustainability promise.
"Our total pole-and-line supply is considerably higher than the Greenpeace league table suggests; much of this is supplied to retailers for their private labels to help them achieve their stretching sustainability targets."
"Quite simply, there is no longer enough pole and line tuna available to meet global demand or Greenpeace targets. As a result of our commitment to our retail customers we have found it extremely difficult to increase the proportion of John West pole and line tuna that we can provide," a spokesperson for John West said.
Join our new commenting forum
Join thought-provoking conversations, follow other Independent readers and see their replies