The people vs Wall Street
Bear Stearns bankers on trial in first criminal case of the credit crunch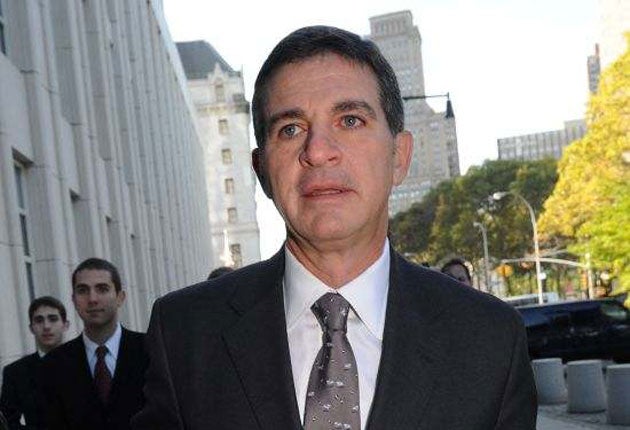 Amidst the economic wreckage, after 7 million job losses and approaching 2 million home foreclosures in the US alone, with businesses and consumers around the world still struggling to get finance after the long credit crunch, Wall Street is finally on trial. A little piece of Wall Street, at least.
In the first major case against bankers at the heart of the financial meltdown, a jury of 12 mainly working-class New Yorkers will decide the fate of the two Bear Stearns managers whose hedge funds imploded in 2007, signalling the start of the crisis. Ralph Cioffi, 53, and Matt Tannin, 48, pocketed millions of dollars in pay during the boom years, but the events of 2007 left their investors nursing losses of $1.6bn (£1bn) and ruined forever the reputation of Bear Stearns, one of the oldest investment banks on Wall Street.
Dressed as if for a funeral, the pair sat impassively in the brightly lit courtroom in downtown Brooklyn yesterday as assistant US attorney Patrick Sinclair recounted what he said was a litany of lies that they told to investors. The two men were desperate to stop investors deserting their funds when the sub-prime mortgage market began to plunge, Mr Sinclair said. Mr Cioffi alone was paid $32m in the two years before the funds collapsed.
They "violated a special relationship of trust" between fund managers and investors, he added. "They lied to investors to save their multimillion dollar bonuses. In the US, that is a crime, a serious crime. It's called securities fraud." The prosecution plans to lean heavily on private emails written by the men which suggest they knew much earlier that the sub-prime market was – in a word used by Mr Tannin – "toast". Yet the men glossed over the situation and deceived investors in two ways, it is alleged.
First, Mr Tannin said he was putting more of his own money into the funds, when in fact he did not invest a single cent of the $1m that was available in his bank account. Mr Cioffi, meanwhile, secretly withdrew $2m of his money. Second, Mr Cioffi denied any major investor was planning to pull out, when he had already received a major redemption request. More than a dozen friends and family crammed in to the few public benches, and more spilled into an overflow room as the trial got under way. While the prosecution aimed to distil the case for jurors into a handful of straightforward lies, it was clear yesterday that the defence will portray the events of 2007 as much more nuanced – and highly complicated. In an idiosyncratic opening statement, Mr Cioffi's lawyer, Dane Butswinkas, launched into an educational session on high finance. At one point, he used waste-paper baskets in an attempt to explain how hedge funds worked.
The prosecution is unfairly "cherry-picking from thousands and thousands of emails", Mr Butswinkas complained. "It is easier to call the right play on Monday morning after the game on Sunday, and it is always easier to pick the right investment strategy after the fact. Hindsight is 20-20."
Mr Cioffi was described by Mr Butswinkas as a man who reached a high level on Wall Street through talent and hard work. He came to New York in the late Seventies "with $200 in a slightly worn-out pouch" and "with hopes of being a banker". Mr Tannin's defence team will give their opening arguments this morning.
The trial promises to be a bitter fight between prosecutors, who accuse the pair of lying and manipulating evidence, and defence lawyers, who say the men are being made scapegoats for a financial crisis that was not of their making. The outcome could also be a harbinger of things to come, as the US Justice Department considers bringing cases against even bigger fish on Wall Street.
"This is not a revenge opportunity," the 75-year-old judge, Frederic Block, had told prospective jurors. Neither Mr Cioffi nor Mr Tannin is charged with "causing" the credit crisis. They are charged with behaving dishonestly when the crisis began to break. The pair were traders in mortgage securities, curators of two hedge funds that invested in debt which is now known to have been toxic but which had seemed to promise great riches. They worked at the long end of the chain that stretched from overheated housing markets in the south and west of the US, where millions of buyers were tempted into taking on mortgages they could not afford. Those mortgages were sliced and diced by Wall Street and turned into securities which could be bought and sold as if they were shares. Credit rating agencies had certified the Bear Stearns funds' mortgage derivative portfolio as super-safe; the defendants' superiors at Bear Stearns and the funds' outside investors believed they were taking little risk. The question is when the two managers realised this was far from true.
Messrs Cioffi and Tannin face 20 years in jail if they are found guilty of the securities fraud. Mr Cioffi is additionally charged with insider dealing.
Join our commenting forum
Join thought-provoking conversations, follow other Independent readers and see their replies