Tropicana, McVitie's and Andrex among hundreds of supermarket products that have shrunk in size, Which? says
Toilet rolls, chocolate biscuits and orange juice were among the products that have shrunk in size, meaning customers are paying more for less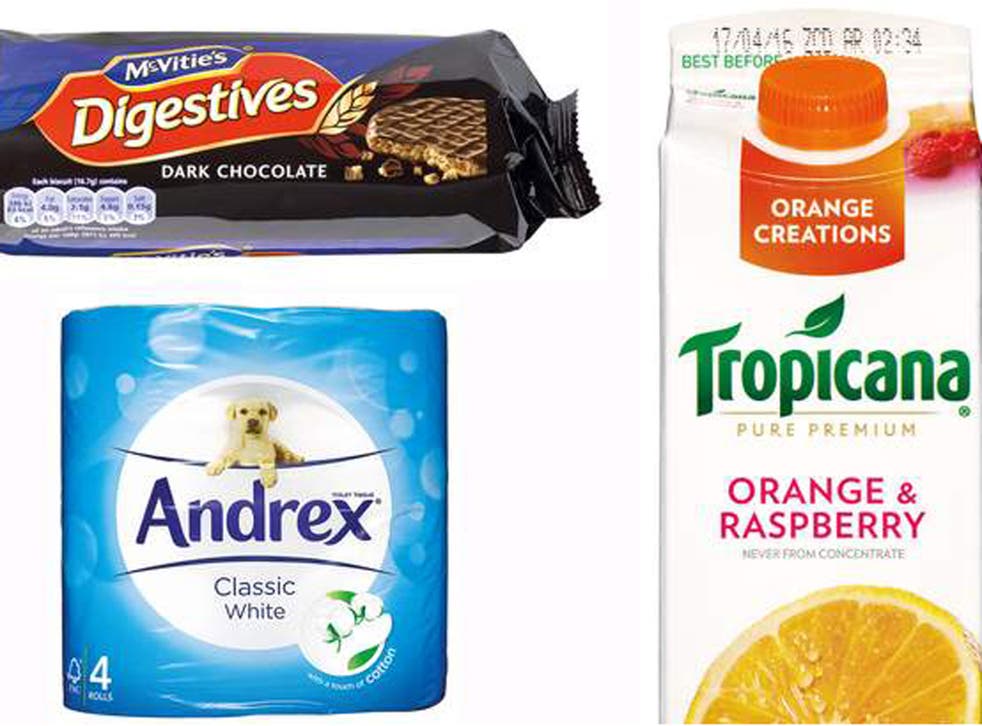 The products on supermarkets shelves are getting smaller but prices aren't, a consumer group has warned.
Toilet rolls, chocolate biscuits and orange juice were among the products that have shrunk in size, meaning customers are paying more for less.
Which? used data from the independent shopping website Mysupermarket.co.uk to get more information about shrinking products.
Andrex standard toilet paper roll has cut its sheets to 221 from 240, an 8 per cent drop. But the price has stayed the same at £2, the watchdog found.
The supermarket products that cost the same while shrinking in size

Show all 5
The weight of McVitie's dark chocolate biscuits decreased by 10 per cent from 332g to 300g, while prices at Tesco went up by 10p from £1.59 to £1.69.
Tropicana orange and raspberry juice, meanwhile, was priced £2.48 in Asda even after the packet of juice dropped in volume from 1 litre to 850 ml, a reduction of 15 per cent.
The brands cited in the report told Which? that supermarkets are responsible for setting prices. But they did not reveal whether they had charged lower wholesale prices for the shrunken products.
Andrex said it had invested significantly in improving the strength and softness of its toilet roll.
"Reducing the roll by a very small number of sheets (this equates to five to six wiping occasions) has helped make this multi-million pound investment possible,"Andrex said.
McVitie's said its new pack size means it can offer a lower price and more promotions, but it didn't comment on whether it charged supermarkets less. Tropicana simply said that it strives to produce "competitively-priced products".
Four of five consumers polled by the watchdog said they believe it's wrong for products to shrink in size but still be sold at the same price.
But the practice appears to be widespread across the industry.
"Shrinking products can be a sneaky way of increasing prices. We want manufacturers and supermarkets to be upfront so consumers aren't misled," Richard Headland Which? editor said.
Nestle suffered from a consumer backlash in December after a picture of ever-smaller Quality Street boxes went viral on the internet.
Cadbury Crème egg was the subject of a consumer campaign in January after chocolate lovers realised the multipack had been reduced from six to five, meaning every egg costs 57p rather than 51p.
Mars bars have shrunk 10 per cent from 58g to 51g since they was introduced, according to The Grocer, but one bar still costs 51p.
Join our new commenting forum
Join thought-provoking conversations, follow other Independent readers and see their replies