TTIP Greenpeace leak shows how US can pressure EU to compromise health and the environment under trade deal
TTIP could lower standards in the EU by forcing it to accept lower standards on GM foods or harmful pesticides
Hazel Sheffield Comments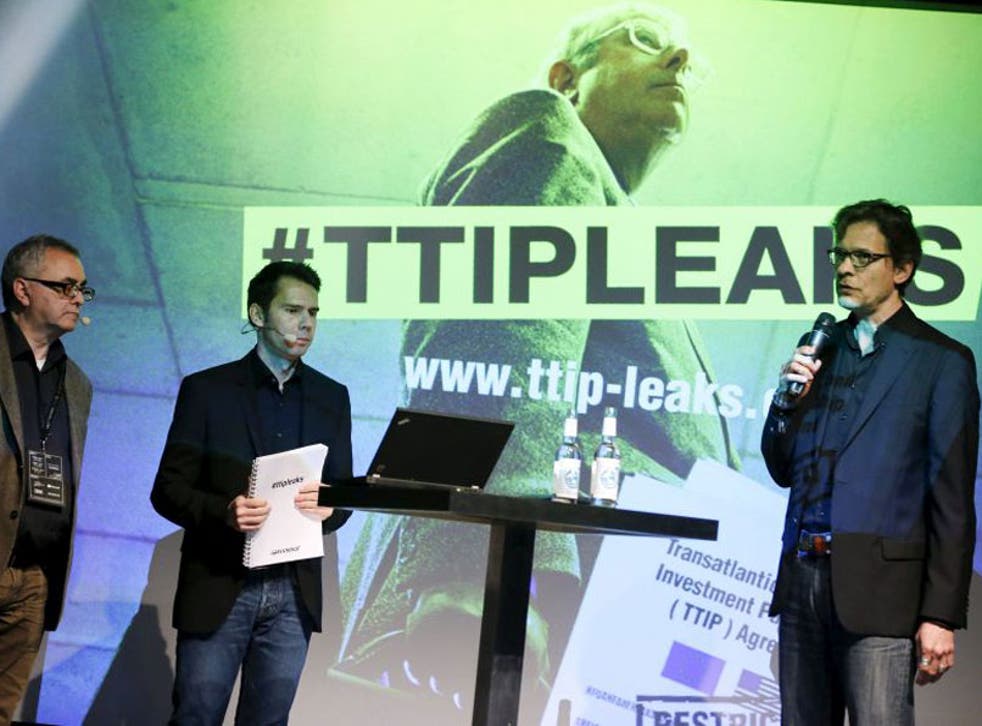 Leaked documents relating to a sweeping free trade agreement under negotiation by the EU and the US have shown how much the pressure the Americans would be able to put on Europe over regulatory issues, experts say.
The Transatlantic Trade and Investment Partnership leak, announced by Greenpeace on Monday, showed for the first time the EU and US negotiating positions side by side.
The European Commission rubbished the notion that TTIP could lower standards in the EU by forcing it to accept looser regulations on GM foods or harmful pesticides.
"It begs to be said, again and again: No EU trade agreement will ever lower our level of protection of consumers, or food safety, or of the environment," Cecilia Malmström, EU trade commissioner, said.
But experts have said that the leaked documents show that this might not be the case.
"That pressure is already manifesting itself in changes in the document. All the assurances the European Commission give about not lowering standards do not stand up to scrutiny," said Gabriel Siles-Brügge a politics lecturer at the University of Manchester who has written a book on TTIP.
The documents show that TTIP could lower standards in areas such as the environment and public health by giving US companies the right to lobby the EU to make sure regulations do not stand in the way of US business interests.
US President Obama has been transparent on this issue, claiming in a recent visit to the UK that TTIP would remove "regulatory and bureaucratic irritants and blockages to trade".
Monique Goyens is director general of the European Consumer Organisation, which represents 40 independent national consumer organisations in 31 European countries. She said that the TTIP leak has revealed three ways that US pressure on the EU could lower standards.
The US is pressuring the EU for a more transparent rule-making process. Goyens said that while transparency sounds nice, this system gives US companies free rein to lobby the EU when it is making new laws. "Clearly, this system could delay or even water down future EU regulations," she said.
The US wants to give any person the power to challenge a regulation. This means any individual can challenge regulations like REACH, which protects people and the environment against the misuse of chemicals, passenger rights, or food safety rules, Moyens said.
The US wants to

"

improve EU rule making

"

. "Again this sounds nice," Moyens said. "But the proposed rules would make it extremely difficult for the EU to issue regulations in future." Even if those regulations bring benefits to companies, create jobs and protect consumers.
Siles-Brügge gave two examples where US pressure is already suspected to have resulted in the softening of EU regulations.
In the first case, environmentalists suspect that TTIP and an EU-Canada free trade deal called Ceta may have influenced the EU's decision not to class oil from Canada's massive tar sands as dirty fuels.
Secondly, there are suspicions that the EU dropped pesticide laws relating to endocrine-disrupting chemicals linked to cancer and male infertility because of pressure from US politicians over TTIP.
UK: John McDonnell blasts TTIP as "modern day slavery"
The Greenpeace leak comes as senior politicians around Europe seek to distance themselves from the controversial trade deal.
President François Hollande announced this weekend that France will veto any TTIP agreement that could endanger the country's agricultural sector.
Meanwhile, Germany's economy minister Sigmar Gabriel has also said that if TTIP collapses, US intransigence is the cause.
In the UK, debate has raged over whether TTIP could lead to an irreversible sell-off of the NHS.
In the House of Commons on Wednesday, David Cameron accused opponents of TTIP of using the NHS as a red herring to stand against "a trade deal that could add tens of billions to our economy and generate jobs".
"There are plenty of reasons that people don't want to see trade expanded, I think they should be honest about it and say they don't like trade deals," David Cameron said.
Cameron has publicly stated his support for the deal.
Business news: In pictures

Show all 13
Those claiming that the Greenpeace leaks will put a stop to the deal will be disappointed, Siles-Brügge said, noting that statements from Paris officials should be read as a way of extracting leverage from the leaks rather than as opposition to the principle of TTIP.
"Delays in the negotiations were already likely before these leaks due to the US election timetable and the changeover of administration," Siles-Brügge said.
"This is certainly not the end of TTIP."
Register for free to continue reading
Registration is a free and easy way to support our truly independent journalism
By registering, you will also enjoy limited access to Premium articles, exclusive newsletters, commenting, and virtual events with our leading journalists
Already have an account? sign in
Join our new commenting forum
Join thought-provoking conversations, follow other Independent readers and see their replies