UK car production slides as Brexit fears erode confidence among business and consumers
'We urgently need clarity on the transitional arrangements for Brexit'
Sean O'Grady
Tuesday 30 January 2018 20:35 Comments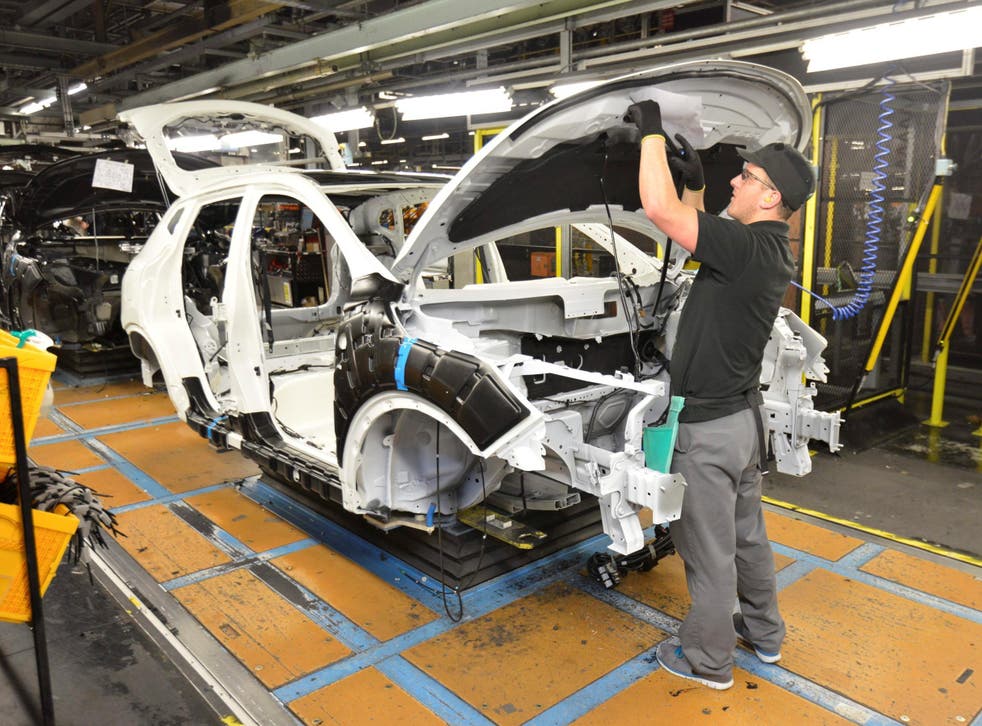 Britain's car industry slid into reverse in 2017, with production of new cars down 3 per cent to 1.67 million, the first decline in eight years.
The latest data shows that production for the domestic market slumped by almost 10 per cent, but exports by just 1.1 per cent. The Society of Motor Manufacturers and Traders (SMMT) blamed weakening business and consumer confidence in the UK for the fall, with the continuing "confusion" about official policy on diesel engines exacerbating problems.
The slowdown in diesel demand is a particular problem because Britain remains an important location for diesel engine manufacture, with firms such as Ford and Toyota producing large numbers of power units – in total about one million, worth £8.5bn to the economy. The SMMT also warned that a hard Brexit could chop 10 per cent off export production "overnight".
Investment in the UK industry – where many important potential projects are "overdue" for approval in multinational boardrooms – fell by a third in 2017, compared to 2016, and is running at only around half the levels during the pre-Brexit period.
Job losses were recently announced at Vauxhall's Ellesmere Port plant. Vauxhall was acquired by Peugeot last year, and is thought to be one of the most vulnerable to a Brexit effect loss of investment in new models.
The SMMT warned once again about the "serious threat" Brexit poses to the UK auto industry, which has been a success story since the 1980s, attracting substantial inward investment from some of the world's most successful companies. The SMMT stated that the current proposed transition period for leaving the EU, of about two years, is too short.
Around 80 per cent of British car production went for export, and this helped dampen the problems in the "home" market. The EU remained the UK's biggest trading partner, taking more than half (53.9 per cent) of exports and seeing conditions recover from post-financial crisis lows, while the demand for British-built cars rose in several key markets, notably Japan (up 25.4 per cent), China (up 19.7 per cent), Canada (which rose by 19.5 per cent) and the US, where demand increased by 7 per cent.
The Chief Executive of the SMMT, Mike Hawes, said: "The UK automotive industry continues to produce cars that are in strong demand across the world, and it's encouraging to see growth in many markets. However, we urgently need clarity on the transitional arrangements for Brexit, arrangements which must retain all the current benefits else around 10 per cent of our exports could be threatened overnight.
"We compete in a global race to produce the best cars and must continue to attract investment to remain competitive. Whilst such investment is often cyclical, the evidence is that it is now stalling so we need rapid progress on trade discussions to safeguard jobs and stimulate future growth."
Although encouraged by a recent industry round-table meeting with the Prime Minister, and by the Government's industrial strategy, Mr Hawes said "we do not know what the Government wants for a permanent or future relationship" with the EU.
Further devilment for the British car industry will lie in the detail of any UK-EU trade deal. According to SMMT sources, UK-originating content on motor vehicles may turn out to be rather less than the 50 per cent needed to meet the "rules of origin" terms of most free trade agreements and to gain zero tariff access to the EU.
UK news in pictures

Show all 50
If that is so and it is only around, say, 25 to 30 per cent, there are potentially serious consequences under possible new trade regimes for exports. The SMMT is working on determining the facts as best it can in this context, though complex cross-border supply chains make this an extremely complicated exercise.
Register for free to continue reading
Registration is a free and easy way to support our truly independent journalism
By registering, you will also enjoy limited access to Premium articles, exclusive newsletters, commenting, and virtual events with our leading journalists
Already have an account? sign in
Join our new commenting forum
Join thought-provoking conversations, follow other Independent readers and see their replies