UK new car sales rise in July after turbulent six months, industry says
Sales of diesel vehicles slumped a further 24 per cent while demand for alternatively fuelled vehicles jumped 21 per cent, SMMT data reveals
Ben Chapman
Monday 06 August 2018 10:33 Comments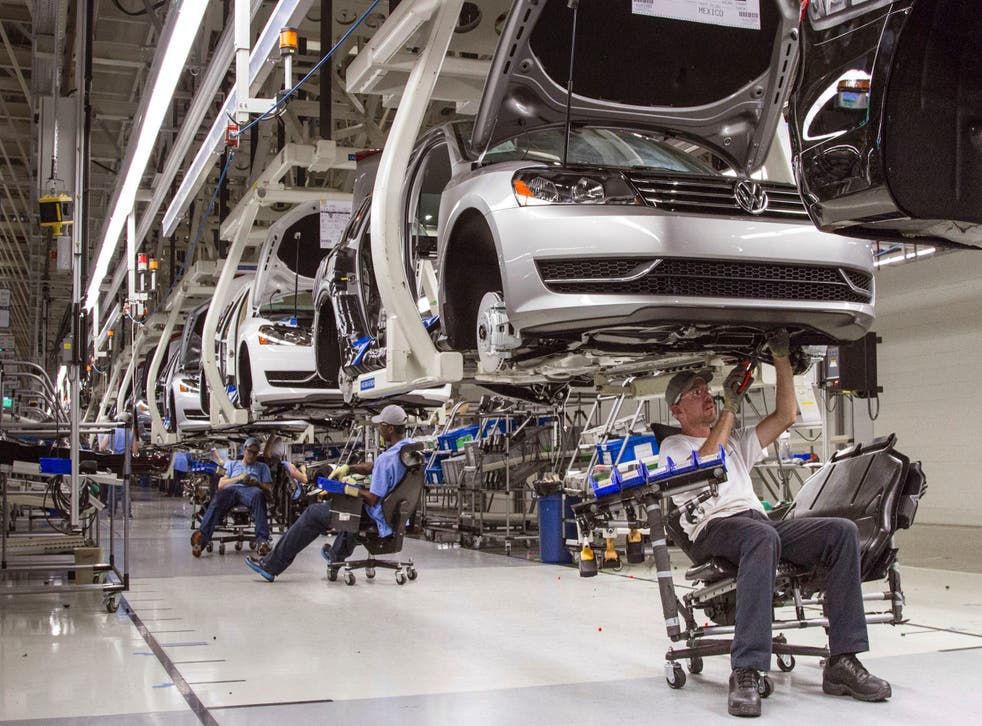 New car registrations increased by 1.2 per cent in July as the market "stabilised" following a turbulent first six months, according to the industry's trade body.
Sales of diesel models slumped 24.4 per cent, while demand for petrol vehicles was up by a fifth, the Society of Motor Manufacturers and Traders (SMMT) said.
Consumers face uncertainty around future regulation following the emissions scandal, which revealed that many diesel models were far more polluting than their manufacturers claimed.
Sales of alternatively fuelled vehicles, which include hybrids and electric cars, jumped 21 per cent.
Growth was particularly strong for plug-in hybrids, up by a third, while hybrid registrations grew 17.5 per cent, followed by battery electric cars, up 2.4 per cent.
Registrations by businesses with fleets of 25 cars or fewer fell by 10.2 per cent while large fleets grew by 2.6 per cent.
The slight rise in sales couldn't make up for a slump in previous months, with year-to-date registrations down 5.5 per cent, broadly in line with expectations.
In the first seven months of the year, almost 1.5 million new cars were registered by consumers and businesses in the UK.
Mike Hawes, SMMT chief executive, said: "The feel good factor from a sun and sport-packed July, combined with some fantastic deals on a raft of exciting new models, clearly helped keep showrooms relatively busy last month.
"It's great to see alternatively fuelled vehicles benefiting from this growth, and government's acknowledgement of the vital role new-tech diesel will play in its Road to Zero strategy should help more even more motorists benefit from the latest, safest and low emission technology over the coming months."
Ian Plummer, director at Auto Trader, said: "Manufacturers have been racing to clear stock before new regulations on fuel economy and emissions take effect in September, resulting in some great opportunities for consumers."
"Sales in July were up 1.2 per cent compared with the same month last year. Whilst this has slowed the overall decline, year-to-date sales are still down 5.5 per cent, and with the industry still facing unprecedented challenges, not least the uncertainties of Brexit, the outlook for the rest of 2018 is hard to predict."
"Several manufacturers were selling a large proportion of their July volume on the last day of the month as the pressure to meet monthly targets and the impact of new WLTP (Worldwide Harmonised Light Vehicle Test Procedure) regulations combined to give motorists some real bargains.
Alex Buttle, director of car buying comparison website Motorway.co.uk, said there was now "real momentum" behind the move to alternatively fuelled vehicles.
He added: "However, the government still needs to do more to support the switchover. Its Road to Zero proposal outlined investment into the charging infrastructure, which is clearly a vital component of the switchover, but an outline on financial support for buyers was noticeable by its absence.
"At a time when household finances are stretched, and are likely to be more stretched next year when we leave the EU, where are the financial incentives to encourage consumers to switch early?
"Instead, more people are likely to hold off buying a new car altogether or will simply buy good value used cars in the second hand market, until the picture becomes clearer."
Register for free to continue reading
Registration is a free and easy way to support our truly independent journalism
By registering, you will also enjoy limited access to Premium articles, exclusive newsletters, commenting, and virtual events with our leading journalists
Already have an account? sign in
Join our new commenting forum
Join thought-provoking conversations, follow other Independent readers and see their replies