Vatican McDonald's to hand out thousands of free cheeseburgers to Rome's homeless
The fast food giant caused a stir last December when it opened an outlet in a piazza to the right of the iconic St Peter's Basilica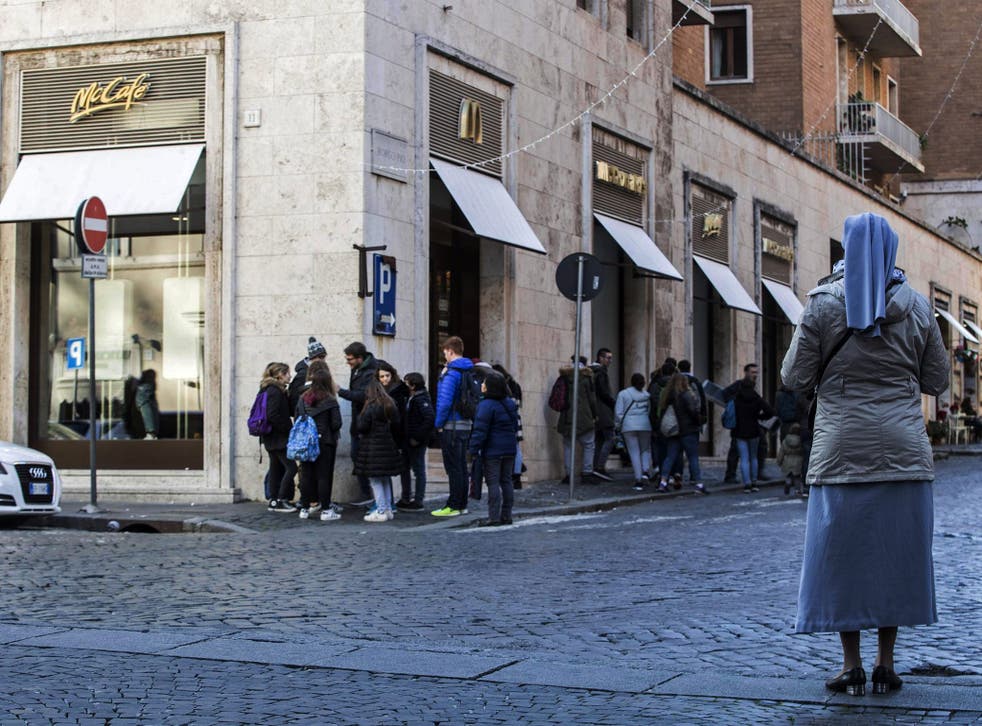 A branch of McDonald's, based a stone's throw away from where the Pope lives in Vatican City, is to hand out thousands of free meals to homeless people after upsetting cardinals and cultural heritage guardians by opening an outlet near St Peter's Square.
The fast food giant caused a stir last December when it opened an outlet in a piazza to the right of the iconic St Peter's Basilica, particularly upsetting cardinals living above the restaurant.
However, the fast food giant is now set to atone by helping to feed the homeless living outside Vatican City.
According to AFP, the charitable act will begin next week, and continue every Monday at lunchtime, starting from 16 January.
McDonald's will provide double cheeseburgers, apples and bottles of water to the homeless. Volunteers from the charity Medicina Solidale will help hand out the meals to the needy.
Medicina Solidale has been working with the Vatican's charitable arm over the past year, providing health check-ups and medical care to the local homeless community.
The causes of homelessness

Show all 7
It was revealed last year that the Administration of the Patrimony of the Apostolic (APSA), the part of the Church which looks after the Vatican's assets, had agreed to rent part of the building to McDonald's.
Before the outlet opened, the Pope has received a letter from one angry cardinal asking the religious leader to intervene in stopping the restaurant from opening, according to media reports.
Join our new commenting forum
Join thought-provoking conversations, follow other Independent readers and see their replies