Venezuela to remove most common banknote from circulation 'to beat mafia'
The government has promised to begin rolling out six larger denomination bank notes in coming days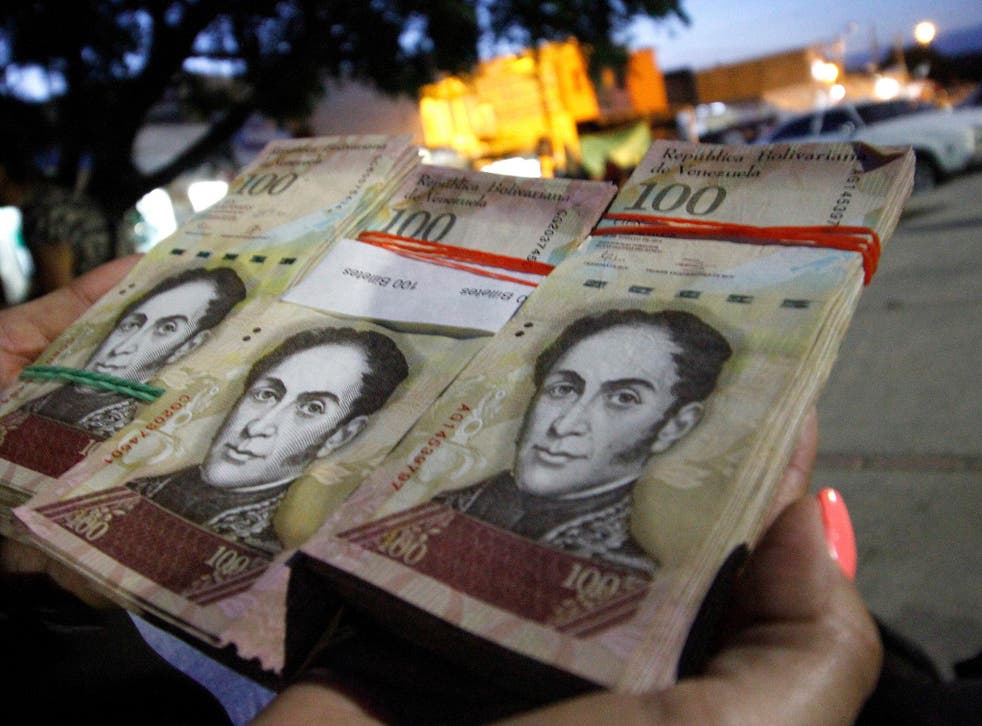 The Venezuelan government has announced it will pull its largest bill from circulation within 72 hours as the country is mired in an economic crisis and facing one of the world's highest inflation.
Data from the central bank showed there were more than six billion 100-bolivar notes in circulation in November, which is about 48 percent of all bills and coins in use.
Despite being the country's highest-denomination banknote, the 100-bolivar note has lost most of its value and is worth approximately two US cents (£0.015). One note can barely cover the cost of a piece of candy, while a stack of 50 notes is needed to buy a hamburger.
The note will be taken out of circulation on Wednesday and Venezuelans will have 10 days after that to exchange those notes at the central bank.
President Nicola Maduro said the move was needed to combat contraband of the bills and food shortages.
"There has been a scam and smuggling of the one hundred bills on the border with Colombia. We have tried the diplomatic way to deal with this problem with Colombia's government; there are huge mafias," Mr Maduro said on state television
He said transnational gangs held more than 300bn bolivares worth of currency, most of it in 100-bolivar notes.
"I have given the orders to close all land, maritime and air possibilities so those bills taken out can't be returned and they're stuck with their fraud abroad," he added.
Venezuela's currency has fallen by 55 per cent against the US dollar just in the last month, with Mr Maduro previously saying the falls in value allow gangs to buy up Venezuelan banknotes cheaply on the black market. They then use the Venezuelan currency to buy subsidised goods in Venezuela, which they in turn sell at a profit in neighbouring Colombia.
However, critics were quick to denounce the decision by Mr Maduro, saying that there was no realistic way for Venezuelans to exchange 100-bolivar notes currently in circulation within the allotted time, particularly given the inflation crisis and already long queues at banks and cash machines.
"When ineptitude governs! Who would possibly think of doing something like this in December amid all our problems?" opposition leader Henrique Capriles wrote on Twitter.
In 2014, plummeting global oil prices decimated Venezuela's economy. President Maduro responded by fixing the official exchange rate and ordering banks to print more cash, which ultimately devalued the currency further, while goods prices soared.
The Venezuelan currency has fallen 55 per cent against the US dollar on the black market in November.
Estimates by economists at the International Monetary Fund put Venezuela's inflation rate at around 2,000 per cent. The last official inflation rate published by the government last year had the figure at 160 per cent.
The 2016 banknote beauty pageant

Show all 6
Earlier this month, the central bank said that six new bills - and three new coins - ranging from 500 to 20,000 bolivars would come into circulation on 15 December.
Additional reporting by agencies
Join our new commenting forum
Join thought-provoking conversations, follow other Independent readers and see their replies