Victor Dahdaleh corruption case: Billionaire's fraud trial collapses after key SFO witnesses refuse to give evidence
Tom Harper
Tuesday 10 December 2013 16:31 Comments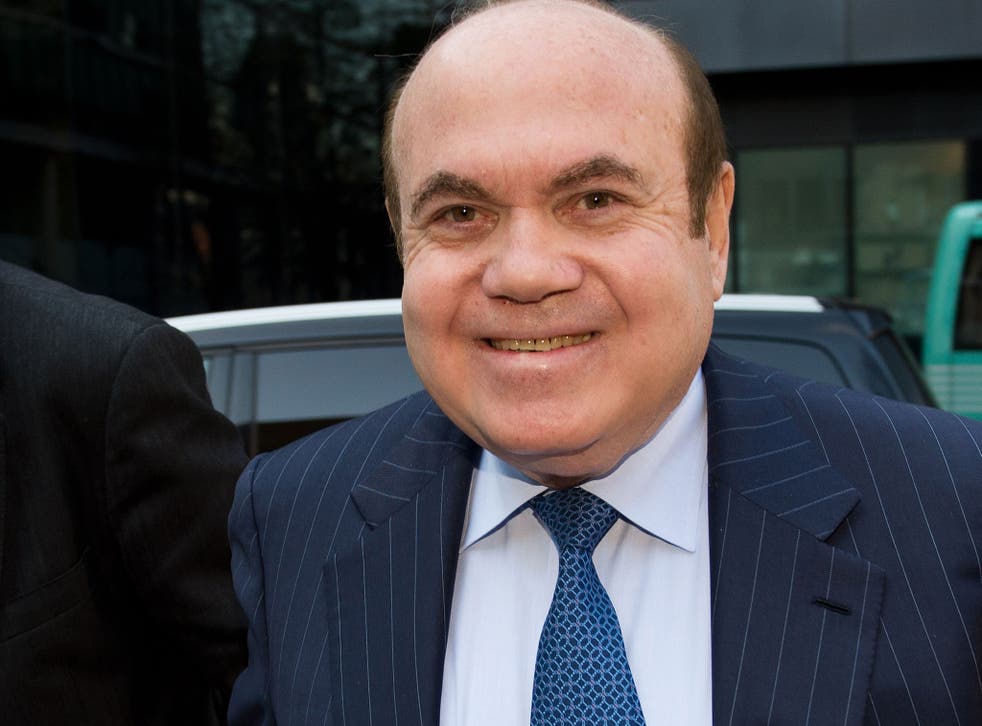 A major anti-corruption trial involving a billionaire Labour donor who is a friend of Tony Blair collapsed yesterday following an embarrassing error by the Serious Fraud Office.
Victor Dahdaleh, 70, was found not guilty of paying more than £35m in bribes to former executives at Aluminium Bahrain (Alba), the fourth-largest smelter in the world, in return for contracts worth more than £2bn.
The case was dropped by the SFO yesterday after it received stinging criticism from the judge for "delegating" the Bahraini strand of its investigation to Akin Gump, one of the largest law firms in the world – which is also separately suing Mr Dahdaleh for up to $1bn in the United States.
The news is a fresh blow for the SFO, which has made a series of high-profile mistakes during its attempts to prosecute white-collar crime. In 2006, it was forced by the then Prime Minister Mr Blair to drop an inquiry into the alleged payment of Saudi bribes by BAE Systems to secure a multibillion-pound arms contract. The law enforcement agency is also being sued for £300m by the property tycoon Vincent Tchenguiz for a series of alleged injustices relating to his arrest in connection with the collapse of the Icelandic bank Kaupthing.
Mr Dahdaleh, a Jordanian-born metals magnate, used to lunch with Mr Blair and was once introduced by Lord Mandelson as "Victor, my friend". He was accused of making payments in connection with Alba contracts with a US company, Alcoa Inc, for supplies of aluminium shipped to Bahrain from Australia.
During the trial, it emerged that one of the witnesses, the former Alba deputy chief executive Jeremy Nottingham, had told the court that Randolph Teslik, a senior partner at Akin Gump, tried to "persuade" him to change his thoughts on some elements of the alleged criminal conspiracy.
Yesterday at Southwark Crown Court, Phillip Shears QC, acting for the SFO, offered no evidence against Mr Dahdaleh and blamed the "unwillingness" of Mr Teslik and another Akin Gump lawyer Mark MacDougall to attend court to give evidence.
But at the end of Mr Shears' statement, Judge Nicholas Loraine-Smith voiced his anger. He said that an SFO official had "delegated his disclosure duties in Bahrain to Akin Gump and in particular to Mr MacDougall".
Judge Loraine-Smith added that the law firm was the "defendant's opponent in a hotly contested, ongoing civil action in America".
He went on: "Neither Mr MacDougall nor Mr Teslik, both of whom are fully bound witnesses, are prepared to be questioned about their inquiries. In fact they have deliberately absented themselves and remain in America. They state that giving evidence in this case is impossible."
Finally, the judge asked Mr Shears: "I would like you to consider, with those who instruct you, whether the position is in any way defensible."
The trial has also featured an intervention from the Deputy Prime Minister of Bahrain, the government of which owns 77 per cent of Alba. Jamel Saleem al-Arayed wrote to the head of the SFO and to the Attorney General, stating all the payments made by Mr Dahdaleh had been approved.
Neil O'May of Norton Rose Fullbright, who represented Mr Dahdaleh, told The Independent: "My client has suffered six years of intensive investigation and prosecution which has put his life and business on hold, whilst he has had to endure accusations over his operations relating to over 10 years ago.
"He is overwhelmed by the acquittal today and very grateful that the English courts system has reached the correct result. However, he is extremely concerned that those supervising the SFO allowed its essential functions as an impartial investigating organisation to be outsourced to an American law firm with a conflict of interest, such that the lawyers themselves refused to attend court to give a full explanation of their part in the investigation."
As he outlined the SFO's decision to offer no evidence, Mr Shears said: "I have taken matters up to the highest level in the Serious Fraud Office and consulted the Attorney General yesterday. At the commencement of this trial the SFO was of the view that there was a realistic prospect of conviction in this case and that furthermore the evidence in the case was strong."
Mr Shears also blamed an alleged change in evidence of one of the prosecution's witnesses, the former Alba chief executive Bruce Hall, who was extradited from Australia by the SFO and had earlier pleaded guilty to conspiracy to corrupt. Mr Hall admitted the charge of being part of a criminal conspiracy with Mr Dahdaleh and the then-Alba chairman Sheikh Isa bin Ali al-Khalifa, a former Bahraini Petroleum Minister. He will be sentenced at a later date.
Of Mr Teslik and Mr MacDougall, Mr Shears said: "The attendance of the two American witnesses would have allowed this aspect of the case to be ventilated before the jury.
"In seeking to secure the attendance of these two witnesses – who have previously attended court on every other occasion when their attendance has been required – the Serious Fraud Office has taken every available step, including a direct telephone conversation between the director of the Serious Fraud Office and the chair of Akin Gump.
"After careful consideration of all of the circumstances of the case the Serious Fraud Office has concluded that there is no longer a realistic prospect of conviction in this case and accordingly we offer no evidence."
Akin Gump did not respond to requests for a comment.
An SFO spokesperson said: "Alba in Bahrain gave its documents to Akin Gump, the company's lawyers. The SFO framed specific requests to Akin Gump for that documentation and obtained what was requested.
"The SFO also obtained evidence from other sources including banks and individuals. No aspect of this investigation was outsourced."
Serious Fraud Office: A catalogue of concerns
Last year the property tycoon Vincent Tchenguiz claimed £100m of damages for a series of alleged injustices relating to his arrest and subsequent investigation in connection with the collapse of the Icelandic bank Kaupthing. The claims included trespass, false imprisonment and malicious prosecution. By July the High Court ruled that search warrants issued to the SFO as part of its investigation into Mr Tchenguiz and his brother were unlawful and obtained by "misrepresentation".
Chris Ronnie, the former chief executive of JJB Sports, was charged with offences relating to an alleged £1m fraud. But his case was among 30 that faced collapse after a court heard that the SFO had brought prosecutions unlawfully throughout the directorship of Richard Alderman, who oversaw the SFO between 2008 and 2012.
In August the SFO admitted misplacing 32,000 pages of documents, 81 audio tapes and electronic media relating to its inquiry into BAE Systems' arms deals with Saudi Arabia.
In 2010 Jared Bentley Brook and Lincoln Julian Fraser, former directors of Imperial Consolidated Group, were cleared of causing the collapse of the international investment company in 2002.
In 2002 two trials costing the SFO £40m failed to convict anyone in connection with an alleged £20m fraud at DIY chain Wickes.
The 1992 Blue Arrow case, which is also thought to have cost £40m, was linked to allegations of share rigging during a takeover. But of 14 defendants, just four were convicted by a jury. All were subsequently cleared on appeal.
In the 1990s, the SFO brought four trials linked to allegations of share ramping during the takeover of the Distillers Group by Guinness. Two of the trials collapsed. While four businessmen were convicted, four others were eventually acquitted.
* An earlier version of this article referred to Victor Dahdaleh as a 'Labour donor'.  in fact, The Independent understands that Victor Dahdaleh, whose anti-corruption trial collapsed on Tuesday, has not donated funds directly to the Labour Party but has made donations to think tanks often associated with the Party, including the IPPR. 


Register for free to continue reading
Registration is a free and easy way to support our truly independent journalism
By registering, you will also enjoy limited access to Premium articles, exclusive newsletters, commenting, and virtual events with our leading journalists
Already have an account? sign in
Join our new commenting forum
Join thought-provoking conversations, follow other Independent readers and see their replies