Virgin Hyperloop One given $50m lifeline with Sir Richard Branson rumoured as potential chairman
Passengers could travel between London and Scotland in 45 minutes using the technology, according to the billionaire entrepreneur's previous claims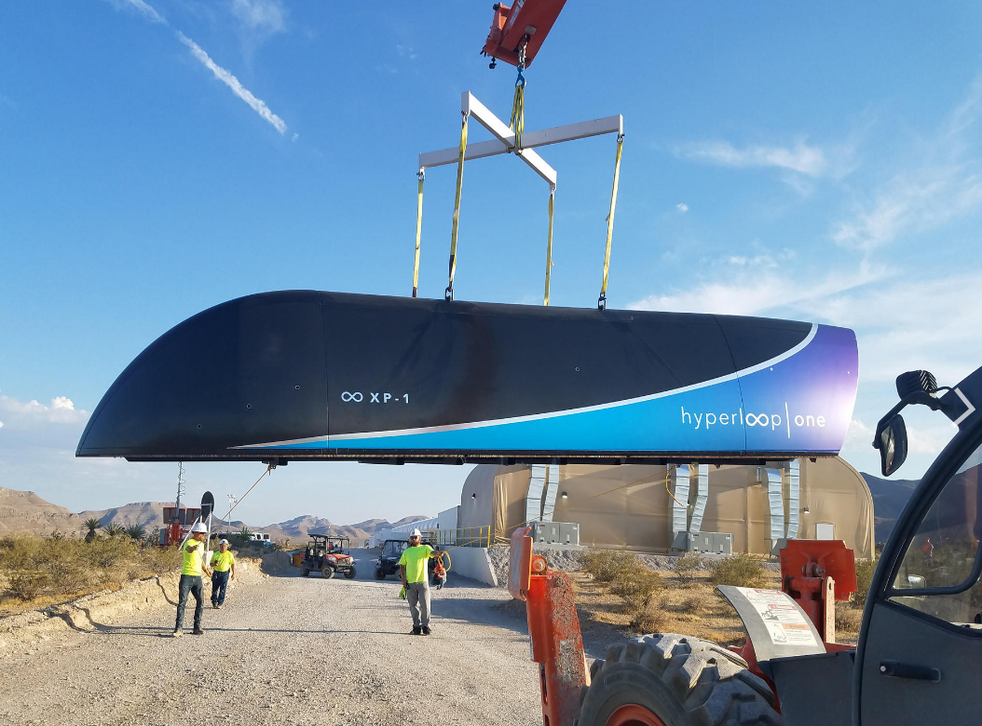 Virgin Hyperloop One, a beleaguered startup trying to develop a futuristic, tube-based transportation system, got a lifeline in the form of $50m (£37m) from two foreign backers.
The board approved the deal last week as the company was running low on cash and attempting to navigate a scandal involving co-founder Shervin Pishevar, who was accused by multiple women of sexual misconduct outside the company, said a person familiar with the matter. Mr Pishevar denied all the allegations, took a leave of absence from Virgin Hyperloop One this month and stepped down from his venture capital firm.
Virgin Hyperloop One confirmed the funding in an emailed statement on Monday afternoon. "This investment provides Virgin Hyperloop One with a very robust financial platform for 2018," chief executive Rob Lloyd said in a statement. "Our focus in 2018 will be on accelerating commercial agreements for both passenger and cargo projects."
Dubai's DP World and Russia's Caspian Venture Capital are each contributing $25m in a combination of convertible loans and stock warrant purchases, according to a financial document reviewed by Bloomberg. More unusually, the firms will be eligible to receive a cut of future revenue. Virgin Hyperloop One is also naming Richard Branson as chairman, said the person, who asked not to be identified because the details are private.
Ziyavudin Magomedov, a Russian billionaire who controls Caspian Venture Capital and the former co-executive chairman of Virgin Hyperloop One, made an offer to buy the company in recent weeks, the person said. The transportation company's board decided against the sale. The company didn't immediately provide a comment on the proposal.
DP World, Caspian Venture Capital and Pishevar didn't immediately respond to requests for comment. Details of the financing were reported earlier Monday on by digital-media website Axios.
Pishevar started Hyperloop One in 2014 with an engineer named Brogan BamBrogan. The two hoped to create a high-speed train based on specifications dreamed up by Elon Musk. But Pishevar and BamBrogan had an ugly falling out and a public court battle. BamBrogan left to start a competitor. Venture capitalist Joe Lonsdale, an early backer of the startup, quietly left the board this year. Now the threat of competition from Musk looms: The billionaire is developing his own hyperloop.
To regain surer financial footing, Virgin Hyperloop One still needs to win a revenue-generating contract to sell one of its levitating transportation systems. On Monday, the company said it had set a new speed record of 240 miles per hour at its test site in Las Vegas. Its previous test in July had reached 192 miles per hour.
Business news: In pictures

Show all 13
DP World, controlled by Sultan Ahmed bin Sulayem, and Magomedov's Caspian Venture Capital each now hold about 31 per cent of votes on a key committee responsible for Virgin Hyperloop One's finances. Under the terms of the funding, Virgin Hyperloop One will allocate 3.5 percent of revenue from each of its first three contracts to DP World and Caspian Venture Capital for their "support" and "in promoting the company's business." One of the three projects must include a track that's at least 25 kilometers (15.5 miles) long.
Virgin Group's Branson, who joined the board in October as part of an investment and partnership deal with the startup, will receive stock warrants to maintain his current stake through his investment vehicle, Corvina Holdings Ltd., according to the financial document. Sherpa Capital, Pishevar's former venture firm, controls 12.5 percent of votes on the financial committee, according to the document approved last Thursday. The startup's valuation is $754 million, the same as the last funding round, the document said.
Bloomberg
Join our new commenting forum
Join thought-provoking conversations, follow other Independent readers and see their replies