Wall Street investors make $3 trillion since Donald Trump's US presidential election victory
The Wilshire 5000 Total Market Index made up of more than 3,000 stocks, has gained about 12 per cent since the election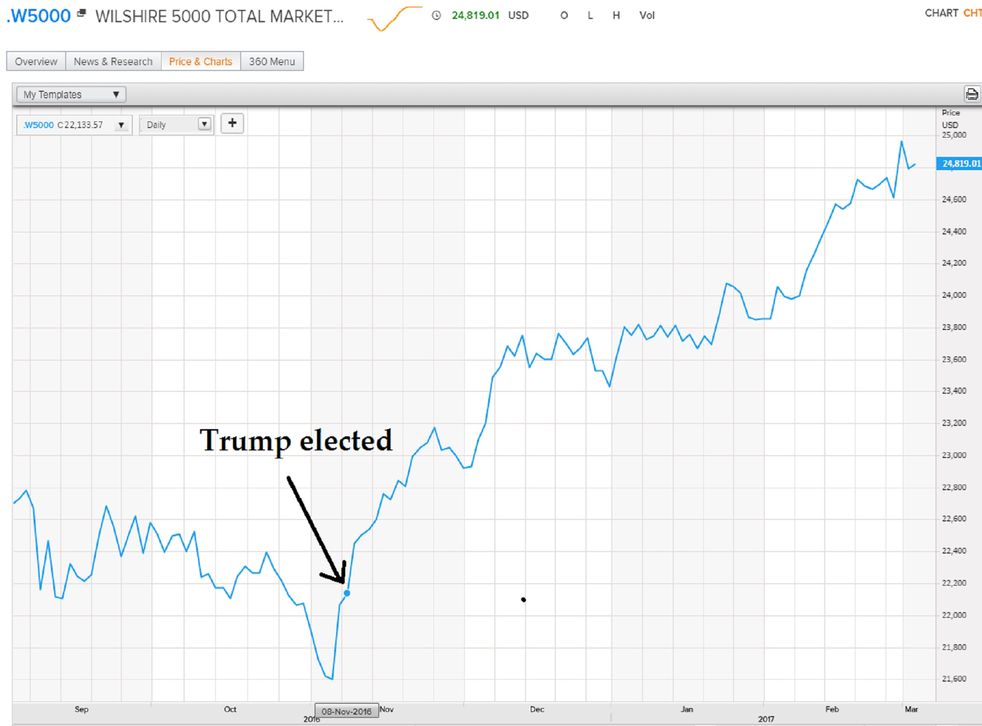 Wall Street investors have cashed in big on US President Donald Trump's election victory.
Stocks have added nearly $3 trillion to their paper value since Mr Trump's election as measured by the Wilshire 5000 Total Market Index.
The index, made up of more than 3,000 stocks, including an assortment of big companies, mid-sized businesses and small ones, has gained about 12 per cent since the election.
This means the overall increase in market capitalisation of all the US companies in the index jumped $3 trillion between 8 November through 3 March.
Mr Trump's unexpected victory has prompted the steepest rally from election day to inauguration for a first-term president since John F. Kennedy won the White House in 1960.
Last week, the Dow pierced the 21,000 mark for the first time ever after Mr Trump's measured tone in his first speech to Congress lifted optimism and reassured some investors who had been disconcerted by his aggressive tone and divisive policies. It was just over one month ago that the index surpassed the 20,000 milestone for the first time in its history.
The three main stock indexes surged more than 1.3 per cent after the 1 March speech to close at record highs, according to Reuters data.
Bank stocks have enjoyed particularly dramatic gains, but other sectors have rallied hard too, spurred by hopes of major tax cuts, regulatory roll-backs and bumper infrastructure spending.
Neil Wilson, a market analyst at ETX Capital, last week said that this is the fastest time ever in which the Dow index has risen 1,000 points after a Presidential election.
"Trump's rallying call to reignite the American spirit has produced the desired effect on the markets, pushing stocks to fresh all-time highs," he said.
The controversial orders Donald Trump has already issued

Show all 9
"The prospect of stronger growth, lower taxes, more spending and higher earnings is like a magic cocktail for equities."
The perceived chances of a March rate hike when the Fed's policy-setting body meets also rose after the US Commerce Department reported that US consumer prices rose by the most in four years in January.
Additional reporting by Reuters
Join our new commenting forum
Join thought-provoking conversations, follow other Independent readers and see their replies