Warren Buffett donates $3bn to charities including Gates Foundation
World's fourth-richest person continues decade-long charity giveaway
Jonathan Stempel
Tuesday 11 July 2017 09:01 Comments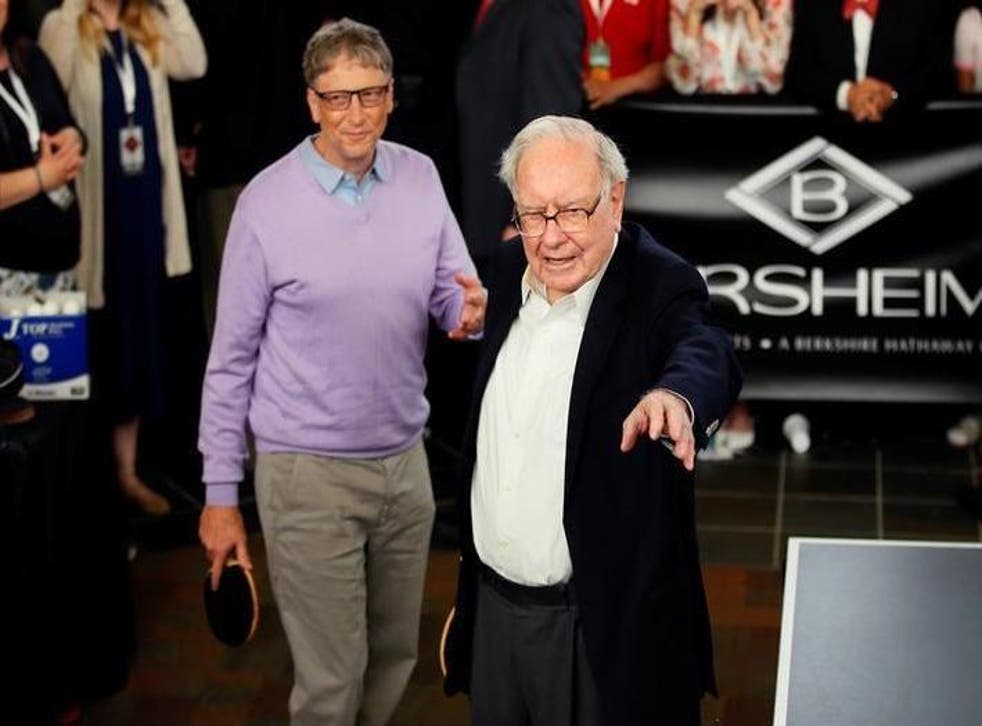 Warren Buffett on Monday donated roughly $3.17bn (£2.46bn) of Berkshire Hathaway stock to the Bill & Melinda Gates Foundation and four family charities, his largest contribution in a more than decade-long plan to give away his fortune.
The billionaire investor's 12th annual donation to the five charities comprised 18.63 million Class "B" shares of Berkshire, valued at $170.25 each as of Monday's market close.
Berkshire said Mr Buffett, 86, has made $27.54bn in donations since 2006 to the five charities, including roughly $21.9bn to the Gates Foundation.
Mr Buffett still owns about 17 per cent of Berkshire, the Omaha, Nebraska-based conglomerate he has run since 1965, despite having donated more than 40 per cent of his holdings.
The Gates Foundation, which focuses on improving health, reducing poverty and aiding education, is receiving about $2.42bn of Monday's donations.
Mr Buffett also donated to the Susan Thompson Buffett Foundation, named for his late first wife, and the Howard G. Buffett, Sherwood and NoVo Foundations, respectively overseen by his children, Howard, Susan and Peter.
Following Monday's donation, Mr Buffett remained the world's fourth-richest person, according to Forbes magazine.
Before the donations were announced, Forbes estimated Mr Buffett's net worth at $76.3bn, trailing Microsoft co-founder Bill Gates' $89.4bn, Amazon founder Jeff Bezos' $84.8bn, and Spanish retailing magnate Amancio Ortega's $81.8bn.
Mr Gates is a close friend of Mr Buffett and a Berkshire director.
Mr Buffett typically reduces the number of shares he donates by 5 per cent from the prior year.
The charities usually sell the Berkshire shares to finance their activities, reflecting Mr Buffett's desire that his money be spent. Mr Buffett also makes smaller donations to other charities.
Reuters
Register for free to continue reading
Registration is a free and easy way to support our truly independent journalism
By registering, you will also enjoy limited access to Premium articles, exclusive newsletters, commenting, and virtual events with our leading journalists
Already have an account? sign in
Join our new commenting forum
Join thought-provoking conversations, follow other Independent readers and see their replies